Hi All. I've compiled all the discussions related to Astec on GAVL calls. Please find the PDF.Astec Lifesciences.pdf (116.8 KB)
Very good work. Just a small suggestion. Can you please reverse the sequence so most recent concall excerpt will come at the bottom? This will help the reader to see how the story developed over the period and also it would be easy for you to add new concall notes at the bottom of the page.
As communicated in the AGM, Astec Europe Sprl (50.1% holding by Astec) is now getting sold at 1 Euro. Extract from Astec 19-20 Annual report shows Europe Sprl shareholding and its financials.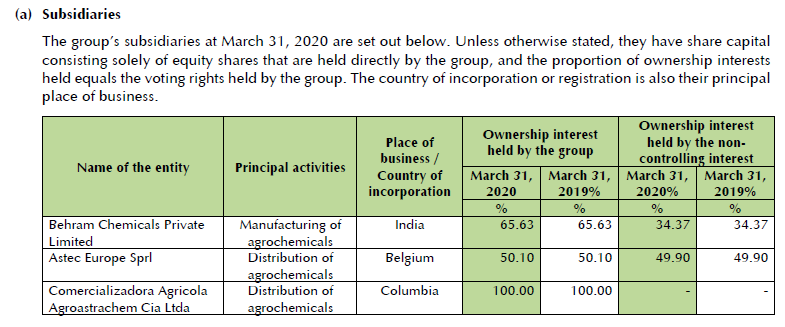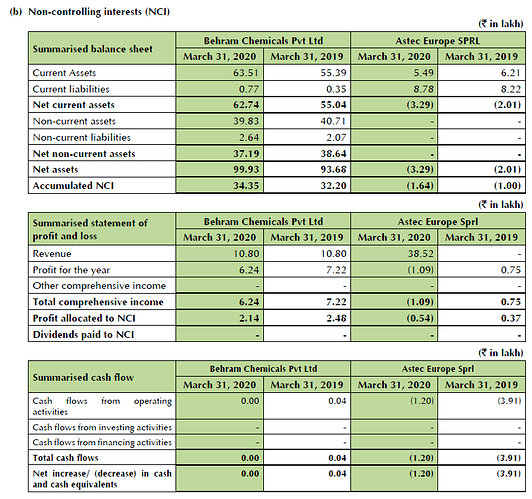 https://www.bseindia.com/xml-data/corpfiling/AttachLive/6de53ce7-097b-40f0-8e0e-e8de895fce96.pdf
This simplifies the company structure by removing unnecessary subsidiaries.
Based on some requests:
… and my own curiosity, here is a side-by-side (SxS) comparison between Astec and Bharat Rasayan:
Objective Parameters
| Attribute | Type of Attribute | Bharat Rasayan | Astec Lifesciences |
| --- | --- | --- | --- |
| Type of Key product | Products | Insecticide, Herbicide | Fungiside, Herbicide |
| Key Products | Products | Metaphenoxy Benzaldehyde, Lambda Cyhalothrin, Metribuzin, Chloropyrophil, Para Chloro Benzene Cyanide | Tebuconazole, Propiconazole, Hexaconazole, Difenoconazole |
| Metalaxyl, Tricyclazole, Imazethapyr, Lambda cyhalothrin | | | |
| Key Clientele | Clients | Bharat group unlisted companies | Exports, Godrej Agrovet |
| Export Clients | Clients | Bayer, Syngenta, Nissan, Adama | 8 of the top 20 global agrochemical players |
| Promoter Holding | Promoters | 75% | 72% |
| Promoter Group | Promoters | Bharat Group | Godrej Group |
| Pledged % | Promoters | 0% | 0% |
| Willingness to increase contribution from Exports | Revenue Mix | Yes | yes |
| % of revenue from Exports in 2016 | Revenue Mix | 28% | 38% |
| % of revenue from Exports in 2019 | Revenue Mix | 23% | 56% |
| Evidence on walking the talk for increasing exports contribution in Revenue | Revenue Mix | No | Yes |
| Focus on CRAMS/CMO | Revenue Mix | Yes | Yes |
| % Contribution to Revenue from CRAMS | Revenue Mix | 5-10% | 22% |
| Working Capital / Sales in 2016 | Working Capital | 19% | -5% |
| Working Capital / Sales in 2020 | Working Capital | 57% | 2% |
| Debtor Days in 2016 | Working Capital | 71 | 126 |
| Debtor Days in 2020 | Working Capital | 75 | 112 |
| Fixed Asset Turns in 2016 | Efficiency | 3.3 | 2.45 |
| TTM Fixed Asset Turns | Efficiency | 5.6 | 2.9 |
| OPM in 2016 | Profitability | 18% | 14% |
| TTM OPM | Profitability | 20% | 19% |
| ROCE in 2016 | Profitability | 25% | 12% |
| ROCE in 2020 | Profitability | 34% | 20% |
| PE Ratio | Valuation | 25 | 37 |
| Sales (TTM) | Revenue | 1124 | 554 |
| Operating Cash Flow / Operating profit (Average of last 5 years) | Earnings Quality | 46% | 82% |
| EPS CAGR (2016 to Q1-FY21) | Past Growth | 44% | 46% |
| Sales CAGR (2016 to Q1-FY21) | Past Growth | 24% | 23% |
| Debt to Equity Ratio | Debt | 0.17 | 0.4 |
| Interest Coverage Ratio | Debt | 17.3 | 8.97 |
Note that the companies are a very good comparison, but not exactly apples to apples comparison. This is because primary focus for Bharat Rasayan is Insecticide whereas that for Astec is Fungicide. This is still a good comparison since both companies definitely do manufacture pesticides and are bound to compete for end consumer (Farmer)'s money.
I have also added some subjective opinions below:
| Attribute | Bharat Rasayan | Astec Lifesciences |
| --- | --- | --- |
| Promoter Group Quality | Medium | High |
| Valuation | Reasonable | Over-valued |
| Past Growth | Very High | Very High |
| Growth Prospects | High | High |
| Asset Turns | High | Medium |
| Margins | High | High |
| Business Return Ratios | Very High | High |
| Exports | Management has guided to increase % of revenue from Exports but hasn't yet Walked the Talk | Management has increased % of revenue from Exports |
| Relationship with Top global Agro players | Excellent | Excellent |
| CRAMS contribution to Revenue | Low | Medium |
| Past Earnings Quality | Low | High |
| Indebtedness | Low | Medium |
Note that these are my personal opinions. I could very well be wrong about them. I would be very happy to incorporate learnings from other investors or potential investors into this comparison to make it stronger.
The next level of deep dive required (imo) is to understand the size of the opportunities present for Astec and Rasayan's current business product mixes. This is more involved and I intend to pursue this in due course of time. Please do note that these are not static businesses; they keep adding and substituting products and ideally any "opportunity size" analysis has to be repeated every 6 months / 1 year for it to continue to remain fresh and useful.
Disc: Invested in Astec, thinking about investing in Bharat Rasayan.
Edit: Added columns for earnings quality.
That's a superbly detailed comparison . Thanks so much . Just intrigued by one thing , why have you put earnings quality of bharat rasayan low as compared to astec when the cashflow too has improved in last results ? Thanks
That is a one-off. An average over 5 years still shows earnings quality to be low. We can look at an average over 10 years as well and it would paint a similar picture. I think the fundamental reason for this is a different working capital structure. This is covered beautifully in the various deep dives on Bharat Rasayan:
Note that the numbers capture the picture looking backwards. I've clarified this in the main post as well. There is clear evidence for poor quality of earnings. This is not to say that earnings quality will be poor in the future. If BR can repeat its cash flow performance of FY20 in next 3-4 years, of course earnings quality will improve.
Thanks for the comprehensive post on
Comparison between Astec vs BR. Very useful information indeed.
However, it would be great if we find out the Risk factors involved in both the business.
e.g. the other day when the news of Indo-china stand-off was flashed all the Agro-chemical stocks/ API stocks crashed by 5-8% when sensex fell only by 1.7%. Fortunately , the stocks later recovered when the news cooled off later, though we are not yet out of the woods.
Here the risk factors for all the agro- chem stocks are the import content of key starting raw material from China which is normally not disclosed/ quantified by promoters of the company in the AR or Investor meets.
I am also working to find out details for both the companies as follows:
(1) Current import content from China of starting key material.
(2) Whether the company has an alternate source from india or from some other countries lined up…
(3) Whether company has started backward integration and timelines to complete the backward integration.
(4) And now that the Govt has declared PLI scheme also for Agro chemical (in line with pharma API) , whether the company is eligible and it is taking advantage of the incentive scheme.
If you find my post improper, please do delete it.
Discl: I have tracking position in both the stocks.
It is not a buy or sell recommendation.please do your own assessment before buying any stock.
Thanks for taking this up. I agree completely that qualifying and quantifying these risks is a very important exercise. Apart from the stray references to China in Concalls, the best insight I have seen is in this video:

The president of Bharat Rasayan Abhishek agarwal talks (Starting at 33 minutes) about the practical aspects of sourcing from China and how it is near impossible to substitute raw materials from China.
I think this requires some serious legislation from government, but imo that is difficult due to India being signatory to various WTO agreements. For example, Mr Agrawal points out that in his opinion, the company needs to be in all 4 segments: Brands (B2C), Corporate Sales (B2B), exports and CMO (for a similar chemistry), for it to think about backward integration. Frankly I do not understand based on first principles why he feels that way. As far as I understand it, it has something to do with how the four verticals can compliment each other and perhaps the Scale argument (the company can only match Chinese companies on price if it operates at the same scale). He says that they have seen this in a one of the molecules called Triazinone (useful in making herbicides) wherein China was making it at 18$ so some indian companies decided to manufacture it. When Chinese came to know that Indian companies are trying to manufacture it, they reduced the price to 12$ (and can reduce it to 10$ too).
The reason that I am adding all this color is that the KSM substitution and backward integration are complex matters. Even if companies show the intent, it does not necessarily need to translate into real benefits. As per Mr Agrawal, what is required is for us to create plants which operate at the scale that the Chinese do (one of the speakers also mentions that chinese factories have some automation in the form of robots which of course reduces costs further), otherwise it is difficult to compete on price.
Having said all of that, I definitely do find this a very useful exercise. Just that i'm ambivalent on backward integrations. The same project which seems to reduce cost can quickly seem to increase costs if the Chinese companies reduce their prices below the company's cost of production (due to their scale advantage).
Thanks for sharing whatever info you had…
So from what you described and from the video it appears the Import substitution (China imports) and backward integration is not possible at this point of time and also may not be cost effective at the current scale of operation…
Was wondering if our companies find out alternative to China sourcing … I am sure there would be some countries in the rest of the world who could supply us the Key starting Raw material even at a higher cost ?
My only concern is what would happen if there is disruption in supplies from china due to Geo- political reasons …
the way in which we are restricting Chinese imports of late and Anti-dumping duty already levied on many chinese goods…for example recently on Ciprofloxacin and Ofloxacin…just because we have capacities …tomorrow China may also raise price exorbitantly high for many agro- chemicals where we don't have capacities and we badly depend upon china !
More like it is fraught with danger. It's like a double edged sword.
I think both astec and rasayan are working on backward integration. It is definitely useful to know , document and if possible quantify this information so that it can enable us to forecast what part of the revenue is at risk of being disrupted by geopolitical tensions. As far as I understand it, the focus is on building vertically integrated pipelines right now and not on dual sourcing although I agree that would be reasonable too.
The risk you outlined is also substantiated in this CARE report on Agrochemicals:

Quoting from the report "Agrochemicals production has been impacted majorly due to shortage of imported raw materials. The industry is facing headwinds due to the outbreak of the COVID-19 pandemic. Manufacturers in India are mainly dependant on China for the imports of raw materials needed to manufacture pesticides and with restrictions imposed on imports across ports in the country, companies are staring at a supply-side shortage".
Bit different take from Astec management during May 12 2020 concall of Godrej Agrovet, although its about end products and not key starting material. But still it is interesting to note that Mr. Mukherjee is claiming that since India has lower cost of production (even though China is producing 5X of India), Indian companies with same price band will be bit more profitable…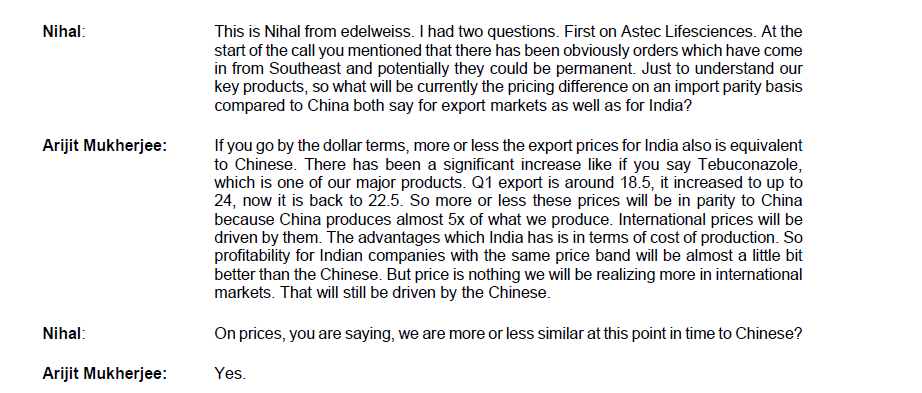 Btw to add a little more context, I saw this wonderful bit about backward integration versus buying from competent local suppliers in Neuland labs Q1-FY21 Concall, sharing it here because i believe this is very pertinent to this discussion. In my mind, neuland management gets full marks for strategically backward integration of key RM instead of a blind backward integration. I would be very curious to relook at Astec and Bharat Rasayan from this prism of strategic backward integration vis-a-vis blanket backward integration, looking at it from a perspective of value addition.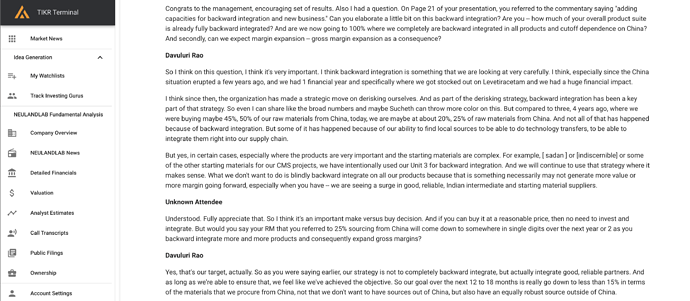 From the conversation , I can make out at least the Neuland management is transparent…
It is always prudent for any manufacturer to always have an alternative source of supply of raw material at any point of time…if blind backward integration by manufacturing the raw matetial does not make economic sense !
Hi,
Selling by Mr Ashok Hiremath seems non stop. His wife's very minor holding also has been sold. Unable to decipher this. Could it be due to recent gains in stock price or what?
Mr Godrej in AGM shared that their holding is almost to the maximum ie 62.36% (9.95% being held by current MD Mr Ashok, total promoter holding already at 72.30% before Mr Ashok started selling) and not much head room left to increase it further.
Business prospects are promising, good monsoon, new high margin product launches this year, Crams etc and very good results in last 2 quarters.
Could somebody post their able thoughts on what to make out of this.
regards,
Abhi
My speculative guess. Godrej wants Astec to be merged with Agrovet. Mr. Hiremath may not be keen on that as his shareholding would be inconsequential in merged company. So he sells his shareholding and moves on. Then Godrej merges Astec with Agrovet.
I have written to Company Secretary earlier this month and sent reminder again but no response from her. One of the possibility that Godrej's during acquisition, may have put in condition that Mr Hiremath would remain in his position for 5 years post acquisition (to let Godrej understand the business) and then let Godrej run the show. As you will note, it is exactly 5 years back that Godrej have acquired Astec as can be seen from old news item below-
Promoters being protective of their company, can become hindrance to the growth and can become roadblock for any big bang changes. So many acquirers outright buy out the promoters but Godrej's may have preferred continuity and would have used this 5 year period to absorb technical/scientific knowledge of the business.
As I mentioned earlier, it is just one of the possibility and I am awaiting formal response from the company.
Thx for the insight. What u think seems to have substance. Please update us in case u get a response.
thx again.
They had already clarified in the last con-call that there is no plan of merging from management. If all investor want they can send a request and we will consider in the next board meeting. Management is not going to initiate any merger process.
Report around 10 days back. Could not access complete report.