Hi! I would like to volunteer for the skeptical take of the Bharat Rasayan deep dive exercise.
Hello sir,
I would like to volunteer for the Bharat Rasayan Deep Drive Skeptical take. Would really like to learn and contribute with similar mindset people. Please count me in.
Count me in Donald for this exercise.
nice to learn about your endeavor! do share your 'skeptical take' on the main BR forum as well!
tx
Happy to share BR Take4: from Anant Jain
[Earlier takes from Rohit Balakrishnan (Self-Transcribed), Ankit Gupta (transcribed but synthesised with own views), Dhwanil Desai (yet to be transcribed)]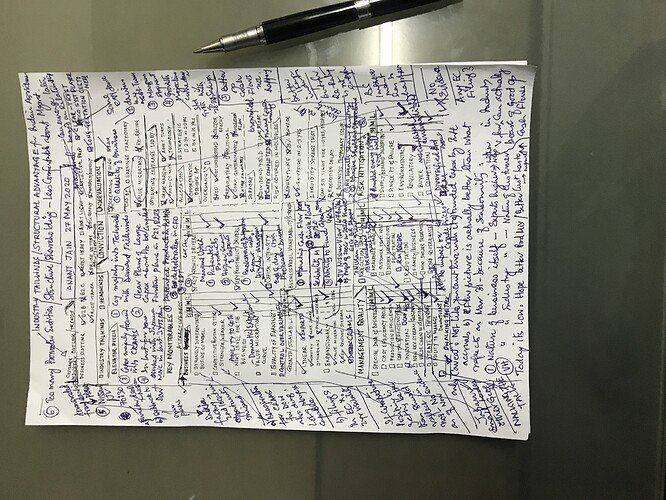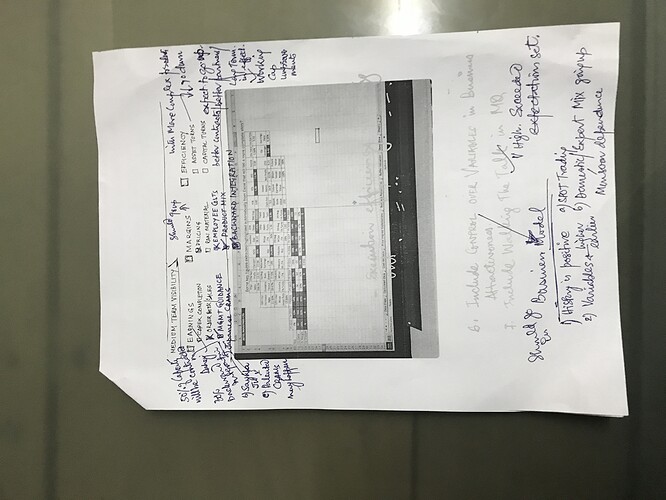 The idea behind different takes being - even with almost the same data-points available/shared between these folks)
We can see for the same tick-box - lets say "ability to manage downturns" - the articulation on that aspect alone will be different from different folks. There is much to learn from these different articulations - on the same aspect, and as a whole picture that emerges.
We may agree or disagree with the verdicts. Some will resonate more with us individually than the other take or rating on an aspect of business attractiveness or Management Quality e.g. Each guy has important nuances to offer - all of us can improve on the "Insights" front.

When synthesised properly (by senior investors) - these 4 takes - can make for a very holistic view on the business. Still hunting for a more skeptical take on BR. Caveat - skeptical is not just the impression from red flags; A skeptical view can be on the quality of earnings, skeptical take can be on the business transition that others are expecting NOT happening -because of xyz reasons; we are looking for someone who has dug his hands deep on BR, understands the strengths, bit does not rate HIGH …for his own insights…if any

Think once these are all transcribed well (ONLY the Analyst's take - NOT synthesised with yours), we can head straight to writing the VP Bharat Rasayan Stock Story - by these very transcribers - so there is complete ownership - on keeping it updated. Oversight/polishing will be provided by the Analysts - they can guide one of the transcribers to update such and such development - say an EC clearance, and stuff like that.
Now, I have been engaging deeper with some of the volunteers. Purely from an engaged willing, hardworking perspective, this is what we are doing for BR transcribes
Dhwanil Take and Anant Jain take
@Parul teaming up with @ashkrithik
Ankit Gupta Take
@YachnaBhatia
Guys/Gals mentioned, get in touch with me
As we do this well, we will speed up this activity soon. Keep watching this space, closely
@YachnaBhatia
Thank you very much for the sustained effort in helping capture an authentic version of Ankit's take. Someone as meticulous as you is a delight for us deep divers.
We look forward to your version too - immediately - that raises a few other points/concerns - as also might offer slightly different perspectives on some of the conclusions?
@ankitgupta
Please have a quick look. This should have done justice to - just about what you and me discussed and captured back.
Now we can quickly ramp up on Dhwanil Desai and Anant Jain versions.
Still hopeful of doing another better skeptical take on BR
And then we can go on to the first official BR Stock Story - created and maintained by nextgen VP Contributors.
My own summary of BRL is as below:
Key positives
Business quality is good – No doubt - Nissan JV – speaks about the technical capabilities and strength of the business. Not many companies in India have achieved this.
No equity dilution last so many years despite growth
Low debt levels
Promoters putting supporting by funds as loans
Negatives that cannot be ignored
• Stock broking forms holding 12% involved in money laundering etc – Ravi kumar newatia sharing same address as some promoter shareholding firms. – Key risk
• Auditor not good (not an issue on its own but combined with other issues)
• Pretty bad Glass door reviews especially historically
Other negatives that can be ignored
• Why have 3 different companies (listed and promoter held), why not all business in one?- Historical structure issue? But important to note that promoter entities have 10-15% EBITDA margin which is reasonable. Related party dealings are there– but no significant pending amounts from them.
• Low dividend, though tax is being paid, can be justified for growth/capex
• Cash flow – If we assume payable days similar to industry, CFO looks fine. Also Astec Life Sciences (which is in similar line of business) has similar receivable days as BRL. There should be no further deterioration of receivable days from here (awaiting March numbers). Inventory at March end can be impacted due to lockdown.
• Imports at 68% of RM cost very high – watch reduction over time
Check further
• China 180 days credit to customers hypothesis leading to higher receivables - have we checked this in any China agrochem cos?
Hello,
Please find attached stock story of Bharat Rasayan as per Anant Jain's take.
Thank you @Donald for this wonderful opportunity. Learning has been tremendous from this deep drive.
BR deep drive Anant Jain version.pdf (395.1 KB)
Thank you Parul for your persistence.
Would you like to Write up Dhwanil's version too?
I suggest we skip the parts that are more tick/cross but take care to capture the more nuanced
a) elevator pitch b) Key monitorable c) Business Attractiveness d) Scalability e) Management DNA f) Risk Mitigation
You will gain from capturing Dhwanil's perspective - you will notice that he would articulate the same things a bit differently from the others - and these are usually the points to note by young learners - data points remaining almost same - the interpretation/insights of the same could be quite different and much more nuanced. Essential to Note!!
Once that is done - we are actually ready for the first stock story that can be maintained by new members (who put up their hands) themselves - @YachnaBhatia @Parul under guidance from Rohit Balakrishnan, Ankit, Dhwanil and other seniors. Dheeraj Dave and Ashwini Damani could supply the guidance for Corporate Governance and Red Flags sections.
Ready to learn more and do Dhwanil's take.
Thanks Parul. You have captured it succinctly. This quarter's nos have taken away a lot of my concerns with regards to OCF. OCF was a determining exit factor/key risk and with the improvement shown in this quarter my view of company has turned far more +ve.
Bharat Rasayan Cash Flows have been super strong and hence removes one major overhang
Promoter-held Bharat Insecticide Ltd will now be majority-held by Mitsui. Management is talking to more Japanese companies for tie-ups.
Some more clarity has emerged from the company at the AGM. My notes here:
Here are my notes from the ​Bharat Rasayan AGM:
Topline and Bottomline growth is likely to be poor this year due to the Covid pandemic. Management refused to give guidance for this year.
Looking ahead, management is banking heavily on tie-ups with Japanese players to grow its business. Questions were asked about majority stake in Bharat Insecticides being sold to Japanese company Mitsui.
According to Gupta, Bharat Rasayan will be supplying high margin intermediate products for BIL which is moving towards producing patented products from generic products. Bharat Rasayan will be supplying intermediate products to Japanese and European companies.
Apart from Mitsui, the Guptas have tied up with Nissan to set up Bharat Rasayan's new plant. Construction of the plant will begin soon and be completed by March 2022. A number of high-value patented molecules will be manufactured under this JV.
Management is talking to other global companies to set up similar joint ventures. Talks are on with the Top 10 global companies. The company is looking for land in different parts of the country to set up these projects.
Advantage of such tie-ups is that Bharat Rasayan will get preference in the supply of intermediates for such ventures. Margins are thus likely to be higher.
Work on expanding the existing facility at Dahej ​has started and new products will be introduced next year.
​Brazil is all set to emerge as a major market for Indian agro-chemical companies and Bharat Rasayan too is preparing to make use of this opportunity. Several product registrations are done and the company is working towards supplying a big product to that country.​
Others may please update if I have missed anything.
​disclosure: holding
Any update on the following topics in the 2021 AGM?
i couldn't the AGM as it was in physical mode. but I understand that the commissioning of the new plant will be delivered to the later part of this year. After that it will need to be stabilized, so full-scale production would happen sometime by middle or end of 2023.
There was an unfortunate fire incident at Dahej plant of Bharat Rasayan.
To all the valuepickr members I have one question
Why bharat rasayan has a low p/e multiple as campared to astec . Although , studying both the companies i find Bharat rasayan quite interesting .
Can anyone comment ?
Hi , any insights from FY22 AGM of Bharat Rasayan
"Nissan Bharat Rasayan Pvt Ltd (NBRL) has started its manufacturing operations from February 2023 at its very modern and automated facility at Sayakha, Gujarat.
Major focus of this unit will be manufacturing of patented molecules for global requirement"