An accelerated learning/productivity enhancement exercise for curious young minds.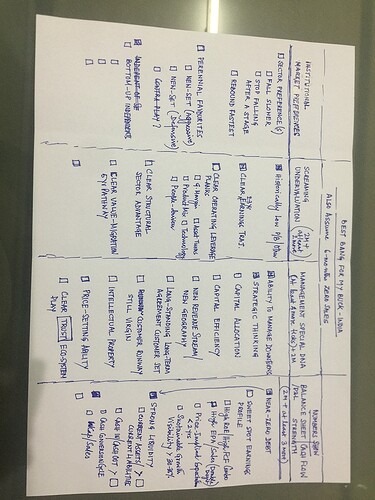 What is the correlation that you can spot between the two pictures shared so far - Deep Dive Template and Mental Models map for Emerging Moats
What are the desirable attributes in a business and Management that moves the needle the most?
Those with a curious, long term, strategic focus for zeroing in on opportunities will benefit the most from taking this exercise seriously. Others will too, but in my experience NOT everyone wants to work that hard, or has that kind of hunger to try and nail down what it really takes to SPOT the dark horses capable of running away with the race
But those who do engage with this exercise seriously, I can only energise and encourage you on this beautiful quest by saying - honestly, most of last 10 years whatever we have learnt at VP in spotting runaway winners is - captured in these abstractions (simple words like Capital Allocation, long term long gestation customers, Operating Leverage, Trust Eco System) here! These are small small aspects that move the needle the most.
Your job is to discuss and debate why these are that important? Why do they move the needle the most?
So come on guys & gals, lets see who among you runs with the ball faster?
My role is that of the Coach - I will not be spoon feeding, may only intervene rarely to provide some direction & energy!
The ball and the court is all yours - volunteers in deep dive exercise, it's mandatory to participate enthusiastically here so that you GET the vital interconnects. All other curious newbies, learner's, seniors welcome to participate and help enrich discussions