Continuing the discussion from Shilpa Medicare -Racing away on the Oncology API highway!:
Hello Fellow ValuePickr's,
Would like to formally share the first version of the Pharma Analysis Template
I would not have got off my backside, if not for the challenge laid down by @Donald and the excellent analysis done by @ankitgupta on Alembic Pharma which served as the core/foundation.
Also would like to highlight @ananth important feedback and valuable suggestions along with Ankit.
Main purpose of creating a separate thread is to share the basic usage guidelines.
Pre-requisite:
Primary source of information is Pharma Compass
It is recommended to have a brief look at the site before proceeding further.

Please visit Ananth's VP Chintan Baithak Thread
Below sheets are the MAIN Input sheets

Key information required to populate these sheets automatically is to update the formula in A1 of the respective sheets, with the correct URL and Table ID.

For the patents, update the lens.org URL with the correct parameter
values:
n = no.of results/page (default=10). It can be changed to any value.
p = page number (default=0). Keep the default value
q = company name

US DMF Lists is the complete DMF Mater List periodically updated by US FDA. It needs to be manually imported into this sheet.

External Sources: From Research Reports and Trade Journals, which can be used to finalize the list of API's under development or to be filed.
Analysis Sheets - Where you focus on asking the right questions

Existing DMF Sheet:
In cell A1, you can see the query being used to fetch the DMF's filed and Active in USFDA DMF List. Here the query needs to be updated with the target company name.

Column G - the API name should be adjusted depending on the url which contains the info.
It may need to have underscore in case of "Irinotecan Hydrochloride". Or, it may need to be truncated to only the 1st word. (Which is why it is recommended to have a feel for the pharmacompass site)
Column H - the baseline Table ID based on which all the relevant information abt the specific API molecule is retrieved. It corresponds to the "Finished Dosage" Section.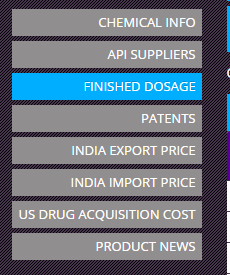 Similar logic applies for "DMF Pipeline" sheet.
That is pretty much it! Simple
There is scope of further enhancements, based on feedback.
Features to expect in next update:
Incorporation of 180 day exclusivity tracker
Happy Investing!
Cheers,
Vishnu