NMDC
We like the stock from valuation prespective .
But due to demerger, we are treating it as a new company hence can't comment much on the chart ( for chart reading, one needs good history ) .
Only one thing we can say that in short time frame, it has a strong resistance at 124.
Shree Digvijay Cement
CMP 65
Keep in mind that our analysis and view is useless for trading prespective.
Our analysis and view is meant for medium to long term investors* for entering/holding and exiting.And we can go wrong all the times.
Would request you to study Stage Analysis given several times in earlier posts . You would find your answers by yourself . And in case of confusion, we would be always happy to help you.
On this stock, we don't find anything positive as of now. It is below 40 WMA .Has a dstrong resistance at 75 .Daily /Weekly/Monthly MACD are in Sell zones. RSI in all timezones is shwoing weakness.
Won't be surprised if we see this stock at the levels of 50 in coming months.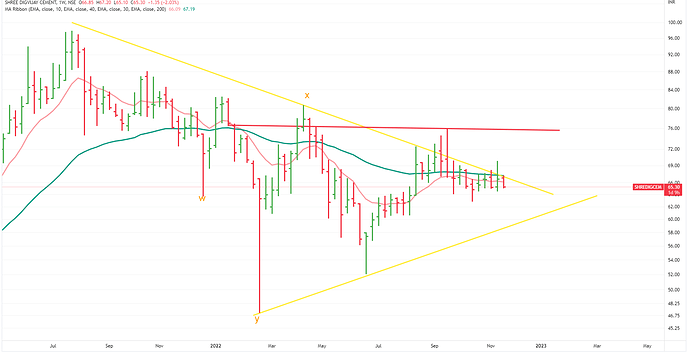 Disclaimer
:This post is just for learning one of the few methods of price-patterns. Views are personal. No buy/sell recommendations. These are probability study methods and chances of success/failure depend upon various factors