Kalyani Steel established in 1973 in the group company of Kalyani Group (Bharat Forge).
Product
The company produces forging and engineering quality carbon & alloy steel using blast furnace route.
Carbon Steel
Carbon - Manganese
Chrome Steel
Chrome - Manganese
Chrome - Nickel
Chrome- Moly
Chorme - Nickel - Moly ( Low Carbon)
Chrome - Nickel - Moly ( Medium Carbon)
Bearing Steel
Customer
OEM in the space of Automotive, Engineering, Energy, Aluminum Smelting, Defense etc.
Application of products is in automotive forgings, construction equipment, bearings, seamless tubes & aluminum smelting.
Cummins, Kirloskar, Delphi, ZF steering gear, Oerlikon, Eaton, Dana, Meritor, AAC, UST, BHEL.
Raw Material
Iron Ore
Coking Coal & Coke
Capacity
Could not find out
Financials
Profit and loss from 2005 to 2016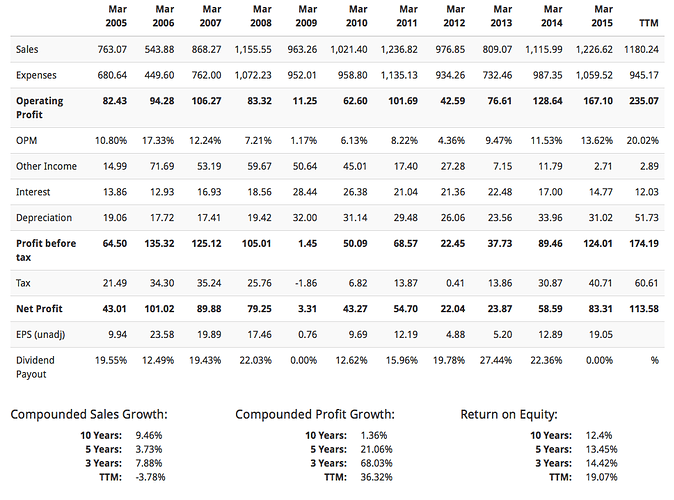 Balance sheet from 2005 to 2015
Point to ponder
I. FY16 Long term debt of 110cr and short term debt of 152cr therefore total debt of 262cr at the same time company has non-current investment of 146cr in group company. This from the annual report 2015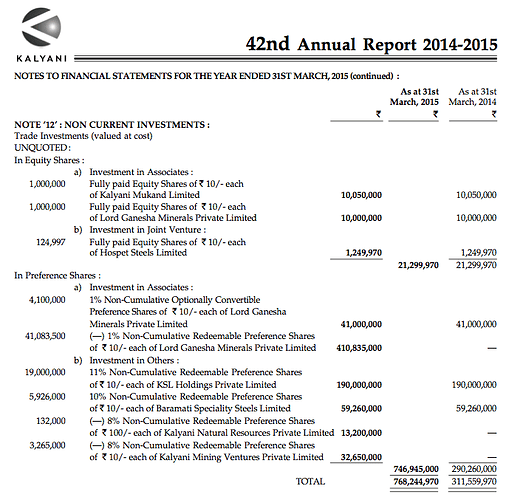 II. Revenue degrowth from 1266cr in fy15 to 1179cr in fy16. Reduction in cost of raw material which is iron ore is the reason for this.
III. Sharp increase in OPM from 13.6% in FY15 to 20% in FY16.
IV. Company is trading at low PE of 6.68 and market capitalization of 758cr.
Trigger
Introduction of Minimum Import price by GoI effective Feb-16, could result in expansion of top and better profits.
Disclosure
Not invested.