Yes you can but your application will be rejected if you have not bought rights entitlement from the market.
How do I buy rights entitlent.
Thanks
That opportunity is over for now. Last date for RE trade is over
looks interesting considering the positive experience in India Grid Trust
Received a message from CDSL today morning that the rights issue have been credited to demat account. But the same is not reflecting in my holding. Anyone facing a similar issue?
Is this technology a threat to likes of power grid, indigrid?
Disc. Invested in indigrid
I see that there are hardly any following/updates in this thread. Here is the latest investor presentation
The distribution this time will be as follows (1st Nov 2021 is the ex Div date and the likely payment date is 11th Nov)
The Board also approved a Distribution Per Unit (DPU) of Rs 3.19 (up 6% YoY) for Q2FY22 to unitholders. The record date for the distribution is November 02, 2021, and shall be paid as Rs 1.86 per unit in the form of interest, Rs 1.28 as capital repayment and Rs 0.05 per unit as a dividend. With this, IndiGrid has distributed Rs 52.15 per unit to its investors over the last 18 quarters since its listing, a total return of roughly 90% on the issue price. The total return is the sum of all distributions since listing till Q1 FY21 and the change in price till September 30, 2021.
The above breakup is key for all INVIT holders to note, because of the complex taxation here.
Your returns from InvITs are subject to complex taxation. Though the InvIT itself is treated as a pass-through entity, its distributions are taxed based on their source. Any loan repayments by SPVs distributed to you are not taxed. But dividends earned by the InvIT from its SPV and passed on to you are taxable at your slab rate if the InvIT has opted for a concessional tax regime. Interest received from SPVs and distributed by the InvIT are also taxed at your slab rate. Capital gains you make on transacting in units attract tax at 15% if held for less than 3 years and at 10% if held longer.
===========================
I assume that because of the above the Rs 1.28 (capital repayment) is not taxed at all. Market veterans, INVIT holders, pl confirm… Thx (BTW…the above thread clearly discusses this topic and there are several confirmations but checking once more, for a double confirmation)…Thx
Q3 results out. Dividend declared is Rs 3.18/unit. Record date is 2nd Feb.
Investor presentation - https://www.bseindia.com/xml-data/corpfiling/AttachLive/8c7d6825-7731-440c-ae8b-94eb8e672c48.pdf
3rd Quarter distribution mail to the individual holders, should be in your mailbox today. As always, the break up of interest and capital repayment is clearly given.
Feb 10th is the date of credit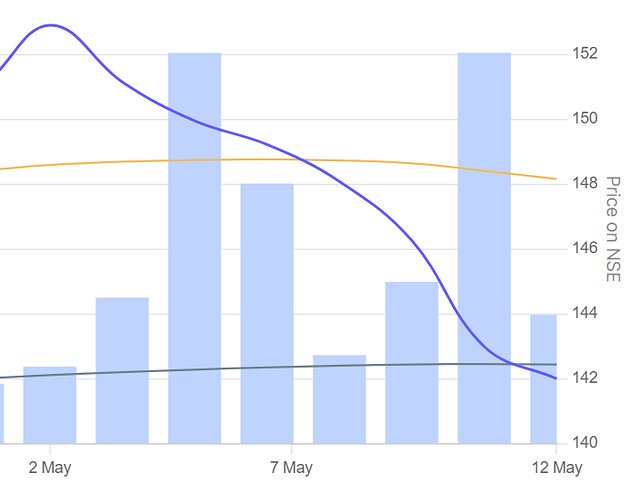 what happened here? from 152 to 142 in no time…I know that the market sentiment is not helping but even then, this is serious fall…isn't it? does the market know something more than we do? just the fall in the market or the CEO leaving, should not have caused such an havoc, I guess? any ideas?
Structures like INVITs, REITs are seen as yield vehicles. In times of sharply rising rates (like we are in now), these tend to underperform. The surprise rate hike from the RBI signaled that they're ready & willing to raise rates in the near term, which is a negative for REITs and INVITs in general. I doubt this has anything to do with CEO leaving or any IndiGrid specific issue.