About Indigrid
India Grid Trust ("IndiGrid") is India's first infrastructure investment trust ("InvIT") in the power sector. It owns and acquires power transmission assets (overhead transmission lines and substations).
InvITs are designed to pool small sums of money from a number of investors to invest in assets that give cash flow over a period of time.
Current assets
| Project Name | Num transmission lines | Substations | Route length(ckms) | Expiry of term of the TSA |
| --- | --- | --- | --- | --- |
| Bhopal Dhule TCL* | 6 | 2 | 944 | March 31, 2049 |
| Jabalpur TCL* | 2 | 0 | 992 | March 31, 2049 |
| Purulia & Kharagpur TCL | 2 | 0 | 545 | March 10, 2051 |
| RAPP TCL | 1 | 0 | 403 | February 28, 2051 |
| Maheshwaram Transmission Limited | 2 | 0 | 477 | September 30, 2052 |
| Patran TCL** | 0 | 1 | | 2051*** |
| Total | 13 | 3 | | |
*Initial portfolio assets (IPA) at the time of IPO. The other assets were acquired after the IPO.
**Acquisition was announced on 3rd September 2018
***Inferred from announcement which said residual contract period is 33 years
These assets enable transmission of power from generating centers (east and north) to load centers (west and south).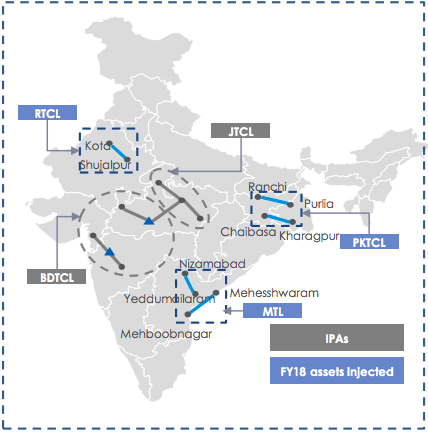 The assets belong to the Indigrid in perpetuity. The contract defines the tariff for a 35 year period. Post 35 years the tariff would have to be negotiated again, provided the assets are in good operating condition. Transmission assets can easily have a life of ~50 years. The maintenance and repair of these assets is pretty routine and not technically challenging.
Definitions
TCL: Transmission Company Ltd.
TSA: Transmission Service Agreement
ROFO (Right of First Offer): Indigrid has a ROFO in respect of eight existing projects of the Sponsor, as specified in the ROFO Deed.
ISTS: Inter-state transmission system (ISTS)
TBCB: Tariff based competitive bidding
BOOM: Build Own Operate Maintain
DPU: Distribution Per Unit (DPU) is cash paid to the unit holders in the form of interest/ capital repayment / dividend
SPV: Special Project Vehicle
Power Transmission Basics

Transmission Lines
Most transmission lines are high-voltage three-phase alternating current (AC), although single phase AC is sometimes used in railway electrification systems. High-voltage direct-current (HVDC) technology is used for greater efficiency over very long distances (typically hundreds of miles).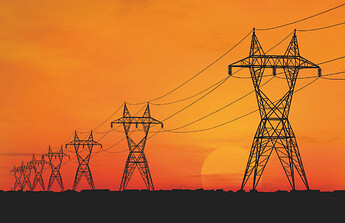 Transmitting electricity at high voltage reduces the fraction of energy lost to resistance, which varies depending on the specific conductors, the current flowing, and the length of the transmission line. High voltage transmission lines are typically 115 kV-765 kV.
Substations
A substation is a part of an electrical generation, transmission, and distribution system. Substations transform voltage from high to low, or the reverse, or perform any of several other important functions. Between the generating station and consumer, electric power may flow through several substations at different voltage levels.
A transmission station may have transformers to convert between two transmission voltages, voltage control/power factor correction devices such as capacitors, reactors or static VAR compensators and equipment such as phase shifting transformers to control power flow between two adjacent power systems.
Scenario in India
In India, the transmission and distribution or T&D system is a three-tier structure comprising distribution networks, state grids and regional grids. The distribution networks and state grids are primarily owned and operated by the respective state transmission utilities or state governments (through state electricity departments).
Most inter-state and inter-regional transmission links are owned and operated by PGCIL (Power Grid Corporation of India), which facilitates the transfer of power between different regions.
Tariff Based Competitive Bidding
Under the TBCB, tariff for projects is not on a cost plus basis and bidders are required to quote tariff for a period of 35 years for establishing transmission lines. The bidder quoting the lowest levelised tariff, is selected. The successful bidder is then required to acquire a special purpose vehicle or SPV incorporated by the bid process coordinator or BPC. Once the process of acquisition is complete, the SPV approaches CERC to obtain a transmission license.
Indigrid Revenue Characteristics
Stability
Revenue for ISTS projects is assured through long-term (30-35 years) transmission service agreements (TSAs), and is delinked from the quantum of electricity transmitted (Revenue is delinked from demand, supply, and volatility in the price of electricity). Hence factors such as volume and traffic do not fluctuate the revenues.
To be sure, revenue is contingent on maintaining line availability above 98%. But this is easily achievable through routine O&M, and is not technically challenging.
That's unlike private thermal generation assets, where revenue remains exposed to higher risks of fuel supply, plant availability and, most importantly, counter-party risk of financially challenged state distribution companies (DISCOMs).
Availability Based Tariff
Inter-state power transmission projects receive tariffs on the basis of availability, irrespective of the quantum of power transmitted through the line. These ‗availability-based' tariffs incentivize transmission system operators to provide the highest possible system reliability, which is defined as the time in hours during a given period for which the transmission system is capable of transmitting electricity at its rated voltage, expressed as a percentage of total hours in the period.
Point of Connection Mechanism
No asset specific billing
Under the PoC pool mechanism, as the central transmission utility (CTU), PGCIL collects monthly transmission charges on behalf of all the interstate transmission service (ISTS) licensees from the designated ISTS customers. All ISTS licensees are then paid their share of transmission charges from the centrally collected pool by the CTU.
Counter party risk diversified
In the case of ISTS transmission projects the revenue counterparty is a pool of distribution and generation companies. Since there is no asset specific billing, if a counterparty defaults then the cost of default is shared by all ISTS licensees, in proportion to their capacity of transmission assets. As the load growth increases, the pool of beneficiaries as well as transmission providers is likely to go up resulting in further diversification.
Low collection risk due to role of PowerGrid
PGCIL has been assigned the responsibility of carrying out activities including raising of transmission charge bills on behalf of all ISTS licensees, collecting the amount and disbursing the same to ISTS licensees. PGCIL functions as a single point of contact between transmission licensees and the users. Thus, a private transmission licensee no longer needs to collect transmission charges from multiple DISCOMs for each transmission project. Instead, the transmission revenue payable to the licensee is disbursed by the PGCIL on a monthly basis.
Moreover, the collection track-record of the CTU is fairly good and the receivable collection cycle has shown considerable improvement over the past few years. PGCIL do not possess any history of payment default to the TSP under the PoC mechanism.
Indigrid Corporate Structure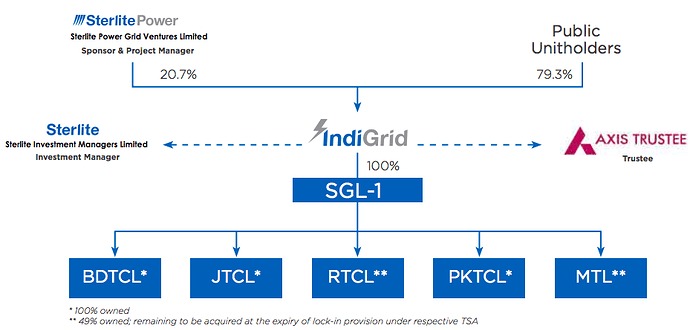 PTCL, whose acquisition was announced on 3rd September 2018, is not shown in the above picture.
Role of sponsor & project manager
Sterlite Power Grid Ventures Ltd (SPGVL), a wholly owned subsidiary of Sterlite Power Transmission Ltd and a leading developer of power transmission infrastructure, initially owned and constructed these assets. These were later acquired by Indigrid. The group shares a common lineage with natural resources giant Vedanta. Post acquisition, the assets will be managed by the sponsor (the costs will be paid for by Indigrid).
The Project Manager shall be entitled to a fee amounting to 10% of the gross expenditure incurred by each asset in relation to operation and maintenance costs, per annum.
Role of investment manager
Sterlite Investment Managers Limited (SIML), erstwhile Sterlite Infraventures Limited, a wholly- owned subsidiary of SPTL, is the Investment Manager for IndiGrid. Investment Manager is responsible for the operations of the Trust and key decisions, such as distribution of cash flows, acquisition/ divestment of assets in addition to activities such as Investor Relations.
Cashflows
InvIT regulations require IndiGrid to declare and distribute at least 90% of the distributable income to the unit holders, at least once in every six months in every fiscal. Indigrid's current policy to distribute cash flows every quarter.
Sample cashflow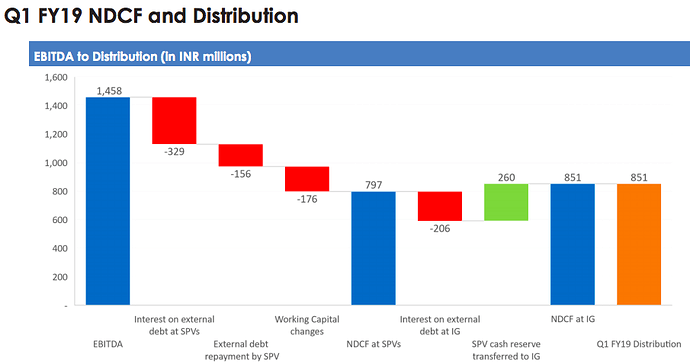 DPU Trend
| | Q1 FY18* | Q2 FY18 | Q3 FY18 | Q4 FY18 | Q1 FY19 |
| --- | --- | --- | --- | --- | --- |
| DPU | 0.92 | 2.75 | 2.89 | 3.0 | 3.0 |
*1 month post IPO
FY19 guidance for DPU is Rs 12 (in the form of interest). Distribution can be in the form of dividends, interest or capital return. It depends on the kind of cashflows generated by Indigrid from its SPVs.
Indigrid management has a vision of growing DPUs by 3-4% every year.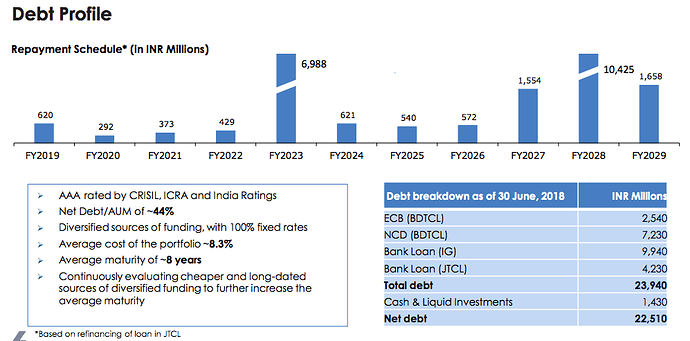 The 698 crores in FY23 is the repayment of NCD by BDTCL.
There is a ~1000 crore term loan at Indigrid level has a bullet repayment in 2028. This is expected to be refinanced easily given the stability of cashflows.
Risks
The sponsor directly manages these assets. The sponsor is required to hold at least 15% of the units for a period of 3 years after the IPO. If the interests of the sponsor and unit holders diverge then it may be detrimental to the interest of the unit holders, who do not have any operative control over these assets.
Escalation of maintenance and repair costs of these assets will adversely affect SPV cashflows and DPUs.
This is a highly regulated industry, with revenues secured by long term TSAs. Any adverse change in regulatory stand may affect cashflows.
The primary users of ISTS are state distribution companies (DISCOMs), which are financially weak. Indigrid has to rely on the collection efficiency of PGCIL for its revenues.
The minimum lot size is 5000, which implies a minimum investment of ~Rs 4.5 lakhs.
Daily trading volumes of these units are low. NSE volumes are in the range of 10-20 lots per day.
Increase in interest rates negatively affects the NAV of the units.
This investment is only for those investors who want a high and stable yield. There may not be much capital appreciation.
Additional Reading
Disclosure: Not Invested. Sitting on the edge, not convinced about this yet.