Hi @brajeshrawat, on Q2 concall mgmt. confirmed below FY2016 estimates adding that it is beneficiary of fall in crude prices… more the fall in crude prices, higher will be the margin as crude is key raw material for polyester yarn.
Further, as per earlier concall, mgmt. expects US ops to scale to 100% utilization levels in FY2017. At 100% utilization levels, USA plant has potential to make $36 million revenue (i.e. Rs. 200 crs.). Currently, USA plant is operating at 35% utilization levels.
So both sales and profit margins are expected to increase… You can already see the visible offshoots in H1 FY2016. If crude remains around these levels for CY2016, then below FY2017 estimates shall play out…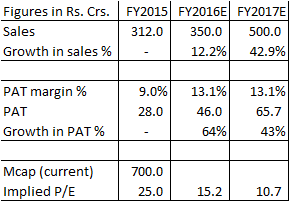 Further, once phase 1 reaches 100% utilization levels, phase 2 expansion in USA is expected to kick off. Company is already well funded for this capex plan. Mgmt. is expecting to increase dividends payout also this year.