can anyone plz calculate the PE without exceptional gains?
it comes around 20-22. still, it's lower than the industry average.
I dont know why but ticker by finology is showing PE of 41 !?
Have send them an email about this.
The TTM consolidated PAT is 2393 crs. Take the mkt cap & divide it by this no. to get ur TTM PE.
Hello @shardhr thanks for replying.
The 2393 crs include that one off earnings? What is the amount of that exceptional income? I am not able to find it.
Also from where can we get the latest / updated market cap?
I wonder why FIIs and Mutual funds are selling it since last 1 or 2 years? Especially when pharma stocks are in demand post covid.
Am I missing something?
One of the reports I had read, had mentioned below stated points:
The main driver of ROE trend over last 10 years is Asset Turnover
Company has made significant capex in last 3 years which might be affecting it's ROCE and ROE
Company has a lot of operating leverage. Increase in sales can result in disproportionate increase in operating income
Company is depreciating a lower percentage of assets. This is contributing to an increase in Net Profit.
Can anyone please explain / clarify about these points?
Thanks!
In today's concall, management informed that they are currently doing annualized sales of ~600 cr. in their Indian biosimilar business and are confident of growing beyond 1'000 cr. within 3 years. This would imply that domestic biosimilar opportunity itself is pretty big (compared to regulated market opportunity) given that there is strong branding in India.
Disclosure: Not invested
Cadila Healthcare, has executed an asset purchase agreement with a commercial-stage biopharmaceutical company, BridgeBio Pharma where the former's US-based biopharmaceutical subsidiary Sentynl Therapeutics will acquire BridgeBio's NULIBRY (Fosdenopterin) for Injection.
They have sold animal Pharma division and got the funds.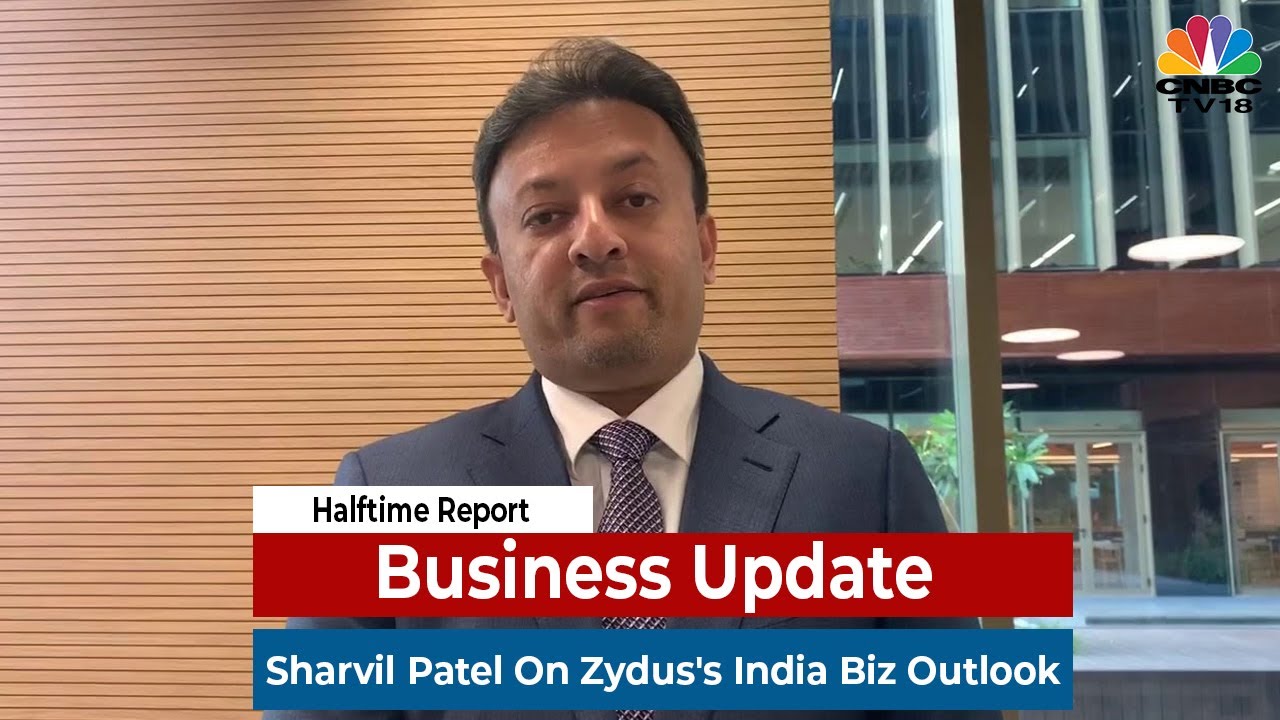 Interesting management interview, they are expecting to reach $1bn in US revenues by FY24/25 on back of launches in FY24.
Disclosure: Not invested (no transactions in last 30 days)
Trying to understand why it's available so cheap? Fundamentals look good. Technically available at good weekly support.
Any inputs would be highly appreciated while I try to dig deeper.
Thanks,
Aksh
Disc: No Position
Its cheaper vs peers due relatively lesser complex products availability in US and lower brand power in domestic market vs say a Cipla or Sun Pharma.
It has some catching up to do to reach that state.
However some long term positives where the company can further build on its strengths include - OTC business of Zydus Wellness ( a subsidiary ), the Vaccines portfolio, greater brand recall in Domestic Pharma industry and more complex generics.
Disc : holding. Prepared to be patient.
Thanks. That's helpful and understandable if we consider general undervaluation accorded by the market but what's more perplexing is the sudden steep fall in the last 6-9 months. Even Zydus Wellness has been hammered badly during this period (Ref. SS). How much of Zydus Wellness is owned by Zydus Lifesciences?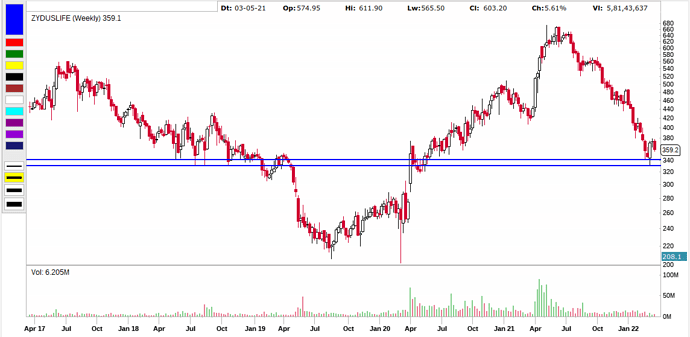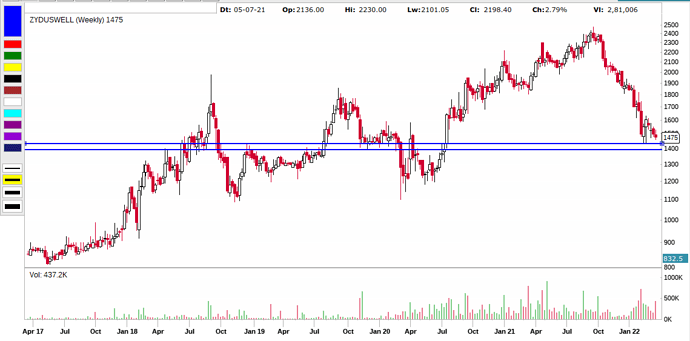 Regards,
Aksh
The price drop in Zydus Wellness makes it look tempting at CMP. I ve initiated a tracking position 10 days back. Will be closely watching the Q4 and Q1 results as these are the two best Qtrs for the company as bulk of Complan and Glucon D sales happen in these two Qtrs.
I m hopeful of a descent outcome.
Zydus Life holds 64 pc in Zydus Wellness.
Even Zydus life is perfectly set up for a bounce in my opinion. Looks like the stock has bottomed out unless of course the whole market falls.
DIVIDEND AND A BUYBACK AT 650
Is anyone still following this Stock? As mentioned by @ranvir the stock indeed bottomed in March but held back due to an overall weak market. I entered at 350 recently as it was making higher lows and the overall market condition has become favorable.
But given the stock's recent history, it's not sure if the stock can rally for an extended period of time.
Disc: Invested