Hello All,
First off, I need to apologize to all the senior folks at VP and the community at large for going incommunicado without notice.
It has been 2 years since I last visited the forum.
Liquidating part of the portfolio to help out with my brother's financial needs, cutting short my full-time investing journey and getting hired again on contractual basis, getting married 1 week post demonetization necessitating the need to liquidate the rest of the portfolio to help fund it, being diagnosed with Type 2 diabetes when switching jobs in May 2017.
Phew! Life sure was eventful, but definitely blessed for the adversarial experiences. Looking back being diagnosed as a Type 2 Diabetic was a silver lining which completely changed my world view. Reading up about the etiology of the disease, I have a newfound appreciation for the human body and other complex systems which operate at multiple layers with each layer generating totally unexpected emergent properties but tightly controlled through multiple feedback loops.
Turned me bearish on pharma from being a perma-bull. In fact, I was hoping to hold Shilpa, Alembic and Syngene for the next 10 years. Lucky for me, I sold them off due to reasons explained above (and nothing to do with the industry. I possibly could have been holding on if circumstances were different)
Past duds from my previous portfolio (at time of liquidation) were Genus Power, Camlin Fine Sciences, Ortel Communication.
My portfolio today consists of only the following 3 stocks which I have been accumulating over the past 6 months: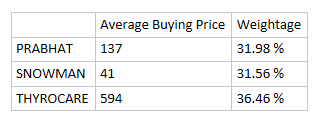 PF is down 15% as on date.
I have bought Prabhat and Thyrocare with the aim to hold for next 10-15 years.
Snowman is relatively medium term for next 3-5 years.
Stock Rationale for each of the above 3 picks:
Prabhat:
Milk, Curd, Butter, Ghee being largely unprocessed (No vegetable oils used) and unlikely to be replaced.
Dairy to become stronger when people realize the harm of fat-free/low-fat/cholesterol-free products such as skimmed milk.
Focused on Maharashtra Tier 2 and 3 towns, rather than compete with biggies in the metros.
Increasing capacity utilization of cheese and other VADP.
Capex phase done and focusing more on Advertisements & Promotion.
Product Quality expected to be good on account of being a B2B supplier to Mondelez, Abbott and others.
Decent promoters building business slowly while maintaining a balance between high RoIC milk & curd segments against capital intensive VADP (cheese).
Risks: Entry of Hatsun in Maharashtra increases competition, given their ability to outspend in terms of A&P.
Thyrocare:
Quantified-self movement where increasing use of health sensors make people increase the frequency of their wellness testing independent of any sickness (Feedback loop, Baseline, etc.)
Govt Regulation (Lab Compliances) and Pricing measures to benefit Thyrocare on account of being lowest cost provider.
Neutral to morbidity numbers. If there is increase in chronic illnesses such as Diabetes or Cancers, it is likely to increase the use of PET CT or their Diabetes profiles. Even if people were to follow LCHF to prevent/reverse diabetes they are more likely to maintain the frequency of testing to a quarterly level.
Increasing importance of inflammation markers, Insulin and Liver enzymes.
Insurance companies which decides to price the premium based on certain biomarkers such as HbA1c, Insulin, or even Cholesterol numbers.
Risks: Disruption by Point of Care devices (Sano) which can perform multiple tests. Mgmt is confident that it can pre-empt it. (At this point, I give them the benefit of doubt given that they have SugarScan Blood Glucose devices. If they can manage to create a low-cost CGM directed towards patients, they may have a killer product)
Snowman:
Largest cold chain company in India. Very capital intensive. They haven't yet reached scale economics. Their metrics compare well to the largest cold chain company in the world (Americold).
Possible benefits from IKEA, given that the deal encompasses the logistics for all in-store restaurants. Increased consumption of frozen meats (Startups such as Licious, FreshToHome, etc), proxy to shrimp exports, govt push on cold storage transportation and warehousing.
Good CEO in Sunil Nair who is an industry veteran having helped Coldex Logistics to scale up.
Risks: Failure in execution of capex which mgmt plans to embark on after a gap of 3 years since IPO. Likely deterioration in debt metrics.
Stocks on Watchlist: Hatsun, Balaji Amines.
Feedback invited.
Cheers,
Vishnu
PS:
If anyone would like to read about my Type 2 Diabetes reversal journey can visit the below link: https://www.dlife.in/dlife-indian-lchf-keto-diet-success-stories/diabetes-reversal-weight-loss-indian-lchf-diet-success-story-a1c-9-3-to-5-2-vishnu/
If you would like to know more about LCHF and "skin in the game" patients who have managed to reverse not just Type 2 Diabetes but other chronic illnesses, please join the community through this link: