Looks like a bonafide mistake of commission for me.
Before I discuss further, let me disclose upfront that I have reduced my allocation to less than 10% for Prabhat and intend to reduce it further to around 5%. Sold off around 80 at 20% loss to average buying price.
Will continue to hold and track it as a special situation (explained below).
Moving forward to my preliminary observations after lot of introspection yesterday night:
Though I had considered the company being acquired as a distinct possibility, I had expected that it would be close to FY20 and had not done proper work on how market would react to it. Also had not done my homework on the company holding structure and if that could cause some ambiguities.
From Twitter: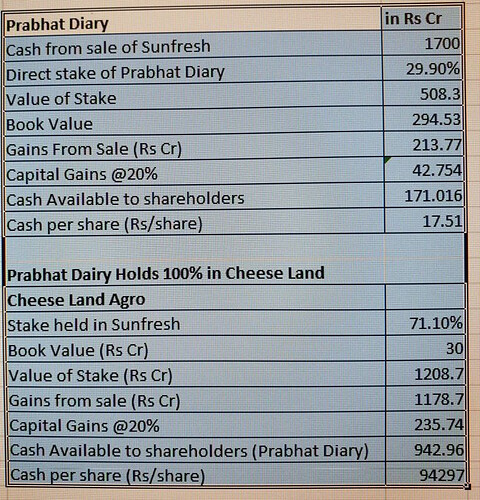 Though I differ with the above since 1227 cr. is being paid for Sunfresh Agro and 472 cr. is being paid for remaining dairy business which is being transferred to Sunfresh Agro. If we were to apply 29.9% on 1227 crores, then one can expect a better expected dividend/share (assuming promoters will try to maximize the amount they can retain as hypothesized in Social Media)
Clarification from mgmt:



https://www.bseindia.com/xml-data/corpfiling/AttachLive/0a905a01-9198-496f-9e30-ccfe80088029.pdf
Lot of Institutional Holding. One of them have sold of 16 lakh shares (ALQUITY SICAV INDIAN SUBCONTINENT FUND) yesterday. Guess they preferred to bailout rather than go through another LEEL, which I think is fair enough. Considering there is still plenty of Institutional shareholding left, one wonders if they are willing to stick around for shareholder's approval vote?

Recency Bias of LEEL. I don't think I have come across any negative coverage on Nirmal Family and Prabhat's governance prior to yesterday. Yes, the structure of the deal is debatable. However does it warrant an expectation of high probability of it turning out to be same as LEEL? I am not so sure given the fact the mgmt wants to focus on new business beyond this acquisition.

Why sell at all?
I had bought it with a 2 year holding period that could potentially be carried forward assuming mgmt met their guidance. However, on introspection and what should have been evident immediately was that it became a special situation as soon as the facts changed (naive on my part to wait for things to settle down).
If one views it as a special situation then the immediate thought should have been about the allocation which is where I missed another trick in selling off earlier yesterday rather than wait till today.
Last but not the least, I still am not sold on the idea that the mgmt is dishonest and will do the max to avoid sharing the cash. Anyways will remain as a reminder to do more thorough work on acquisition scenarios.
This reminds me of why it is good to start this thread. It helps me to commit to put down my mistakes and leanings from them, rather than having locked them away deep in a mind castle.
I expect I can learn more from this experience over time and can revisit or add any additional learnings which escape me currently.