VIP was incorporated as a wholly owned subsidiary of Blow Plast Ltd (BPL) in January 1968. In fiscal 2007, BPL was merged with VIP following restructuring in the group. The company manufactures hard luggage and markets soft luggage imported from China. VIP is the largest player in the luggage industry in India.
In fiscal 2018, profit after tax (PAT) was Rs 126 crore on net sales of Rs 1409 crore, against net profit of Rs 84 crore on net sales of Rs 1275 crore in fiscal 2017.
Strengths
Market leadership and strong brand in the domestic luggage industry. Popular Brands include VIP , Alfa , Skybag , Aristocrat etc . The company entered the ladies handbags segment and relaunched its Skybags brand, which has gained significant traction in the market.
Weakness:
High dependence of Soft Bags on Chinese Imports which accounts for a major part of VIP's revenue, exposing the company to adverse forex movement
Positives:
Debt Free ,
ROE: 22.45 % ,
ROCE: 36.23 %
Sales Growth (3Yrs): 9.44 % , Profit growth 3Years: 21.85 %
Past Financials : (Image Credit : Moneyworks4me)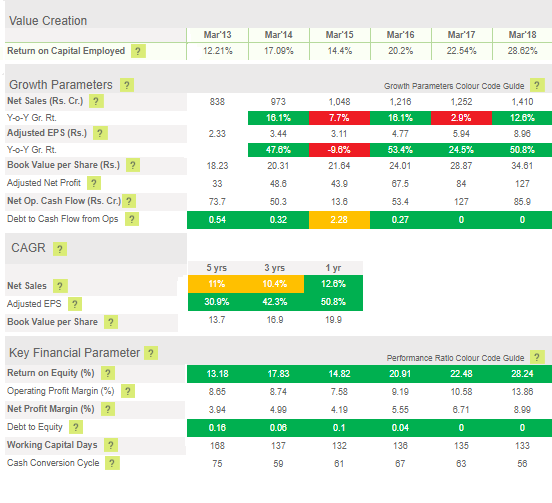 Promoters Remuneration well under ceiling , No equity dilution , Tax % are around 30%
Negatives:
Contingent Liabilities of around 106 Cr relating to some Sales Tax Issues(More than annual Profits)
Other listed Player: Safari ,
One Point i am unable to understand:
The Tangible assets of the company has reduced from 85 Cr in 2014 to 60 Cr in 2017. Do not know the exact reason. Depreciation % is in the range of 20% for every year and looks like company take Land , Spaces on Lease. No new assets are created which raises some doubts.
Disc: No investment
Any of you tracking it ?? @suru27 @vivek_mashrani @hitesh2710 @phreakv6 @ayushmit