@devaki.tripathy - Nifty IT has bounced off 200 DMA like a tennis ball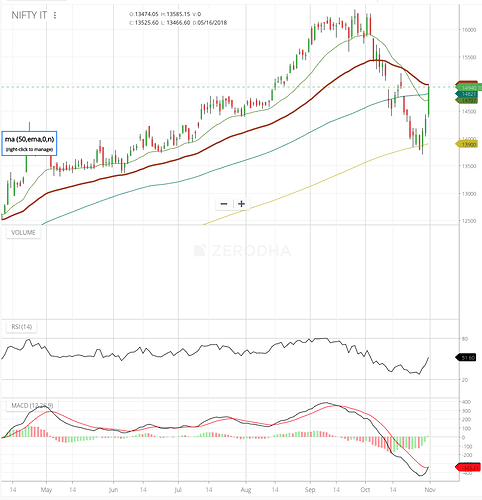 These are for trades with specific timeframes, tight stops and specific targets. Risk:reward is not as favourable anymore so it has to be played based on what the ticker shows. At 200 DMA there was a large margin of safety (with a tight stop) is all I was saying. In other words, the wheel has already stopped and the next spin is a fresh story.
Great set of results from Escorts. W bottom on daily from 560-640 fro 80 point target from 640, i.e. 720 target. Weekly Stochrsi croos and impending one on monthly show start of momentum. Looks good. trading range shaded in rectangle.
absolutely but buy at 200 dma was also crucial support zone . Currently 15050 cross above blue line can add impetus. Weekly stochrsi cross also inspiring but as you said rightly, risk:reward significantly amplifies.
Yes bank starting to form a W bottom also on daily with MACD cross. (also on weekly). Once above 216-20 former resistance zone should move fast to 320-30 resistance on daily and blue trendline on weekly.
Page Inds (Hourly) - Looks to be making higher lows but the 200 EMA is flattening out the tops. I think a breakout or breakdown is imminent. The higher lows suggest a breakout. Results on 14th Nov. Fundamentals are as strong as they have ever been with entry into athleisure and kids segments.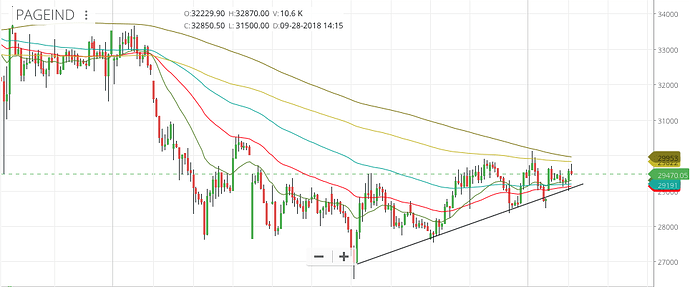 VIP Inds - Out of the resistance trendline and consolidating. I quite like the fundamentals and so added during the recent corrections at support. Results on 14th Nov here as well which could make or break the rally from the bottom.

Seems it has crossed the 220 resistance …seems some funds also latched upon to this…is the chart still showing the signs for upmove?
Mangalam Organics - Closed near all-time high but this will be strong resistance to break. Indecision might continue till results (14th Nov) which could be make or break. A quarter similar to the last is in the price. Hopefully this wont disappoint.
Tanfac - Big runup post Q1 numbers, then retraced and consolidated. Now resuming upmove. Results on 12th Nov which could again make or break.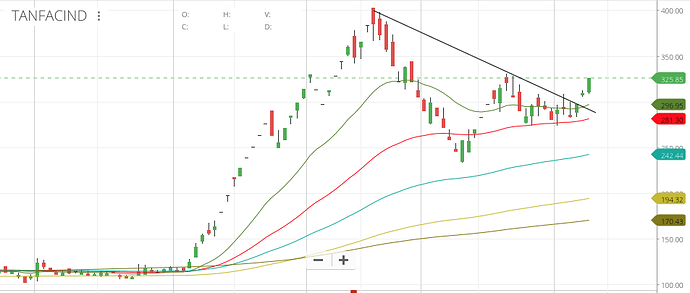 Disc: Entered both post good Q1 results. Added more in the recent fall.
How not to fall for availability bias
These two articles appeared on ET end of July. There were interviews to go along with it as well.
Indian Bank was trading at 370 when the articles came out.
To me at least the language of the articles screamed as an advertisement for the stock than anything else and so I made a mental note to revisit later. The stock made a brief spurt to trap people and then has gone only one way - down.
Results came out today and it was pathetic.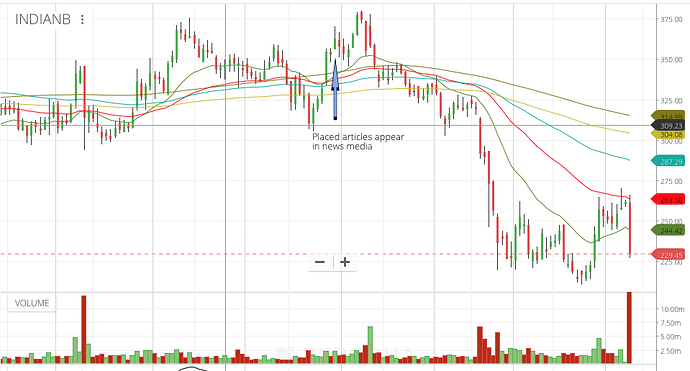 I find it hard to believe this is a coincidence having observed a handful of such cases.
Avanti Feeds - Technically looks poised for a breakout which is why I was waiting for the results to pass before taking a call. Results have been bad and I think worse than what's in the price. Maybe likely that the gap-up between 300-350 will get filled. Will hopefully get to buy this around 300.

Mangalam results should be strong. Diwali and ganpati season the sales are higher. Also the results will have a one time gain of 5cr cause of a settlement with creditor.
Disclosure not holding any of it now. Have traded strong moves in this counter right from 75 to 110. And then 190 to 370.
Looking to enter. Also have a look at its identical peer which will be posting results one day before managalam.
yes. Quite convincingly also. I dont see why 303-320 shud not be arrived at as analysed earlier.
Just my 2 cents was it not going up bcz of crude cool off which in turn leads to gsec trading way below 7.8 was that the main reason?
I was referring to Yes bank
Kolte Patil both on monthly and weekly frames look very good. stochrsi on crossover on monthly seems pending. On a move above 250, can be a very interesting buy for previous peaks of 380-400 in 1 year or so (maybe less based on past surges from current levels).
Cosmo Films has also dilly dallied for long at current zone and indicators on monthly are aligning very well. Some strength above 270 can provide a good mid to longer term trade for prior highs of 420-60 in 1-1.5 years.
Yeah looking forward to seeing Kanchi Karpooram numbers today to get an idea of how Mangalam Organics might perform for the quarter.
Tanfac has come out with very good numbers yesterday
Just wondering how come the delivery % in Kanchi Karpporam is 100% daily from last one year? any insights?
Looks like its in XT segment which is a Trade-to-Trade segment where you have to take delivery mandatorily.
So Kanchi posted higher sales but 20% drop in profit QoQ.
I think what has happened is that RM costs have increased with increased selling price of camphor. However this was not reflected in Q1 because they must have old inventory from previous year at lower prices where they were able to sell at higher prices.
Now in Q2 the effect of higher RM can be seen with same sale price which has shrunk margins. I'm guessing managalam should have a similar trend.
Market was not expecting this and can react negatively.