Vedant Fashions is one of the very interesting consumer retail plays that have got listed recently. It has all the makings of a potential long-term compounder, going just by the numbers - extremely large market size of 1.8 lakh crore, highly fragmented unbranded market, phenomenal market share, industry leading gross margins at 67%, very high operating margins nearing 50% that trickles down to the bottom-line thanks to asset-light nature to make stunning profit margins of 30%, RoCE of 47% even in Covid hit FY22 - so all the characteristics of a big fish in the ocean that can grow for sometime. Being founder led with the entire family running operations closely, gives a lot of skin-in-the-game.
The company's vision is to instill pride in wearing Indian wear and its mission is to be a dominant player in Indian Wedding & Celebration wear space across gender & age. They want to promote Indian culture and its time-honored values in India & overseas.
Brands
The company has 5 brands - Manyavar, Mohey, Twamev, Manthan and Mebaz with clear placements and propositions for each.
Manyavar is the oldest brand, launched in 1999. It is focused towards Men and Boys and is distributed across EBOs, MBOs, LFS (Large-format stores) and e-Commerce. Products for men include Kurta, Indo-western, Sherwani, Jacket and accessories. For kids, they sell kurta set & jacket sets. Manyavar's brand value is strong enough for the company to not offer any discounts/end-of-season sales offers. Other brands in this category are 1/7th of Manyavar's size
Mohey is the 2nd oldest brand, launched in 2015, targeting women with a product portfolio of lehengas, sarees, gowns and accessories, sold through EBOs and e-commerce. Although its been 7 years, the company is cautious about scaling Mohey aggressively before getting unit economics right. Mohey's SSSG is higher than the company's average. The management tracks Mohey's productivity, dead stock levels, inventory turnover ratio and the conversions at the store level. They seem to be still experimenting here to see if standalone Mohey stores do better than flagship Manyavar-Mohey stores. They also don't want to offer Mohey in stores less than 3000-4000 sft as they won't be able to do justice to the collection. They took 3 years to figure out Lehengas will be the center-piece for the brand and in 2019 got Alia Bhatt as brand ambassador and got to 100 Cr sales in 5 years - This is clearly not a company that hurries into things with half-baked plans. Scaling Mohey though is the key thing to watch out for.
Twamev, Manthan and Mebaz were launched in 2019, 2018 and 2017 respectively and the table below covers the brand positioning and price-spectrum
Product Development
Products evolve from trends and go through a review process and are continuously monitored at a region/store/product level to figure out trends leading to a continuous feedback loop.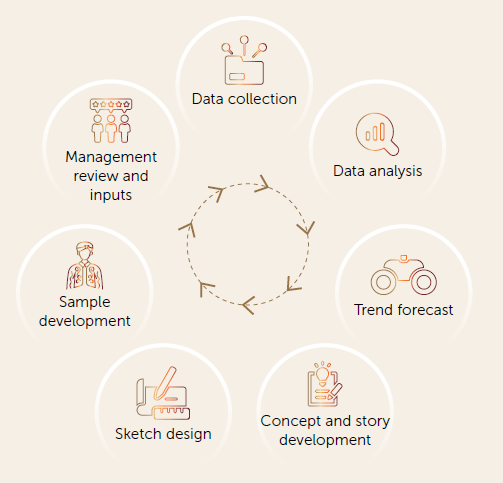 Portfolio of colors to use across brands based on celebratory mood and emotion
Designers follow color-theory to create appealing apparels
Manufacturing involves cutting, embroidery, stitching and finishing - mostly outsourced
2.6 lakh sft warehouse space in Kolkata
Suppliers across 42 cities with 460+ registered vendors
Tech
For an apparel brand, Vedant Fashions has significant tech capabilities extending across procurement, production, distribution and supply-chain management.
Their in-house ERP software runs across EBOs and connects front-end and backend operations.
The POS order management software as well has been built in-house.
They have intra-store communication and can move inventory between stores based on demand
Jobber and vendor portals to manage communications with suppliers
Apps across platforms (iOS, Android, web) to promote end-user sales through their own channel
Ads & Marketing
The spends on marketing and promotions have come down post Covid but used to be in the vicinity of 70 Cr, allowing them to afford Amitabh Bachchan, Ranveer Singh and Alia Bhatt as brand ambassadors.
There are several ad campaigns that you can checkout Taiyaar Hokar Aaiye, Dulhan wali feeling, Diwali wali feeling, Pehno apni pehchaan etc.
Marketing initiatives focus on digital (social media, email), traditional (billboards, multiplexes, tv), in-store (facade, shutters) and through brand building via event sponsorships and brand ambassadors
Retail Footprint
The footprint across brands stands at 1.28 million sft. with 603 EBOs spread across 228 cities and towns in India, as well as 13 international stores in 3 countries (UAE - 7, USA - 5 and Canada - 1). 89% of sales is through EBOs. EBOs are franchise-owned and designed with a lot of aesthetic appeal. 61% of retail presence is in flagship stores.
Opportunity

Apparel industry expected to grow 20-22% CAGR between FY22-FY25
Ethnic wear is 32% of overall apparel market in India
Women/Men/Kids split in Ethnic wear - 81/10/9
Multi-day and multi-event wedding celebrations
10 million weddings per year
Not just bride and groom but entire family & close friends targeted
Rising social media adoption for festivals and celebrations
Growth Strategy
Plans to expand retail space footprint to 2.2 million sft in the next few years
Enhance brand appeal through targeted marketing
Up-selling (Twamev to Manyavar customers) and cross-selling (Mohey leveraging Manyavar presence)
Make acquisitions - Mebaz is an acquired brand. The company had in the past tried to acquire Soch.
Capture market share with the relatively new brands that are placed in new market segments (Mohey for women, Mebaz in south-Indian market, Manthan in economy and Twamev in premium)
Moats
Strong brand recall for Manyavar and by association for Mohey
Proven capabilities in building nation-wide brand
Strong ad-spends to maintain brand recall
Strong balance sheet and asset-light model allows for growth by acquisitions
Integrated manufacturing with long association with jobbers/vendors across 42 cities in India
Tech-integrations in the supply chain, help keep good control over inventory, keeping obsolete dead stock levels at a minimum
Analytics of secondary sales data for predicting styles allows to close the loop on producing more of what sells
FOFO (Franchise-owned Franchise-operated model) allows for asset-light growth. 300+ franchisees with 77% of them operating for more than 3 years. Franchises bring the capital and the company provides all necessary support for choosing store location, management of supply chain and providing training for staff and franchisees - strong symbiosis is a big plus
Management
First-gen entrepreneur Ravi Modi is Chairman and MD (13 Cr salary - 116% increase). His story is an inspiring read. He takes care of design and marketing functions
His wife Shilpi Modi is whole-time director (9 Cr salary - 201% increase from previous year) and takes care of digital strategy and product lifecycle management
His son Vedant Modi is Chief Marketing Officer (50 lakhs salary) and has been leading the concalls and events for the IPO and appears a capable successor to lead the company, so succession risk is not there
Rahul Murarka is CFO and has been recently appointed
Financials
Over a 5 year period, sales has grown at 11% and PAT at 24% which is good but not great or excellent. Though the business model is great, the business is still a function of discretionary demand.
The margin expansion though has been phenomenal
The business has strong cash flow generation owing to needing very little to grow. This could be a cash-machine and if they find profitable avenues to re-invest cash either organically by growing in-house brands or through acquisitions and making prudent buybacks and dividends, this can chug along for a long time.
Valuation
I don't want to delude myself with a DCF. The bet here is primarily on the TAM, the business model and management. In essence, the bet is on this being a growth stock with low disruption risks. Considering the size of the women's market, the bet is on Mohey doing what Manyavar has done. At nearly 100x OCF, 93x earnings its not cheap. What you are willing to pay will depend on how optimistic you are about the future and how aware you are about the risks below
Risks
Growing Mohey is a very different ballgame as compared to Manyavar, due to diversity in women's tastes and size of inventory needed to sate the same
Phenomenal margins and great return ratios can attract a lot of competition
Management still holds 85% of the business and will have to reduce it to 75% over next 2-3 years
Rental market can take away market share. Management is cognizant of the same and watches it closely
Valuation is high with negligible margin of safety
Sources
Disc: Invested around 1100 levels. I could be terribly biased due to my holding. Not SEBI registered and I consider myself a novice. Please do your due diligence