In this series of posts, I will share my thoughts on position sizing, how I have approached it in the past, how the results were, and what refinements I have brought about it.
The past results
I benchmark myself against three portfolios:
Nifty 50: Reflects opportunity cost
Banyan tree PMS: Quality and valuation driven firm with one of the best publicly available track record across market cycles (including 2008)
A microcap maverick like Mittal Analytics (public track record starts in 2019)
Here is how returns have fared over this 2-year period.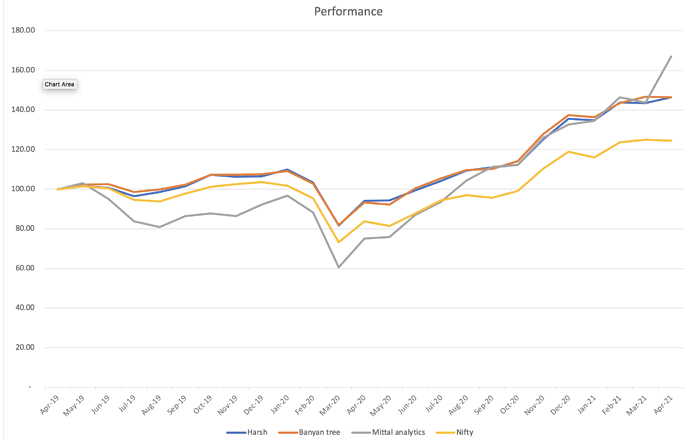 All the 3-strategies has outperformed Nifty. My strategy is much more closer to Banyan Tree (quality + valuation). A more small cap focused strategy creates much higher drawdowns and produces excess returns in good times.
What do I want? Drawdowns like Banyan Tree and outsized returns like Mittal Analytics which is impossible for someone like me.
What can I get? Behaviorally, I want absolute controls on longer term drawdowns by selecting good companies and not overpaying. However, I want to spice up the returns with positions in bombed out cyclicals which can produce excess returns in good times.
Position sizing
I used to size a position anywhere between 1% to 6%. My expected returns were 15% and I used to allocate 6% into companies that were no brainer opportunities to generate 15%+ returns. These were generally large companies with good institutional coverage and whose performance could be studied across cycles. This is how this part of portfolio has done.
| 6% companies | IRR Returns until 28.05.2021 |
| --- | --- |
| Ajanta Pharmaceuticals Ltd. | 24.20% |
| Bajaj Auto Ltd. | 20.69% |
| HCL Technologies Ltd. | 38.10% |
| InterGlobe Aviation Ltd. | 19.52% |
| I T C Ltd. | -0.20% |
| Larsen & Toubro Ltd. | 17.60% |
| Lupin Ltd. | -1.10% |
| Natco Pharma | 20.70% |
| PI Industries Ltd. | 59.60% |
| Power Grid Corporation of India Ltd. | 19.70% |
| Reliance Industries Ltd. | 0.00% |
| Reliance Nippon Asset Management Co | 26.00% |
| | |
| AVERAGE | 20.40% |
Out of the 12 companies, I was right on 9 i.e. a hit rate of 75%. For me, anything >60% hit rate is good. As its clear that I have been right more often than wrong in large positions, I should ideally increase my %. This is one change which I am bringing about in my portfolio.
In the next post, I will illustrate my thoughts on position sizing and the refinements I have brought into it.