Notes from Annual report 2018-19 and other aspects of Industry Analysis:
• SEL is supplying diesel Engines in the range of 20 HP to 60 HP. Since the start of commercial operations in 1989-90, your Company has supplied close to one million engines for fitment into "Swaraj" tractors.
• Fiscal 2019 was the 3rd successive year of growth for the tractor industry and it has posted an increase of 8% over last year.
• The engine sales volume for the financial year 2018-19 grew by 8.3% to reach 99,638 units (previous year - 92,022 units) and net operating revenue at Rs. 871.74 crores as against Rs. 771.16 crores of previous year recorded a growth of 13%
• Higher than volume growth was possible due to increase in price per engine sold which saw 2nd consecutive year of improvement post 5 years of stagnation

• EBITDA increased in tandem with volume growth and reached Rs. 131.65 crores as against previous year's Rs. 121.59 crores. While profit before tax for the year stood at Rs. 127.40 crores (previous year - Rs. 122.72 crores), profit after tax (before other comprehensive income) at Rs. 82.42 crores (previous year - Rs. 80.10 crores) translated into Basic Earning Per Share of Rs. 67.96 (previous year - Rs. 64.62).
• The prices of related commodities - iron and steel - have witnessed upward trends during the fiscal 2019. As a result, the material cost as a percentage of net revenue from operations increased to 75.3% from previous year's level of 74.5%.
• The increase in depreciation and amortisation for the year to Rs. 19.54 crores from previous year's Rs. 16.82 crores was due to additional depreciation on fresh capex made during the year and the full year impact of capital investments made during second half of previous year
• Reflecting the above, the Operating Profit (EBITDA) margin stood at 15.1% against 15.8% of previous year.
• Total inventory including work-in-progress and finished stock at the end of the financial year stood at Rs. 47.44 crores (previous year - Rs. 31.92 crores) representing 20 days of net operating revenue (previous year - 15 days). The increase in inventory was primarily due to higher finished engine inventory to meet the expected higher demand in the beginning of first quarter of FY 2019-20. However, demand scenario is equally important (please refer below)
• Taking the total dividend to Rs. 50.00 per share for the financial year 2018-19 (previous year - Rs. 50.00 per share)
• In view of the Government's focus on rural development, a good forecast for horticulture production and an increase in the MSP, it is expected that growth perspective for the tractor industry will remain positive in the current fiscal as well. In this backdrop, the engine business of your Company is likely to move in tandem with the tractor industry. Further, the Company's ongoing capacity expansion programme for increasing its engine manufacturing capacity to 1,35,000 units per annum has also been completed and the same is now available to meet the expected enhanced demand in future.
• During the year, your Company has also migrated to SAP ERP system as a business enabler.
• Management remuneration increase is reasonable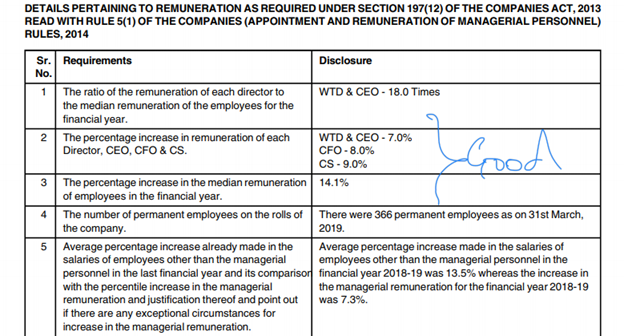 • Overall remuneration to management and board sums up to 2.5 Cr which is well within prescribed limit
• There is a capex leading to asset expansion on balance sheet and if there is enough demand should lead to growth
• Also, there is additional finished inventory lying which might give good growth in Q1 FY20
• Almost 150 cr + of cash and investments
• Segment wise reporting of production and dispatches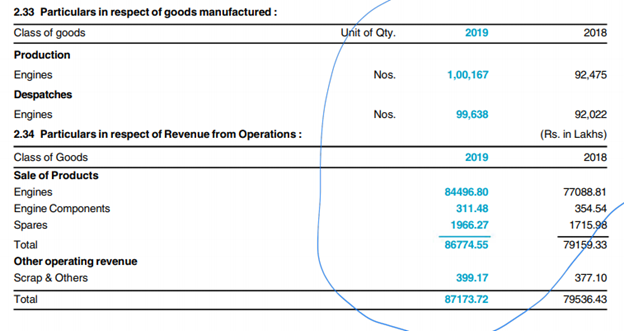 Capex Analysis
Earlier 120K capacity has come at 179 Cr which means 15k Rs per engine generating Rs 83K revenue and 8k PAT which is almost 50% Return on investment (keeping exact formula and few other assets aside). With the new additional capacity of 15K coming at 34 Cr, this turns out to be 23K per engine, if they generate same 8K profit, this looks around 30% return on investment unless this can be sold at a higher price and margin and hence, there could be chances of return ratios sliding a bit based on how margins play out
Industry Analysis
• Indian tractor industry (the world's largest by volume) has a mix of Indian origin and international manufacturers and is traditionally segmented by horsepower broadly - the low horsepower upto 30 HP segment, the mid segment of 30 HP - 50 HP and the higher segment of above 50 HP. While most of the major players cater to all the three segments, their relative strengths and market positions differ from segment to segment. Over a period of time, the medium and higher HP segments have become the most popular and fastest growing segments in the country owing to increased affordability, tractor versatility and evolution of farming practices especially in case of farmers with large land holdings.
• Riding on the strength of overall positive attributes, the domestic tractor industry recorded growth for the third successive year and during FY 2018-19 posted a volume of around 7,87,000 units (previous year - 7,29,000 units) - a growth of 8%. Factors like successive normal monsoon, improved crop production through favourable crop cycles, positive sentiments in rural areas, easy availability of farm finance at reasonable interest rates etc. propelled the growth in tractor industry.
Management View:
With Government's continued thrust on enhancing farmers' income through various initiatives like improving irrigation facilities, crop insurance, hike in minimum support price (MSP), monetary support to marginal farmers, promoting rural development besides other industry growth drivers such as agri mechanisation, scarcity of farm labour especially during the sowing season and momentum in infrastructural projects etc., the tractor industry is expected to continue its growth journey in medium to long term. In the backdrop of the optimistic industry outlook for the Company's prime customer, business prospects of your Company appear to remain positive
Personal View
• Clean and clear business with strong financial metric which kind of ticks all 1st level checklists undergoing expansion but there could be cyclic demand headwinds. As it is evident from 2013 to 2018 data, it is a semi cyclic industry (2013 to 2015 numbers). After good 3 years, industry is again facing demand headwinds (refer to below article) where in last few months there has been a YoY degrowth
• Also, Mahindra has recently lost market share to other players


• So, growth might face headwinds due to cyclic behavior and competition and that could be the reason apart from valuation that why share prices have fell by more than 40%.
• Also, last cycle did not only lead to volume contraction but also per unit topline stagnation/little contraction. If that plays out again post 2 years of strong unit topline growth, this could further lead to impact on overall EPS (in case the unit economics improvement is due to higher HP tractor capacity, might be sustainable)
• So, considering demand headwinds, historical cyclical behavior logevity of tractor industry, unit economics of cyclicity, margin contraction in scenario of expansion under constrained demand environment and hardening of raw material cost, keeping a cautious watch to accumulate
Disc
No holdings as of now but in watchlist. Did technical trading in last 6 months
Hi,
Quoting the Outcome of Board meeting for today uploaded in BSE.
"As the domestic tractor industry remained subdued in first quarter of current fiscal
and registered a decline over corresponding quarter of last year, Company's engine
sale for the quarter ended 30th June, 2019 got impacted and stood at 23,033 units as
compared to 26,742 units sold during corresponding quarter of last year - a degrowth of 13.9%.
In the backdrop of lower engine sale, Company's Net Operating Revenue for the first
quarter of FY 2019-20 at Rs. 205.38 crores registered a decline of 12.4% over last
year's same period revenue of Rs. 234.52 crores. While Profit Before Tax for the
period was Rs. 26.22 crores (last year - Rs. 35.65 crores), Profit After Tax stood at
Rs. 16.92 crores (last year - Rs. 23.06 crores)."
FY 20 Q2 Results:
https://www.bseindia.com/xml-data/corpfiling/AttachLive/decc1612-7098-4948-ad7d-94299898fe3b.pdf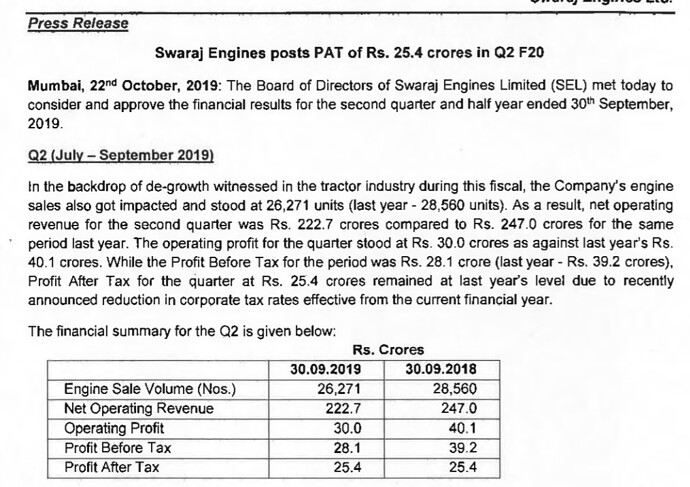 Given that we had normal monsoons for past years, chances are bright of abnormal monsoons Does the current valuations (18PE, 13 ev/ebit) factor in poor monsoon. Often bad stock price comes in before the bad news. If no, then how to look at its valuations
Q3 FY20 Results: https://www.bseindia.com/xml-data/corpfiling/AttachLive/dec5ee8c-9d56-4ea7-b754-8264e79e7618.pdf
De-growth continues…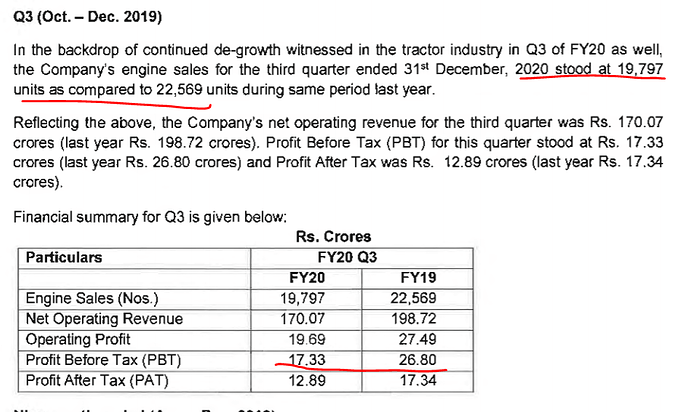 De-growth was expected as M&M Tractor sales decline. Swaraj Exlcusively supply Engine to M&M tractor (Swaraj tractor brand) and very small engine parts to Sml isuzu.
While decline in M&M Tractor sales duing Q3FY20 was around 7% (YOY) same for Swaraj was higher at around 12% (YOY).
However, if we compare Swaraj Engine sales to M&M Tractor sales for December quarter over the years, We find Swaraj has 23% average market share of M&M Tractor sales during December sales during FY12-FY20 period. I have calculated market share as Swaraj Engine sales to M&M Quarterly Tractor Sales release for SIAM (3 months sales added to arrive at particular quarter sales).

While there has been marginal fall in Swaraj Engine Q3FY20 market share, I did not find same as worrisome. The fortune of Swaraj engine directly linked to M&M Tractor sales in general, Swaraj Tractor Division sales in particular.
We understand from various reports, that Indian Farmer are expected to have bumper Ravi Crop (+plus high food inflation which mean improved realisation for Farmers). We may see exceptionally high income growth agri in short term and I would anticipate same reviving demand for tractors which shall mean improving prospect for Swaraj. However, this my understanding of business and it may be completely wrong.
Discl: Swaraj Engine is among top 10 stock holdings for me. I have been invested for around 8 years. My view may be biased due to my holding. Investor shall do his/her own due diligence or consult investment advisor before taking any decision. I am not SEBI registered analyst. No transaction in the company for last 23 months.
Hi,
Results are out for the last quarter including full year results.
Swaraj Engines' net profit fell 13.8% to Rs 71.04 crore on a 11.3% decline in net sales to Rs 773.30 crore in the full year ended on 31 March 2020 as compared to the full year ended on 31 March 2019. PBT stood at Rs 93.07 crore in FY20, down by 26.9% from Rs 127.40 crore in FY19.
Engine sales for FY20 stood at 89,928 units, down 9.75% compared with last year's sale of 99,638 units.
The Tractor and ancillary companies have corrected less and holding the fort well during the current market turmoil.
Do you feel that the prospects of Tractor and ancillary companies will improve manyfold if the proposed Agricultural Reforms are implemented?
Given that tractor and ancillary sectors are cyclical, how do you manage your holdings in Swaraj Engines? Do you trim your positions when the sector seems to attain its peak (e.g. in 2017)?
@sujay85
Thanks for your message. Swaraj is one of the best companies I have invested in. If you need to read (rather see) cleanest balance sheet among Indian Business, Swaraj Engine would be one of them in my opinion. Given the cashflow generating business which can grow annually at around 15% without major capex for another 10 years (as per my understanding given that company has almost half land only occupying current plan and hence scope for
multiple brownfield expansion over next 5-7 years) and exceptional cashlfow generating high ROCE expanding (but definitely volatili), Swaraj is among my core holding since nearly decade now. I have occassionally increased and reduce my holding in the company based on my view of price.
Swaraj has done well when agriculture was controlled. If case all state in India decide to decontrol land ownership and allow corporate farming, that may result major booster in agri productivity and also mechanisation of labour, which shall indirectly benefit Swaraj TRactors and hence Engine. Even if no change in regulation, still Engine show pattern of Tractor business growth with moderate volatility. So I do not see any negative development (keep aside positive for time being).
As the sector is cyclical, Swaraj Engire directly linked to Tractor industry. Normally Tractor industry has 3-4 years of upcycle followed with 1-2 years declince/stability phase. Even monsoon rainfalll also add seasonality to cycle. However, Swaraj Enginre shown relatively less volatile sales as compared to tractor industry. One reason being that Swaraj has constantly increased it share of engine supply when compared to Mahindra tractor sales. It would make sense for Mahindra to move share of tractor engine sourced from Swaraj as same being also owned by Mahindra.
However, business prospect and share price can not be insulated from volatility of business and share makret. In past, I have increased and declined holding in Swaraj Engine shares depend on my perception of business prospect and share price.
Find enclosed my dealing Swaraj Engine over period. Please note that I have used a mutiple of my actual quantity of trading, I am reluctant to share that information. The quantity in enlcosed trade broadly to give view about % holding bought and sold over period. The price are actual, date are actual, but quantity is mutiplied with certain factor.

Please note that my reading of future may be wrong. One also need to consider important factor of Evehicle in Autombile industry and impact of same on Tractor industry (in context of requirement of Engine). Hence, future may not be same as past growth. Also, this is based on my uderstanding of industry and Swaraj business, which may be completely wrong.
Disl: Among my top 10 holdings. Sold maginal quantity in last 2 months increase in cash in portfolio. My view may be biased. Not a SEBI registered analyst. I am not recommending any investment action in the company. Investor shall do their own due diligence before making any investment decision.
Enclosing my working Swaraj Engine for an investor who got allotment in IPO and continue to hold without any action (neither participating in buyback nor subscribing in rights but continue to hold orignial holding and receive dividend). Over a period (since 1989 when compnay did IPO (assumed at par of Rs 10 each) Rs 1000 invested (100 share @ 10 per share), would have grown to ~850,000/- (600 shares @ 1408 share price on March 2019) giving XIRR of 46% (cell W34 in enclosed excel file) over 30 years. Net profit data available from FY92 to FY19 (27 years) increased at 16% CAGR.
Please refer to enclosed file for details.
Swaraj Engine XIRR since IPO.xlsx (43.4 KB)
First is with two normal monsoons last 2 years, can we expect deficient monsoon sooner rather than later. Then the question arises does the current valuation price in the possibility of a deficient monsoon.
Further sir can you tell me the source where you got the land information (for learning purpose) that land is available.
Next question is what if M&M decides to squeeze the margins of Swaraj Engines. It has never happened in past but if this happens then what.
Sir your views have opened eyes about the business beyond our imagination!!
First, in case there was certaintity of business growth, Swaraj would have traded in mutiple upwards of 40-50X. There is uncertainity about monsoon which can not be ruled out. However, in relative sense, the performance of Swaraj is better than other agri player with it being relatively less volatile.
Find enclosed one chart from Monarch equity research report explaining the point.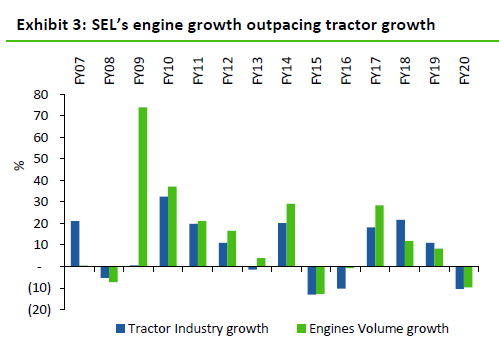 On capacity to expand brownfield without any major capex, it is my assessment based on attending AGM couple of years back, I am not real estate expert and my assessment has high probability of being wrong.
In point of M&M squeezing margin, in my limited understanding it would be difficult given the Kirloskar group (which also understanding of business due to Engine presence) stake being around 17%. M&M can not just squeez the company in my view and that has been seen in past. M&M and Swaraj has some agreement which provide for quick payment along with passing RM and shaing efficiency in my view.
Discl: Same as past message. Please do own due diligence before invesmtnet. My view may be biased due to my holding
Hi,
The tractor sales are encouraging in the month of august 2020.It is 45% more yoy.
For M&M tractor volume is 21,500 compared to 14,817 Aug 2019 registering a growth of 45%.
Similar is the story of Escorts,Tractor Volume stands at 5,851 compared to 4,035 last year same time registering growth of 45%.
Quoting Official of M&M on rural demand as a whole.
"The rural demand is quite robust for XUV 500, Bolero, Scorpio, there is a good traction for the pick-up trucks too. The overall demand is much better than what we thought out to be. On the tractor side, it is getting into a new phase, which is the run phase. We are seeing tractors demand to be very robust and to be honest; I haven't seen this kind of demand momentum in a long time. So I think overall rural is very robust and that is obviously leading to demand for several auto products as well, which is very robust." Mr Rajesh Jejurikar, ED, M&M
Disc -> Invested.
Thanks,
Deb
Hi,
Good results by Swaraj Engines.
Swaraj Engines Posts Highest Ever Quarterly Sales with 30% Jump in PBT.
SEL posted operating profit of Rs. 40.00 crores as against Rs. 30.00 crores for Q2 of last year - a growth 33.3%. Further, operating margin also registered an improvement by 20 basis points to reach 13.7%. While the PBT for the second quarter stood at Rs. 36.44 crores (last year Rs. 28.09 crores)
Thanks,
Deb
Whether the company will shift to ELectric engines. Anyone having info pls share
There is nothing like an electric engine…it's electric motors. Normally motor manufactures are different. When electric tractors become the norm ICE manufacturers have to find another revenue stream. I feel it is still some time away. This is based on my limited understanding.
Regards,
Raj
Disc: Not invested