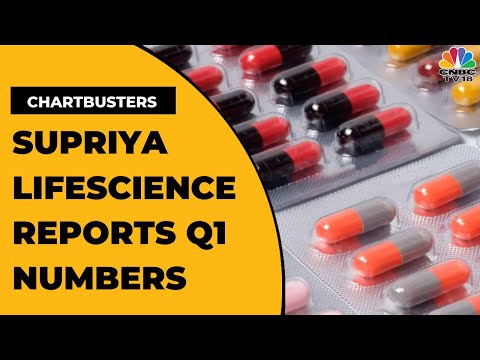 In this interview Saloni Wagh says that because of the nature of their business there is some cyclicality in the margin where Q2 and Q4 margins are better than Q1, Q3 – she recommends looking at the complete year.
Disc.: not invested
Hi, you can check directly on nse / bse website or better is free register on screener.in and put the companies that you are interested in the watchlist and then you will get the details like this.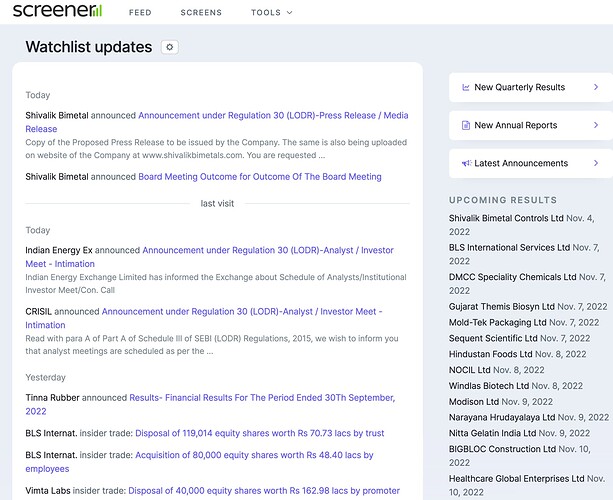 You cans also get daily alerts on those companies if you want for free. I think in free version, 50 companies are allowed.
Hope this helps.
dr.vikas
Customers of Suriya lifesciences (Sourced from DRHP)
Syntec Do Brasil LTDA,
American International Chemical Inc
AT Planejamento E Desenbolvimento De Negocios Ltda
Suan Farma Inc,
Acme Generics LLP,
Akum Drugs Ltd
Mankind Pharma Ltd
I could not find any more names in spite of my best efforts.
Looks like no major Indian pharma company buys their APIs!!
Poor results, now we know why stocks have been falling.
Company has published "Revised" results as the original release contained errors. But even the revised release seems to have mistakes. One thing I can see is that the Finance Costs and Other Expenditure row has got switched. So I guess they will publish one more revision tomorrow.

Hi,
Did anyone attend the concall of Supriya. What did the management say for the poor results.
As per the management the reason for poor results is non-movement of high margin shipments to China due to covid lockdown and some pressure in Europe due to Russia - Ukraine war.
They tried sending some small shipments to China to test if they could be moved but they were stuck at airports and could not be moved.
Also, the demand for products is intact and as soon as China opens-up they can move the product.
There was also some talk of recovering what has been lost in this quarter in coming quarters.
They have highlighted this in their Presentation! Sales for anti-histamines dropped in Q2 severely due to the China lockdown. Look at the numbers YoY and clearly, they could not send anything to china.
Any other firm in pharma or agrochemical space that has faced similar issues? Would be good to validate mgmt comments.
@harsh.beria93 have you seen something similar? Thanks!
If that's the case then they are over dependent on china for their sales, which is not good.
Think this way brother, Lockdown in china is temporary issue and would be resolved very soon. However if this shipments reach customers and once payment gets completed it increase revenue in coming quarters. Hence its better for us to wait on shortterm headwinds like china Lockdown. Very less manufacturers have buyers in china, so supriya lifesciences is doing something beyond which others are not doing.
I don't have specifics but what is probability of Chinese shutting down their pharmaceutical plants. During Covid you need more medicines not less. Without API no medicine can be made.
Also during q1fy23 concall they were saying that some Chinese shipments will be pushed to q2fy23 which didn't happen. What happened they couldn't deliver any shipments!
More over their repeated confidence of delivering 25% revenue growth and 40% ebida margin are just dreams in thin air. We have to discount this management to great extend before believing anything they say.
I am not an accounting expert so request to clarify please. If management is saying that they were not able to ship the products then those products should show as inventory… no?
Inventory in March 22 is 92 crs and Sep 22 is 106 crs. Doesn't seem to be a big difference.
Yes, Heranba faced a similar issue in Q1FY23 but they were able to recover volumes in Q2.
I am a techie and have no idea who is right here.
But it would be great if someone can point out any paper/article on how one should understand this and make up one's mind - before my post also gets deleted :-).
Not fully correct. Raw material to the extent its getting consumed during the period is expensed out or remain in the form of finished inventory as cost of material for unsold one. Raw material which couldn't get consumed will continue to be part of inventory as raw material only.
If you want better clarity on this may please refer schedule 9 of Annual report fy21-22. Page no 152
Thanks for this point as well. You are correct. Used Raw material will be an expense ans unused will be part of Inventory. Thanks for enlightening on this as well. In above screenshot company mentioned about finished goods and work in progress only as Inventory in quarterly presentation
I assume the Anti-histamine drugs are seasonal and company used to ship these products in Q2 of every year which is reflecting in last years Q2 results as well. Now I am not able to understand if the Anti-histamine drugs cannot be shipped in time in Q2 then how they will be able to extend the manufacturing and shipping to next quarters.
Can anybody throw some light on this?
CFO and Whole Time director have resigned and replaced on the same day. A few months back it was the CEO. Any view on the CG ?