Company introduction
Supriya Lifescience Ltd. (SLL) is a manufacturer and supplier of active pharmaceuticals ingredients ("APIs"). The company was started as a partnership firm by Satish Wagh, a first-generation entrepreneur and converted into a limited company in 2008.
SLL has its main plant at Lote, around 250 km from Mumbai and exports APIs to a large number of countries across the world. As an API manufacturer, the principal competitors for SLL in India include Divi's Laboratories, Wanbury, Unichem, Mangalam Drugs, IPCA and Teva API which operate in similar therapeutic areas as SLL. In foreign markets, the company competes with respective regional players and multinationals.
The business
The main facility at Lote is spread across 23,806 sq. mts. having reactor capacity of 547 KL / day where the company presently operates 7 clean rooms. It also has a DSIR approved R&D facility. SLL's R&D efforts are primarily focused across the value chain of API process development. As on 31st March 2022, SLL had a team of 26 scientists.

The key products of SLL such as Cetirizine Dihydrochloride, Diphenhydramine Hydrochloride, Chlorpheniramine Maleate and Pheniramine Maleate are in the therapeutic segments of anti-histamine and anti- allergic, which are widely and commonly prescribed drugs for treatment of common cold, cough and flu. Ketamine Hydrochloride is in the therapeutic segment of pain management. The company is in the process of further diversifying its product portfolio.
As of March 31, 2022 the company had niche product offerings of 38 APIs focused on diverse therapeutic segments such as antihistamine, analgesic, anaesthetic, vitamin, anti-asthmatic and antiallergic. The company has consistently been the largest exporter of Chlorpheniramine Maleate and Ketamine Hydrochloride from India, contributing to 45-55% and 65-70%, respectively, of the API exports from India, between Fiscal 2017 and 2020. It was among the largest exporters of Salbutamol Sulphate from India in Fiscal 2020 in terms of volume.
A brief overview of the company's financials is given below:

As can be seen, the company has posted consistent growth in both top line & bottom line along with good margins.
In Fiscal 2022, SLL's products were exported to 86 countries and to 1,200 customers. The company has grown its API business in several countries. Region wise distribution of exports is given below:
| Region | % of revenue in FY22 |
| --- | --- |
| Asia | 51 |
| Europe | 30 |
| LAC | 12 |
| North America | 3 |
| Others | 4 |
The company's products are approved by various international regulatory authorities such as USFDA, EUGMP, EDQM, SFDA NMPA, ANVISA, KFDA, PMDA, TGA and Taiwan FDA.
The business mix by therapy is given below: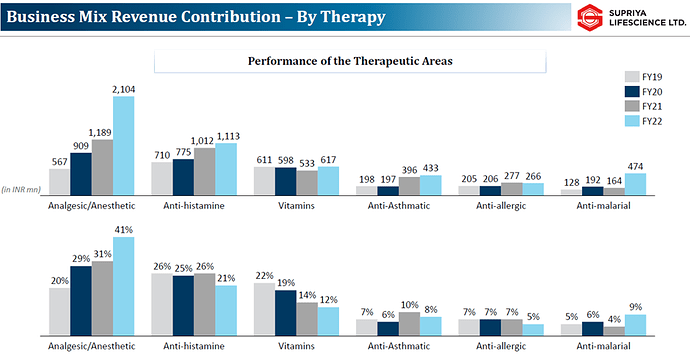 Backward integration
One of the key strengths of SLL is backward integration. As on date, 12 of the company's products contributing around 65 - 70 % of the total revenue are backward integrated, with more in the pipeline. For these products, SLL produces the KSM (Key Starting Material) themselves and controls the various stages of production such as n-2, n-1 etc. This has resulted in increased margins and lesser dependence on external suppliers.
The company sources most of its raw materials from India, China, South Korea and Belgium. The management says around 50% of the raw materials are imported, of which 26% are from China
In the recent past, the focus of the company has been to ensure sustained and consistent performance through development of newer molecules, penetration in newer geographies and convert CMO / CDMO opportunities. In order to further increase its competitiveness and cater to future expansion plans, the Company has strengthened its team by making senior level hiring in operations, research and business development and plans to continue to hire for other functions as well.
As per the management, their plants are currently running at full capacity.
Promoter
Satish Wagh, a first-generation entrepreneur is the Chairman and Managing Director of the Company. Mr. Shireesh Ambhaikar is the CEO and Mr. Ashish Ramdas Nayak is the CFO. The promoter's two daughters, Ms. Saloni Wagh – a Ph.D. in chemistry & Ms. Shivani Wagh – an MBA from Manchester are also actively involved in running the business.
The management appears to be having a clean record on governance. As on the date of the DRHP, there are no outstanding criminal proceedings, actions taken by statutory or regulatory authorities, claims related to direct and indirect taxes and material litigation involving the Company, Promoter and Directors.
Post the IPO, promoter stake in the company stands at 68.24%.
Future Plans
Going ahead, the company plans to focus on expansion of manufacturing capabilities, expanding product portfolio with increasing R&D capabilities, increase current market presence and enter new markets. A foray into CMO / CDMO business is also being planned.
The company is building two new R&D centres, one in Lote and another in Ambernath. The Lote centre will cater to lifecycle management and further backward integration projects. This is expected to be completed by Q2 FY23. The Ambernath centre will cater to new molecules and CMO / CDMO business. Further, the company plans to expand the controlled drugs portfolio for which identification of potential APIs have been done and are in development pipeline. It is also evaluating product portfolio expansion by selecting products in anti-diabetic and CNS range.
The company is also focusing on improving infrastructure, which includes debottlenecking and the development of new manufacturing blocks. For future expansion, company has acquired 80,000 sq. mts. on lease from MIDC at Isambe Industrial Park dedicated to manufacturing of APIs & Drug Intermediates. In addition, the company has acquired a plot of land, measuring 12,400 sq. mts. near the existing facility at Lote for future expansion.
With various expansion projects, the total capacity will increase from 547 KL to 810 KL by Q1 FY24
For regulated market, regulatory team is registering products and filling DMFs. Sales team is in discussion with new customers to qualify Supriya as source. Sending of samples and supplying APIs for customer validation of products has already started.
SLL has also initiated discussion with various companies ranging from big pharma to innovator companies to work as a partner for supplying products as per their needs for its CMO / CDMO foray. Currently, work on 5 such projects is going on.
The company has no plans to get into formulations.
Listing & thereafter
SLL came out with an IPO in December 2021. The IPO consisted of an Offer For Sale by the promoters to the tune of Rs.500 crore and a fresh issue of shares of Rs.200 crores. The issue was subscribed 71.5 times and shares listed on the NSE and BSE on 20th December 2021. The offer was priced at Rs.274 per share and listed at Rs.425 per share. Currently, the shares are trading at Rs.358 per share, well above the offer price. At this price, the stock is having a market cap of Rs. 2,885 crores and is available at a trailing P/E of 19 times.
Sources of information: DRHP, Investor presentation, analyst concalls, industry reports.
Important Links:
Supriya Lifescience DRHP
Investor Presentation Q4 FY22
Transcript of Earnings Call Q4 FY22
Company Website
Active Pharmaceutical Ingredients (API) - Sector Report.pdf (2.2 MB)
(Disclosure: Tracking, no position as yet)