Intellect Design
423
It is very difficult to decide whether a stock has reached its bottom , but let's try.
This stock has corrected 61.8 % (Fib number ) and is formaing a base near that for last 3 months.
Generally good stocks tend to recover from these levels (off course market and sector conditions should also rhyme)
Monthly chart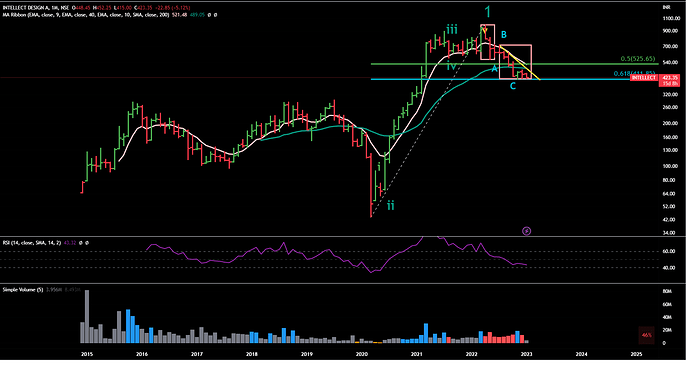 On weekly chart , we can see some hidden divergence on RSI as well as C=A .
It indicates that may be we're near the bottom ( but we can't depend upon only on this single indicator !)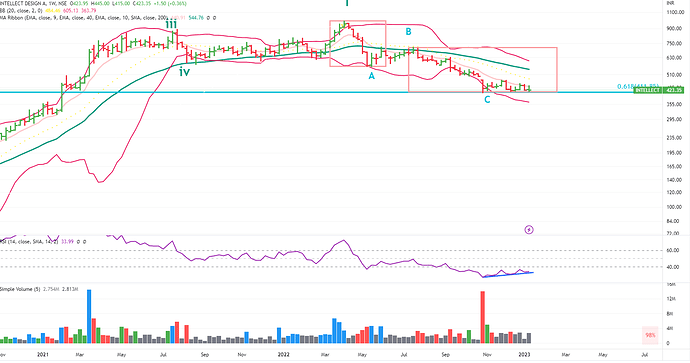 So we've three things that might suggest that we're near the bottom - 61.8 % retracement of last few years rally , A=C are equal now and a positive RSI divergence on weekly charts.
This only helps us that it should be in our watch list.
But here are few more positive signals that are yet to come :
a) It is in sell mode on daily,weekly,monthly MACD
b) It is still trading below 20 DMA,40 DMA,20 WMA,40 WMA.
c) We are yet to see volumes , big hands should show some inclination to buy.
Even if it starts showing some more postive signs, we would not go all in at once . As market index ,sector as well as stock should show overall positive sentiments.
So if we plan to ride this, we would to take some position when it closes above 20 dma, has buy signal on daily MACD and then we would keep on adding as it crosses and closes above 40 DMA, 20 WMA, 40 WMA with buy signals on weekly.
But major position would be added if it crosses and close above 500-510 with volumes as that is big gap zone on daily.
Disclaimer :This post is just for learning few methods of price-patterns. Views are personal. No buy/sell recommendations. These are probability study methods and chances of success/failure depend upon various factors.