Never buy based on these kind of narratives (no offence to anyone ) . Being retail investor we have limited money (hard earned ) so one has to understand the business in and out , acquire knowledge , have own thesis if the thesis / facts change you have to have action plan to hold or exit.
Prof Manekar is Ace Investor , he bought at the peak and sold before the rot (he saved himself from a huge loss )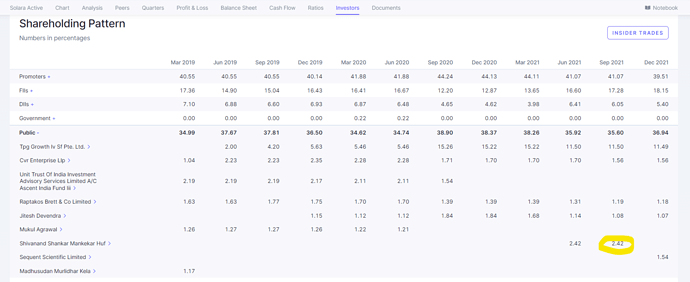 Quote from the article
Solara has formed inorganically under the demerger scheme by demerging the select API business of Strides Shasun Limited and the human API business of Sequent Scientific Limited. The demerger changed the fortune as revenue's increased from INR 562 crores in 2018 to 1616 in 2021.
With changing global dynamics, Indian Pharma entities has potential to grow multifold in next few years. To reap maximum benefits, companies will look to consolidate the operations which can give numerous benefits to them. Solara-Aurore merger is a classic example of this. The proposed merger will not only give multiple benefits to both companies, it can likely start next wave of consolidation in the pharma sector.
Promoters having different expertise will come together and manage the operations of merged Solara which may open new avenues for Solara. Along with part of a bigger entity, merger will offer liquidity to the existing promoters of Aurore as well as will not trigger "Open Offer" requirement under SEBI Takeover Code. Going forward, merged entity can leverage upon the strengths of each of the standalone entities and offer better value proposition. In future, if required, promoters may invite strategic partner at much better valuation than standalone valuation or even can raised funds for expansion at a lower cost.
Couple of interesting articles on restructuring in the PHARMA industries and Solara
I wonder how he knew such a terrible quarter was likely and dumped his entire stake. He also has a stake in Stelis so is obviously known to the promoter. Anyways, I think API has a long runway in india and FY 23-24 will be excellent.
Granules management has said that it will be a tough time for Ibuprofen API manufactures from India.

correct… there were signals…after shareholding % were announced, we saw Prof Mankekar has exited, CFO/ED sold stocks before end of Dec … something was brewing and some people know apparently…
Good to see promoter buying in the last week. Perhaps they feel the business has bottomed. API stocks are the worst hit with drawdowns as high as 65 percent in Solara, Neuland, sequent. Surely, API as a sector will see growth in india and a few companies will be major winners. From the above 3 small companies,in terms of valuation Solara is the most attractive, as it's written off as a commodity stock. Does anyone have a timeline of the Aurora merger ?
I have also bought from the recent fall. While I dont completely have confidence in the company to scale new highs, I also dont think its fair value is at 2300cr M-Cap. I'm usually very long with investments, but this could be more of a 3-4 quarters play, which is when I feel it should go back to a credible level, but definitely not new highs.
One potential way to disrupt could be the Aurore merger, as their balance sheet is much better (due to Favipiravir/Remdesivir API sales), and combine that with Solara's, it might start to look better. In any case, the whole entity is just being built up to be sold in 2-3 years.
Do you have access to Aurore data ? How did they do in the past 4 quarters or from the date of the merge announced ? This will help us to understand their product basket. (To rule out their are not like any other commoditized play )
Aurore merger is share swap, that is going to dilute the equity of the existing share holders, is the share swap happening still at the same valuation or is it going to based on the latest market cap ?
There were some issues about this merger, part of the sale is excluded now (they have agreed to exclude some minority share holder part with a clause - Solara has first right to buy in future ) , previous application to NCLT was withdrawn and they have made fresh application , this is going to take again its own time.
Another key anti-thesis is , they capital allocation , spent so much on a commodity (Ibuprofen ) plant which doesn't have FDA approval (they can't sell the product from this plant to US yet)
After the recent crash in their top line what made you think they are not a commodity company like IOLCP ?
If at all one wants to exposure to API company why Solara is superior to Glenmark, later is available at cheap valuation and their top line has didn't took a nose dive like Solara (70% Q0Q degrowth )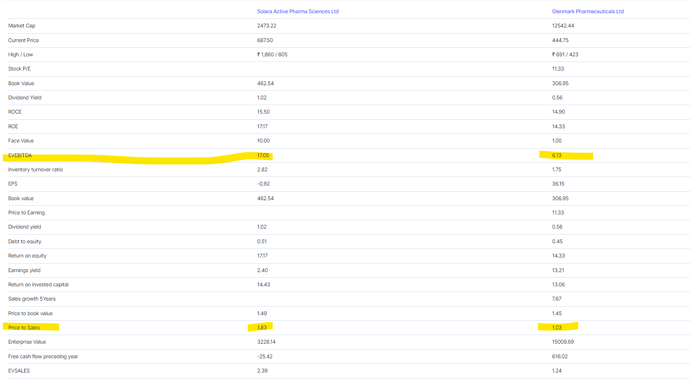 Disc: Not invested any of the two companies
Hi Ranjit, I feel there is no way we can tell if the stock would breach the all time high again. I am looking at it more as an opportunity to buy a business at peak pessimism. The worst case scenario is the Auore merger may take another six -eight months but the market usually anticipates an uptick in performance before hand. For now, any return to normalcy in Solara's revenue numbers will be well received.
The previous CFO is bought back…Mr Hariharan.
The clean up seem complete.
Board has approved the grant of 50k ESOPs to Mr. S. Hariharan under Solara
Employee Stock Option Plan, 2018
P.S.: Arun Kumar Pillai acting as PAC

Basf plant might shut down as gas prices goes up and Supply might be disrupted. Ibuprofen producers in india is likely to get windfall gains…
Jitesh Devendra is back as CEO
Expected merger with aroure is called off.
New management n trusted leadership of Jitesh seems all positive news for Solara. I personally remain invested n wait it out.
When did that happen?!
Just today. During earnings conference call…