The company is on track to expand its API and CRAMS presence over the next three years. Long-lasting contracts in high-volume APIs will provide a solid base while high-value low-volume APIs and scale-up in the CRAMS business will drive both top-line growth and profitability. A 15% CAGR in top-line and 20% CAGR in EBITDA looks achievable. The recent fundraising of Rs 4.6bn will be utilized in developing capabilities in both these segments.
 Fundraise of Rs 4.6bn: In Feb-2019, Solara announced a fundraise of Rs 4.6bn through warrants given to promoters and PE investor TPG. The company has already received 25% of total commitment while the remaining fund is likely to come in FY20E. A large portion of this fund will be used to acquire capabilities in CRAMS and in setting up a Rs 2bn Greenfield API plant in Vizag. The co has already started working on the plant with an initial investment of Rs 700mn. The revenue generation is likely to start in 2HFY21. Residual funds will be used to pare down debt.
 CRAMS to improve business mix: As of now, Solara has only 5% of its revenue coming in from CRAMS orders. The management is looking to scale up its presence in CRAMS. It already has two R&D units in India while it is building its leadership team in the US. The potential acquisition in the US is likely to be in the form of kilo lab facilities having certain technological capabilities. Since the margins in the CRAMS segment are upwards of 30%, the management is targeting 20%+ EBITDA margin for Solara over the next few years.
 Clean regulatory slate: The company has 4 API and one intermediate unit in India. It has not faced any enforcement action from the USFDA for its plants so far. The recently inspected Ambernath and Cuddalore plants received zero 483s. Puducherry and Mangalore plants were inspected in 2017 and 2016 respectively, both the inspections were clear.
 New product filings remain high: Solara filed 9 DMFs in FY19 and is likely to file 10 more in FY20. The focus on new product launches remains high. Some of the interesting DMF filings include Posaconazole, Patiromer, and Pregabalin. The company is committed to spending Rs 500-600mn on R&D per year.
 View & valuations: With 16/21/30% Sales/EBITDA/EPS CAGR and improved Adj. Net Debt/Equity ratio of 0.8x (v/s 1.4x in FY18), we believe the stock is trading at attractive valuations of 16/10x on FY20/21E P/E. However, the developing Ranitidine story related to NDMA impurities could be an overhang in the near term. If Solara successfully clears the impurity hurdles, it could turn out to be a big bonanza; else, sizable Ranitidine sales could be at risk. HDFC Sec (sept 2019) assigned a fair value of Rs 655 (15x FY21E EPS).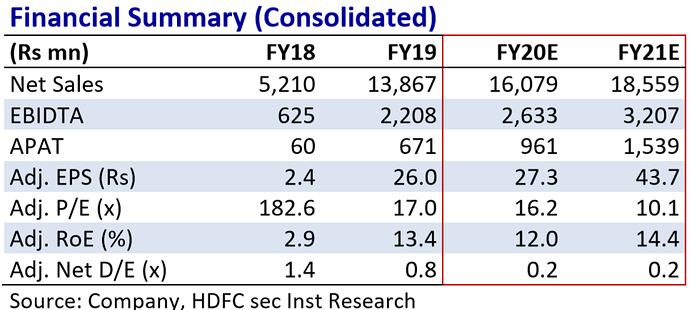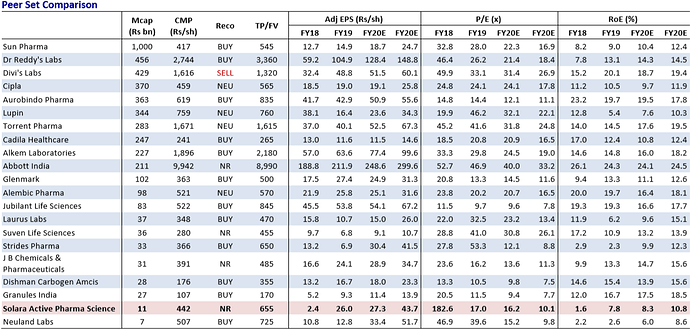 Disc: Invested since 3 months, 10% of PF.
HDFC Sec report: