Can anybody please share the concall notes. Thanx
I have joined the concall today
For the first time I have noticed one strange thing with Solara. The results were not announced and call has started for Q3 they were keep saying it will start in some time, finally they published the results ( I was checking on screener which usually pulls the data from BSE in almost real time ) and then first comment in the call is Mr. Bharat Sesha announced his resignation.
Something definitely not right, how can a company that is claiming (after Aurore merger) second largest pure API play (read it again pure not commodity API) can go so horribly wrong where the topline is dropped by 74% QOQ ?
Solara Active Pharma (NR): 3QFY22 Concall Highlights
Financial performance and general commentary:
· 3Q sales dropped 74% YoY to Rs 1bn. Reported EBITDA loss stood at -840mn vs 736mn profit last year. EBITDA margins stood at -89.5% vs 18.2%. Net loss stood at Rs -1.3bn vs profit of Rs 297mn
· Bharath has decided to step down as MD of Solara & Rajender Rao Juvvadi will be taking his place as MD and CEO
· Revenue impact was due to the softness of Ibu demand. There was also a sales return of Rs 1.2-1.3bn. The delay in the approval of Molnupiravir and softness in favipiravir sales
· High RM cost and logistics cost also impacted margins
· The company has taken back the inventory which has a one-time impact on the books
· Working capital is up by Rs 306mn. The receivables were down by 2.2bn while inventory was up by Rs 1.785bn
· The inventory levels are high. The management mentioned that it would take 1 or 2 quarters to get inventory back to normalized levels.
· Capex for 9MFY22 is ~Rs 1.775bn. Asset turn is ~1.3x
· Net debt has increased to Rs8.91bn with Net D/E at 0.8x
Reasons for change in sales model
· Multiple products also saw demand stress in regulated markets. Thus the management increased focus on the less regulated market through channels. This caused channel stress leading to stagnant inventory across the value chain
· The decision to take back some of the stranded inventory in the Less Regulated Markets was to have more control over the pricing realization in the coming quarter as the company is seeing a demand revival. The channel holding inventory was creating a conflicting situation for the companies new strategy. This is not affecting the regulated market customers. The decision was taken in Dec-21
· The company will be taking a more go-to-market strategy than the channel strategy. Thus the quantum of sales to channel partners is expected to come down.
· The change in start has led to the sales return taken in the quarter
Commentary related to Ibuprofen
· Ibuprofen market demand remained volatile during the quarter. Covid portfolios have not been able to fill the gap left. This coupled with the pricing issue in the market has caused the overall decline in the company's performance
· Demand declined by 1200MT
· Ibu annual capacity is at 5000ton. The company has sold ~1/3rd of what they normally sell.
· The management mentioned that they see revival in the Ibu market. The number of inquiries is high and the management mentioned that they are getting back to the normal levels of Ibu sales
· In Ibu, the management is also planning for complete capacity utilization.
· Ibu will continue to be an important product. But the company is looking for additional ramp-up from recently launched products and upcoming new launches should provide revenue recovery
· The backward integration for Ibu should commercialize in 4Q and ramp-up is expected in 1QFY23. The management will be targeting vol back to pre 3Q levels
Strategies for recovery & Guidance
· Gross margins are expected to be ~50-54% in the midterm. Post the current volatility, the company should go back to its previous levels
· Aurore merger will be a quick ramp-up of revenue in the near term
· In the Mid to long term, the Ibu margins should increase
· The pricing for 2 key KSM for Ibu which have impacted margins have stabilized now
· Business recovery is expected in 4Q as revenue should be back to pre 3Q levels (~Rs 4bn) and business is expected to normalize by 2HFY23
· Capacity optimization on existing products, New products launches and new territory expansion for new products will also be key for future growth
· Covid inventory is expected to be sold in 4Q
Other key comments
· The Covid portfolio is also seeing some traction.
· New products are in the ramp-up phase
· Multi-product site in Vizag is expecting ramp-up in 1QFY22.
· The Aurore merger is currently awaiting shareholder approval and the management expects to include their sales in the companies presentation from 1QFY23.
· losartan and one more product saw softness in 3Q
CRAM business
· 43% growth in CRAMs business
· Added 4 new customer
· Margins are much higher than the generic business
· 2 new proof of concept technologies will ensure that the growth momentum is sustained in the near term
· The management hopes for better traction in FY23
Amey Chalke
Tarun Shetty
Haitong Securities
It appears to me that they are trying to clean up the mess created over the quarters. Resignation of MD and COO might be in same line. It might happen they would have aggressively booked the revenue in last quarters and consignment was not lifted by customer, so in this quarter as a part of book cleaning they reversed the sell, restored inventory to original and removed that amount from trade receivables. This is a draw back of accrual system of accounting, because each time cash flow and balance sheets needs to be consulted to know real position. But in media there is always hype about P&L. Hope Skeletons do not come out after MD and COO exit. Being Deepak Parekh on board inspires some confidence. Let us watch a couple of quarter results to see whether management walk the talks. But one thing is clear there is/was hysteria about CDMO/ CRO/ CRAMS and China plus one theme and exuberance overtook fundamentals. People were busy in finding next Divis. The same exuberance is now being built around Hydrogen, EV, Ethanol. In case of Ethanol companies are going for unbridled expansion and sugar companies stocks are touching new heights, even with announcements of new Ethanol capacities. Again Peter Lynch saying invest in boring industries. When we forget the said saying, we are reminded the same by market.
Disclosure: Invested
Just a small correction. It is Aditya Puri (ex MD of HDFC bank) who is in the board and not Deepak Parekh (HDFC Chairman).
Has anyone taken into consideration a scenario where the merger with Aurore doesn't go through because of unforseen reasons, as it has already been delayed a lot. If yes as a standalone entity it still remains a minor CRAMS player and manily a commodity api player with significant revenue from a single product.
Additionally, I think the Aurore deal is a full or partial equity deal. With the extreme fall in stock price, the equity dilution would be much more than originally planned?
Divis Labs has posted very good topline growth for Q3. Glenmark Life Sciences also grew their topline YoY (al though it was a small % growth) .
Can we then assume that the issues faced by Solara on revenue front is very specific to them (company / products specific) and not in general for API sector?
There may be following reasons for degrowth of revenue of solara active pharma.
Destoking and price erosion of Ibuprofen, so they called back previous sales. ( Call back theory difficult to digest, it may be result of aggressive accounting policy, destocking, price erosion may be true)
Change of business strategy, shifting to less regulated market ( But again shifting could be gradual rather than abrupt)
Management Change (Perhaps new CEO would like to start fresh and clearing all backlog in one go).
KSM and logistic cost appreciation.
Except point no. 4, all other reasons from 1 to 3 above are unique to Solara.
Disclosure: Invested
The change in the CEO is not abrupt and not a red flag. Even on the con call Bharat Sesha admitted that it was in the works since the Aurore merger had come into play. The new CEO, Dr Rao is very capable and highly experienced in the field. He also has a track record of running a successful pharma business and has a deep knowledge of science. I was happy with the con call as the management justified the reason for the change in business direction . Eliminating the channel partners and going direct to the customer he is a very positive sign. they were under no obligation to take back the inventory as well. API has a very long runway and I will not get deterred by your lower circuits and social media sentiment. No point in justifying valuations either as it's up to the individual investor to find out whether its value or not. This will not remain a commodity business for long once the Aurora merger is through.
I completely agree and feel the same. Also #1 and #2 is because of #3.
Bharat Sesha might have handled it differently but Dr Rao with different thought process would have wanted to put everything on balance sheet in one stroke so that he can start on a clean slate.
Also the whole thing that happened at Solara shows bad management of the situation by the board. It could have been handled more gracefully which even the management accepted in concall.
At this point of time, all we have to do is sit back and give management 3-4 quarters to walk their talk because fundamentally there is no issue with the sector.
Disc: Invested in Solara.
The only problem I see is their over dependence on ibuprofen. Unless they are able to significantly scale up other generics molecules, ibuprofen price pressures may continue to trouble them, even if the API sector as a whole does well. Disc - invested
Also, from their presentation, when they announced the Aurore acquisition,
'• Aurore has completed sizeable investments in developing portfolio of ARV products which allows Solara to enter a
new space'
Isn't ARV API a declining space? Atleast that is my understanding from Laurus labs commentary, which is why they are focussing on ramping up
other APIs and formulations quickly.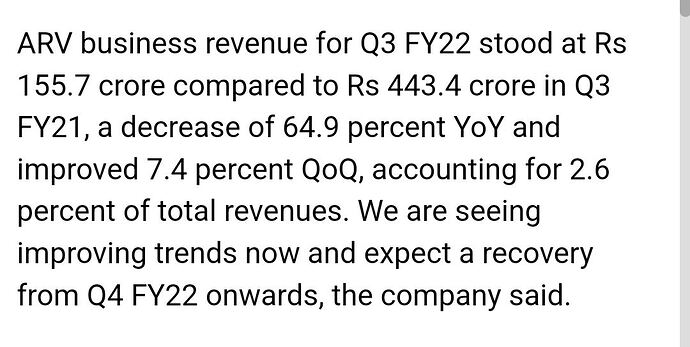 Aurobindo, one of the peers in Arv. Also reporting that Q4FY22 onwards Arv to see recovery.
Positive for Solara.
Hi Rafi, all the points you mentioned are valid but have been known to the market since the stock was demerged and climbed up to 1800. Even at the higher levels the revenue multiple was 3-4x which was not demanding compared to some of the other names in the space and of course the chemical names. Mr Puri has given credibility to the board. He is known for terrific execution and his track record is second to none. What if Solara Q4 gets back to close to the original run rate - the management was quite confident. At almost book value, all the negatives are priced in, but the stock may remain depressed till the last bear is out.
Two interesting observations.
An observation regarding insider selling during December 2021.
Mr Subhash Anand, Director & CFO acquired 10,000 shares on 11-11-2021 via ESOP. He sold 6,500 shares gradually throughout the month of December 2021.

An observation regarding bulk deals (BSE).

Directors of the two entities shown below.
Directors of UNNATI MANAGEMENT CONSULTANTS LLP
Directors of REDDYVANGA VENTURES LLP
| Director Identification Number | Name | Designation | Date of Appointment |
| --- | --- | --- | --- |
| 06873947 | JAYARAMI REDDY VANGA Body Corporate DP Nominee | 10 January 2019 | |
| 00654545 | SREERAM REDDY VANGA | Designated Partner | 10 January 2019 |
Is everything above board or am I reading too much in these transactions?
CFO was alloted ESOP would be with a lock in period so he cant sell them immediately.
What he sold before cut off date could be his personal holding but timing of selling just before results cut off in a phased manner in small lots is uncommon.
As per disclosure to BSE, it is clear that Mr Subhash Ananad did not have any shares prior to 11-11-2021.
| Name to Person | Category of Person * | Securities held pre Transaction | Securities Acquired / Disposed | | | | Securities held post Transaction | Period ## | Mode of Acquisition # | Reported to Exchange |
| --- | --- | --- | --- | --- | --- | --- | --- | --- | --- | --- |
| | | | Type of Securities ** | Number | Value | Transaction Type | | | | |
| | | | | | | | | | | |
| Subhash Anand | Director | 4000 (0.01) | Equity Shares | 500 | 512513 | Disposal | 3500 (0.01) | 31-12-2021 | Market Sale | 03-01-2022 |
| | | | | | | | | 31-12-2021 | | |
| Subhash Anand | Director | 4500 (0.01) | Equity Shares | 500 | 525000 | Disposal | 4000 (0.01) | 28-12-2021 | Market Sale | 31-12-2021 |
| | | | | | | | | 28-12-2021 | | |
| Subhash Anand | Director | 5000 (0.01) | Equity Shares | 500 | 583620 | Disposal | 4500 (0.01) | 13-12-2021 | Market Sale | 15-12-2021 |
| | | | | | | | | 13-12-2021 | | |
| Subhash Anand | Director | 7500 (0.02) | Equity Shares | 2500 | 2860917 | Disposal | 5000 (0.01) | 09-12-2021 | Market Sale | 13-12-2021 |
| | | | | | | | | 09-12-2021 | | |
| Subhash Anand | Director | 9000 (0.03) | Equity Shares | 1500 | 1698115 | Disposal | 7500 (0.02) | 06-12-2021 | Market Sale | 08-12-2021 |
| | | | | | | | | 06-12-2021 | | |
| Subhash Anand | Director | 10000 (0.03) | Equity Shares | 1000 | 1178838 | Disposal | 9000 (0.03) | 03-12-2021 | Market Sale | 06-12-2021 |
| | | | | | | | | 03-12-2021 | | |
| Subhash Anand | Director | 0 (0.00) | Equity Shares | 10000 | 8370000 | Acquisition | 10000 (0.03) | 11-11-2021 | ESOP | 26-11-2021 |
| | | | | | | | | 11-11-2021 | | |
| ![image | 690x273](upload://6NsUzyx5y8B4I9AuhhzBqJOzh2c.png) | | | | | | | | | |
Seems like ESOP stocks were sold before the year end…