These are creation and revocation of share pledges.
Is it good or bad for the company?
So for example on December 27, 2021,
(1) 8,067 share has been created from promotor PRONOMZ VENTURES LL and pledge to Barclays Securities (India) Private Limited
(2) 8,067 share has been created from promotor PRONOMZ VENTURES LL and pledge to STCI Finance Limited
Questions:
i. why Type of event is Release for 1st line item and Creation for 2nd.
ii. Creation means new share has been created? That means it will increase total number of share.
Link: https://www.bseindia.com/xml-data/corpfiling/AttachLive/4DB21BDA_2454_4938_96ED_ABAA5BA26ADD_152017.pdf
If I am a share holder of Solara (say Have 1000 shares , today's price is 1035 per share, total worth is 10,35,000 INR . Now I need money and I go to the bank to pledge my shares , bank says we will give a loan of 80% of your total value (This is number is not actual differs from bank to bank ). Bank will lend me 8,28,000. Whenever the share value drops in future and the total value of the shares is less than the 80% threshold bank ask either pledge more shares or pay back the difference in the value.
Can someone point out CRAMS contribution to total revenue in the last quarter ?
Check Investor Presentation or Annual Report ( Nothing on the Credit Rating reports )
They usually don't give breakup, during concalls few asked but they said they don't give breakup.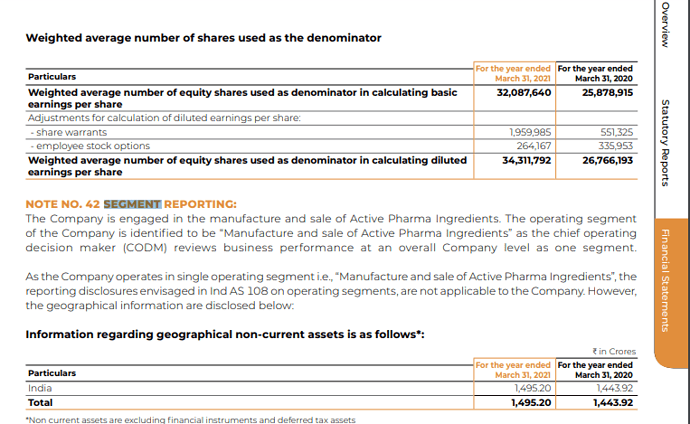 Nothing I could find in investors presentation
But from motilal report it says it can scale upto 3.6bn by FY23 and report shows estimate earnings will be 30.7bn, so that is approx 10%
Solara @ page 13-14
Disc: not invested
SOLARA ACTIVE PHARMA SCIENCES: SEQUENT SCIENTIFIC ACQUIRED 1.54% STAKE IN CO DURING Q3 …interesting development…
Sequent was earlier listed under promptly promoter and has now been reclassified under public. No change in their holding.
It seems Mr Mankekar is no longer holding 2% stake in Solara…I was going through the share holding of last 2 qtrs…and didn't find his name…
Can someone please explain the possibility of 228 crores of raw materials for only 100 crores of sales?
I recall that they mentioned in the call today that they had a recall of ~120-130 Cr of products so the raw materials would be including those returns. Also, there is increase in inventory.
Is this a company specific issue (or product specific - Ibuprofen)? The only silver lining that I see is the presence of Mr. Aditya Puri as the chairman (he came on board recently). If he continues to stay, we can expect confidence in company and business to come back in a period of time.
From the wordings of the management today I felt it was somewhat with destocking of Ibu & also the issue with the strategic move from sales through channel partners to direct to customer. Aditya Puri is immaterial at this juncture I think and more critical will be successful integration of Aurore and go-live of backward integration and expansion on Niche API & CDMO.
All in all, they indicated quite a few times that this quarter should be a one off but I think it will take more than that. Rest is up to the management to deliver.
This is the narrative sold to new investors who joined in the bull run (including me)
What is that expertise Mr. Puri has in Pharma that can benefit Solara ? He was a banker , all his life he worked in this sector. At max he can bring in some good investors with big pockets or he invests his own money (which he already did in Stelis )
He is there in Strides / Stelis and then in Solara
Mr. Arun Kumar known for doing profitable sell outs now struggling all his current and past entities are struggling
Sequent, Strides and Solara
Forget about the inventory write-off , how come a well managed company can see such kind of degrowth ?
Pure Ibuprofen commodity play like IOLCP maintained the top line

Where as Solara , the narrative CDMO, niche molecules can see such kind of de-growth ?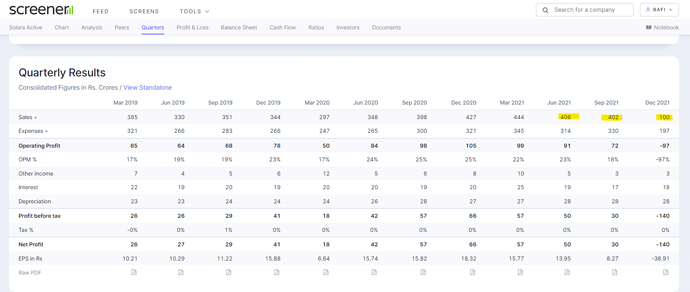 So next time if I come across CDMO, CRO, CRAMS then I don't have to be super excited, certainly these are niche spaces but they cannot generate steady regular income in the longer cycles only pure plays like PI or DIVIS kind of companies has such kind of expertise, hence they continue to demonstrate their strengths and market is rewarding them very richly
With these kind of numbers now we can say Solara dependency on commodity chemicals is very high .
What Mr. Puri can bring to the table is management credibility and confidence in corporate governance. I guess those factors are not impressive at this moment for the company. Even the planned acquisition is getting delayed and the reasons are not very clear. He is brought in as a chairman and hence it's strategic and not day to day operations.