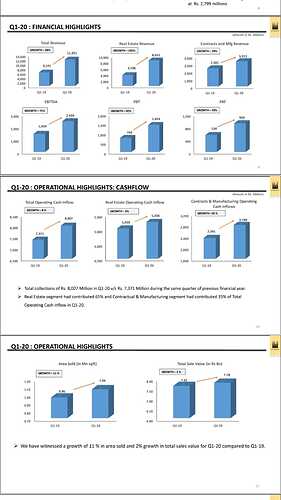 Good result from Sobha despite tough real estate market.
http://www.bseindia.com/xml-data/corpfiling/AttachLive/18144995-a1ef-47ee-98fe-b1c3d857cb61.pdf
Sobha currently seems to be in oversold territory (52 week low today) and had decent results. Future also seems to be good given new launches and strong pre-sales (as highlighted by management on ET now 2 days ago)
Good time to accumulate?
Just have a look at the cash flow situation.
Its been negative at operative level itself, does not speak too well…
Being in Bangalore i know the name it commands, however in the short period, with the precarious cash flow, the stock can get beaten lower for sure…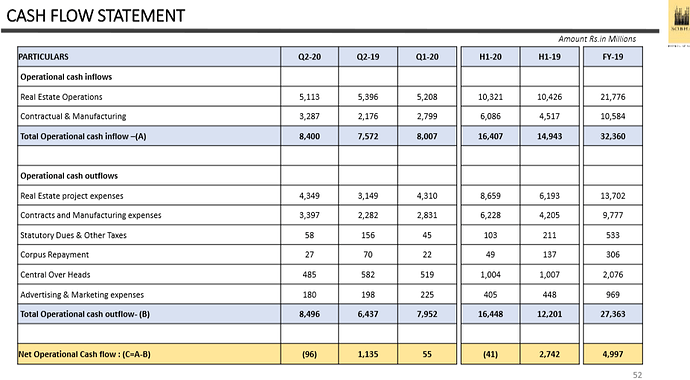 The CF is not too negative, plus earlier years of superior execution means buyers will support this stock at these price.
I think the main issue is that they keep buying land, any more purchases and the stock will go down 10-15%
Agree - a lot of positive feedback from customers, superior execution and very good price amid land bank concerns.
Just wondering, would it be reasonable to value a company operating in the real estate sector, which is very capital intensive based on free cash flows?
How do we expect sobha to generate free cash flows when the reality is that we expect the company to plow in thousands of crores back into construction and land aquisition?
No - its not (the right way). I think if the land purchases have been in good areas (can someone verify and educate us?) and good prices, then this could even be positive for the future cash flows fo the company.
One thing I am not able to understand is how did they have a very less sales growth in the last 10 years. I checking 99 acres for Shoba the number of projects launched Per year only did increase from 2009 to current date, however the sales or revenues says other wise.
This is quite hard for me to believe.
Discl: Not holding
The title seems a little misleading, but
It looks like a reasonably BAU (business as usual) quarter for Sobha. No big surprises per se. Average Price Realization is increasing QoQ which is a good thing.
Any one why this stock is getting hammered in last few days?
Time to accumulate. The results were below estimates with op cash flows declining a little, so the momentum is negative . Feel like this has bottomed out
I like all 3 big real estate companies in Bangalore. All 3 do high quality construction, very premium properties,
(I owned brigade earlier, at that time market cap was about 900-1000Cr, after my visit to their Orion mall and sherton hotel, world trade center , I had valued it more than the market cap at that time, everything else was coming free). But lately , all three have very high level of debts, I would rate Prestige as the best considering amount of retail (malls), office space and hotels it has, also the brand is top notch in Balore. But again only thing that puts me off from Prestige is level of debt
Cannot believe i was so wrong about real estate, debt and coronavirus risks.

I would like to understand why such a steep fall, one reason could be nervousness about the debt level…
Wanted to understand how will this affect and unfold in next couple of quarters…
Their construction activity will be near nil for 1-2 month?
Buyers will pull out?
Slowdown in offtake next 3-4 months?
And the retail tenants (if they had mall and hotels) will default?
high debt levels ?
Loss of income leading to loss of spending ability of prospective buyers due to the lockdown ? since Sobha is mainly active to high-end segment… This leading to dip in sales ?
As far as I understand it, sobha's clientele is not the kind which would lose jobs due to this slowdown. It affects the unorganized and contract and low level employees disproportionately more than the high ranking ones.
I would expect sales to go down as people practice social distancing and also look to leverage lower and lower due to lower risk appetites.
The high debt levels should hopefully not be a trouble given the RBI moratorium for 3 months. Don't know what will happen though.
Divided rs7 declared, revenue and profit down for the quarter yoy. Anyone attended q4 conference call may post the notes here.
Annual report:

Disclosure: holding and averaged at less than Rs200
I feel real estate demand might further go down due to job losses and uncertainty about future for most service class employees.
Also, if we see long term trend shifting towards working from home + acceleration of virtual education formats + high internet connectivity in tier 2 and 3 cities + acceleration of AI & automation…
Then all these combined forces clearly are not in favour of real estate players based out of metro cities. Let's see how future pans out.
Disclaimer: No position
Hi,
Are there some data points that complement your future perspective about the sector or is made more out of gut feeling? I ask this because I have been tracking this sector for the last couple of years and contrary to popular perception, real-estate demand is much better now (even during COVID times) than what the case was post demonetization. I have also tried studying the longer time real-estate cycles for India (summarized in 2 posts here) and realized that real-estate cycles are typically much longer than other businesses. We have been in this downcycle for around 5 years now, the last downcycle of 1997 lasted for around 6-7 years. The most recent commentary from listed real estate companies saw demand growth coming from premium housing (again contrary to popular perception) and from NRIs. Spark Capital research summarized this by looking at past cycles, basically when there is a macro shock (linked to crude spiral or global demand collapse), INR depreciates and the remittance into the country increases from NRIs. This money then finds its way into real-estate with a ~6 month lag. I haven't been able to verify this so far, but thats something to definitely look at.
Looking forward to more informed debates about this