CMP 380
Market cap 3800 cr
Debt 2000 cr
Enterprise value 5800 cr
Sobha Developers (Sobha) was incorporated in 1995 and is a leading real estate player in Southern India (total saleable area of 243msf) with a strong presence in Bangalore, Pune, Chennai, Kochi, Gurgaon etc. The company has a uniquely backward integrated business model through presence in contractual and manufacturing segment.
For this post I am not considering the value of the contractual business and only focusing on the real estate.
Sobha has 24 mn.sqft of ongoing projects from which it expects 6200 crores of net cash flow. The value of unsold inventory is 10000 cr and pending dues to be collected are 3300 cr. Pending construction cost is 7400 cr hence net cash flow of 6200. Assuming this inflow will be spread over 5 years its discounted value to todays date is 4000 cr.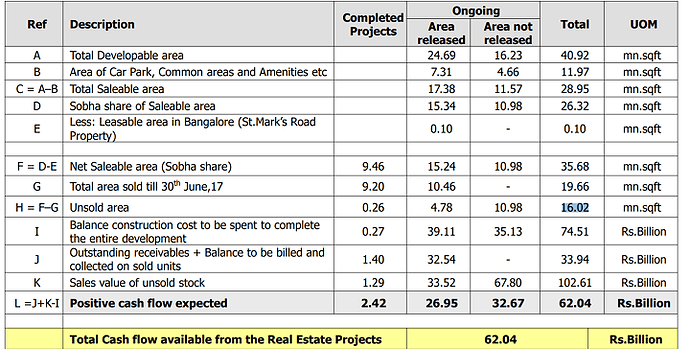 Now coming to the land bank. Sobha has 2300 acres of land bank spread across the southern region out of which 700 acres is in banglore. The total developable are of the banglore land is 75 mn sq.ft. Hence if we value the Banglore land at the lowest range of the MTM value (300 rs / sq ft) it is worth 2250 cr. And the rest of the land (1600 acres) can be valued at 1 cr per acre which the management has said is the cost of acquisition. Hence the total land bank is worth 3850 cr. We have assumed that there has been no appreciation in the value of the other land (1600 acres) which may not be correct since a lot of the land has been acquired a while age and definitely there mustve been some appreciation.
So the total business is worth 4000 cr (ongoing projects) + 4000 cr ( land bank) = 8000 cr
The contractual business of the company is valued at 500 cr by all of the research firms hence the total enterprise value by these calculations is 8500 cr
Subtracting net debt of 2000 cr we get an equity value of 6500 cr. And the market cap is 3800 cr

And bear in my mind we have taken a very conservative valuation of the land bank which may be worth much more actually

I request all of you to share your view. The promoter has recently sold 4 % stake BUT I dont think it is worrisome because 38% of the company is owned by large instituitions ( Franklin Templeton, Morgan stanley etc) with Franklin buying 14 lac shares very recently.
Disclosure : Tracking and planning to buy