I am taking liberty to reply. You are comparing Standalone vis-a-vis consolidated numbers.
Regards
Friends, is there any way where i can last 10 yrs financial data of a company along with the price movements, roe, roce, p/b ratio year on year basis. Typically on screener you see average of last 1 , 3, 5 , 10 years. Any help would be appreciated.
You can check ratestar.in
Have you tried the Custom Excel template in Screener? Customised Excel Sheets for Companies - Screener
This will meet your needs if you are looking for those parameters per year for 10 years. You might have to look elsewhere if you need a rolling chart for P/B across 10 years.
Does the screener.in support for portfolio management and portfolio performance tracking?
If no, that's one thing which will improve the appeal of website.
Would like to register if it is available.
Thanks!
Just saw this latest update on the site showing additional metrics on the chart beyond price/volume, PE and Sales & margin. Now we have P/B, EV/EBITDA and P/S! Brilliant, very useful update for all!
Thanks @ayushmit @pratyushmittal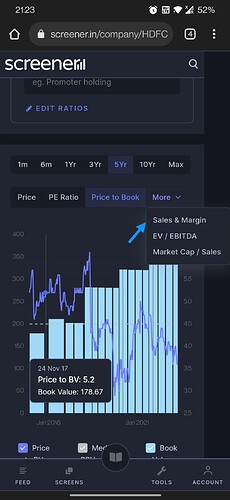 Thank you for adding new valuation ratio charts apart from PE. Can stocks listed in only BSE (or NSE) or in both be filtered in screener. I have looked around but I could not find anyway to filter based on exchange a stocks is listed in. @pratyushmittal @ayushmit
If anybody knows any website which can help in filtering the stocks based on exchange it is listed in please share. Thank you.
Does someone know how to screen for promoters buyback over the last few days, months or quarters in screener? Appreciate inputs
There are many screens created related to this already. I am not sure did you check that or not.
If not, click on "Screens" → "Show All Screens" → Search Term "promoter buying" → Search