@akash_das I agree, DRHP can be a really good place to start any for any sort of research
looks something wrong in Inventory days calculation, seeing wrong data for TCS
Ratios
Consolidated Figures in Rs. Crores / View Standalone
| | Mar 2010 | Mar 2011 | Mar 2012 | Mar 2013 | Mar 2014 | Mar 2015 | Mar 2016 | Mar 2017 | Mar 2018 | Mar 2019 | Mar 2020 | Mar 2021 |
| --- | --- | --- | --- | --- | --- | --- | --- | --- | --- | --- | --- | --- |
| Debtor Days | 71 | 80 | 86 | 82 | 81 | 79 | 81 | 70 | 74 | 68 | 71 | 67 |
| Inventory Days | 0 | 0 | 0 | 0 | 0 | 0 | 0 | 82 | 110 | 91 | 101 | 209 |
| Days Payable | 51 | 36 | 33 | 35 | 36 | 46 | 35 | 21 | 21 | 21 | 21 | 24 |
| Cash Conversion Cycle | 21 | 44 | 53 | 47 | 46 | 33 | 46 | 132 | 164 | 138 | 151 | 251 |
| ROCE % | 47% | 51% | 51% | 53% | 57% | 51% | 51% | 44% | 39% | 48% | 47% | 49% |
I have a request. Can we download the latest earnings information in an excel. I am a premium subscriber. It would be great if you allow to download results so that we can filter companies with high growth in earnings or sales in excel and see if we can buy them fast before market reacts a lot… Thank you
Chemplast Sanmar returns seem off. Showing 3500%. Please check. I think it makes sense to have some validation checks to prevent such errors. It is there from last week
Along with being a stock market enthusiast. I am currently pursuing my BTech in Computer Science. I am currently working on a project and I want to use real-time stock price data. But I see NSE API for real-time data is very expensive for me as a student (Rs 200000 per year)
https://www.nseindia.com/market-data/real-time-data-subscription
Any other way to get real-time data for cheap value. And which API is best for getting non-real-time/static data(like open-close price) for free.
It might be a good idea to reach out to Investor relations of NSE and ask them for historical data explaining that you are a student and want to perform an intern/project. They just might agree to at least give you a subset of historical data of the sort you're interested in. Real time data, I'd say is hard to get without paying
Hi, can we look to add an AGM calendar (similar to what we have for quarterly results) with date and time for watchlisted companies?
data for Rajapalayam Mills doesnt seem to be correct. The PAT & EPS figures look way overboard considering that their PBT is in loss in recent years.

Yeah, the company accounts for "income from associates" at the net profit level. Most of their income is from associate companies. Thus though their PBT are negative, it is net positive in the end.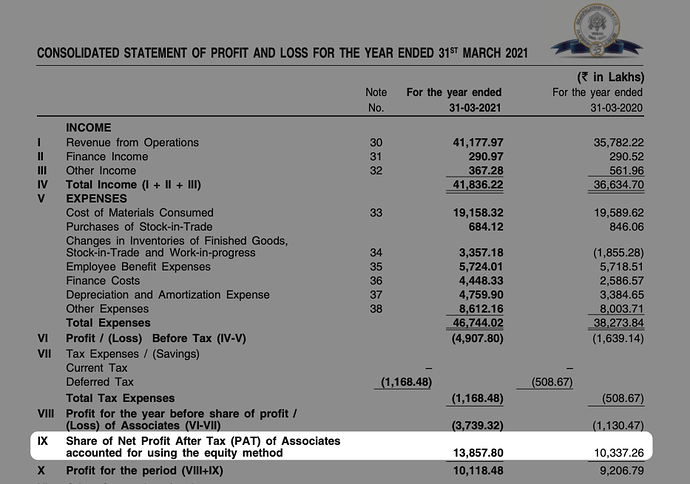 We have shown the data exactly as reported by the company.
I have been unable to access the screener website for the past couple of months (worked for a few days in this time period, but unable to access again now). I have tried everything (different laptops, different internet connections etc.) but does not work. Even the app does not work (i know it is not the official app but just pulls data from screener) Is anyone else also facing this problem? Any solution? Thanks for your help in advance
If any one has happiest minds 2015 AR please do share. meanwhile I have already written to the company. So that 2015 data can be updated on screener.in
//////–CORRESPONDENCE WITH SCREENER/////
We tried to look up the FY2015 data for the company but couldn't find it.
We checked the the company website as well as DRHP.
Please share the raw-filing link and we will try to incorporate it.
Thanks for reporting. Our data-team will continue to search for the FY2015 results.
/////////
Indians can now invest in foreign companies
Many threads starting on investors trying that
Might be good to have a screener for international/USA stocks
Hi @pratyushmittal ,
Can you please consider adding Export Revenue breakup for different year… this will help a lot to get the export growth/degrwoth of any company over the years in a consolidated way. I know its a tall ask, but will add lot of value to the investor community.
Just noticed this live price update feature today. Brilliant! Long awaited.
Now if you had a portfolio tracker feature, that would be awesome!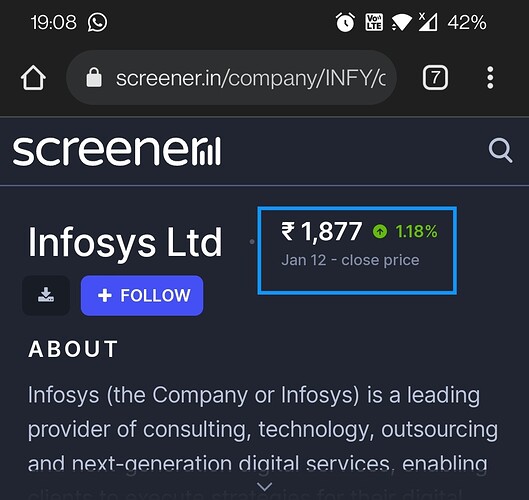 The note feature is also brilliant!
Yup, notes are a good add. Are there plans to make the notes in Notebook indexed and searchable?
this is the main requirement
@pratyushmittal
Hello, I am new to the forum and would like to seek help from experienced VP members.
I am trying to match the cash in balance sheet with the ending balance of the cash flow statement but not yet successful.
E.g. the closing cash balance of Indraprastha gas in 2015 cash flow statement is -27 (CFO 664 plus Cash from investing -364 plus Cash from financing -327) but am not able to match this with the cash in the balance sheet.
Thanks