Shivalik and RACL are rest 30 ?
A few days ago, where you have disclosed your PF in Twitter, you had positions in Goodluck, moldtek, ujjivan SF…do you still own those, if in case you have exited any of these stocks, please mention how these Cos no longer matched your thesis?
Hi Sahil, Thanks for sharing your thought process. One question on screening of Aurionpro. How did you screen the company? I mean how it came into your radar to research it further. I am trying to understand if you identified this by running a screen and later analyzed the company in detail.
Thanks for explaining it so thoroughly mate. Really appreciate it. Being so genuine, eager to share & having such a great process…
Hi Sahil, RACL was your highest allocation… trimmed or found better opportunities…
Hi, Sahil, please share your view on Mold- Tek teach. I would appreciate your view for learning purpose. I am tracking this company closely and want to understand your view after the recent concall
Hi Sahil,
Despite of a good growth visibility for Shilchar where the management has guided for 800 Cr. revenue in the next 3 years there has been rounds of promoter selling in October as well as November. The management has good execution track-record which helps to build trust but promoter selling is definitely an anti-thesis. Any rationale behind this action?
Minimum investment in any Portfolio Management Scheme is 50Lakhs. It's SEBI mandated. I am looking to reach that mark in free cash and just leave that money in a PMS.
Mutual funds will not give you much returns
Can you give some data, that PMS has been better than mutual funds? Have you considered all costs, including short term and long capital gain tax and brokerages , DP charges, STT etc?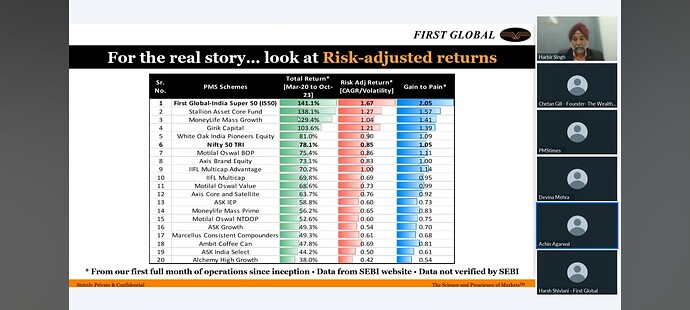 This is First Global , Devina's Presentation. Out of top famous 20 PMS, only 4 PMS have beaten Nifty 50 from March 2020 till date. So 16 PMS have not even been able to beat the larger Index. And if you consider the actual buy and sell of PMS investors and Taxes paid on them, then their returns will be still lower than even these shown returns.