If capacity utilization is 90 to 95%, can we expect revenue growth in the next quarter?
Sector tailwinds clearly in evidence - greenfield capacity additions across industry.
IFGL Refractories - stock exchange intimation a few days ago: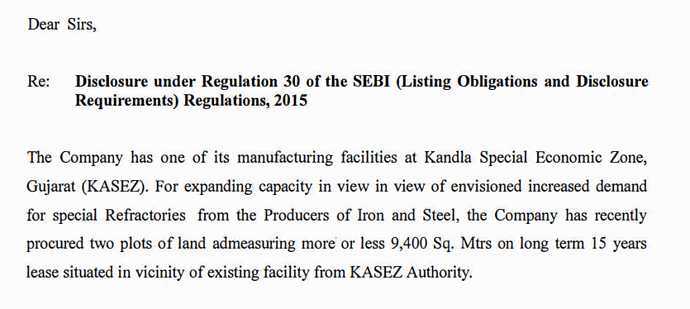 Vesuvius Annual Report published recently:

OPM for Q4 increases to 23% in such tight environment. Revenue up 8.6% QoQ. Good results.
Board recommends Final Dividend of 2.5 Rs per equity share.
Disc. - Invested
Does anyone have any idea of the acquisition details being talked about in the video?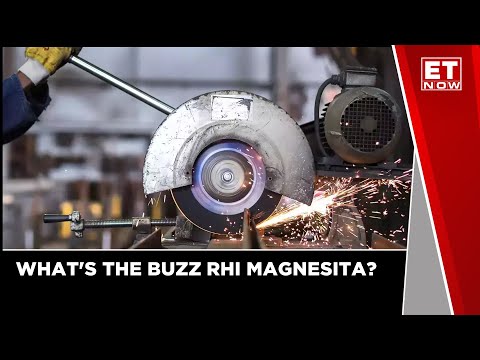 Disc. - Invested
Insightful presentation, issued by RHI Magnesita for the first time.
Having so many related party transactions and complex structures can be a red flag?
Or rhim is present in entire value chain of refactories thru its subsidiaries?
(Disc: havent deep dived into this co. So might be a silly question)
RHI Magnesita's Annual Report this year gives considerable insights into the refractory sector in general and the company in particular. Some highlights are given below:
1. Industry outlook:
India's crude steel production grew 18% y-o-y to 120.10 million ton during the year. World Steel Association expects India's steel demand to rise 7.5% in CY 2022 followed by 6% in CY 2023. The growing steel industry, along with elevating infrastructure development, is augmenting the demand for refractory materials. The widespread adoption of unshaped refractories for several construction applications, as also growing popularity of refractories in sectors such as infrastructure, aerospace, automotive, medical, and electrical is anticipated to drive the market. Additionally, the high prevalence of recycling refractory materials for steel production is also augmenting market growth.
Refractory is a consumable and does not face commodity-like volatility. Historically, refractory companies have been steady revenue compounders with stable margins, net cash balance sheets and superior return ratios, a remarkable contrast to its customer steel sector, thereby largely obviating the severe cyclicity of commodity companies. New steel capacity worth ~38mn tonnes in the next 4 years will also drive additional demand for refractories. Strong export demand for Indian steel due to production curbs by China will further accelerate refractory demand. Historically, revenue growth of refractory players has been ~1.5 times of growth in steel production and therefore we expect at least 12% Compound Annual Growth Rate revenue growth for refractory manufacturers over FY 2021-24.
2. RHIM Business outlook:
The Company produces nearly 140,000 tons of refractory per annum including customized products. Other than this, RHIM imports significant value of refractory products which are used for full line service contracts in steel industries. The refractory products are mainly used in high temperature manufacturing processes in iron and steel industry, metal smelters, cement, glass industry and for other industrial products. The company gets support from its global market forecasting and supply chain management capabilities of the parent company. During the year, the company was able to pass on high raw material and freight costs to the customers and protect its margins.
3. Operations:
Company has three manufacturing facilities viz. Vizag, Bhiwadi (Rajasthan) and Cuttack.
Vizag: This facility is specialized in manufacturing of High Alumina products and pre-casts. It supplies to 84+ countries and has a capacity of 73,049 TPA. During the year, capacity was enhanced by 30%.
Bhiwadi: This facility is specialized in development and manufacturing of world-class Flow Control products. During the year, a world-class R&D centre has been operationalized at Bhiwadi. The centre works in close collaboration with RHI Magnesita global R&D network to provide faster localized support to customers in India and service the product development needs of their plants. Bhiwadi facility supplies to 84 countries and has annual capacity of 69,445 TPA
Cuttack: This facility is specialized in the production of Magnesia Carbon Bricks. It has a capacity of 18,000 TPA. Here capacity expansion is in progress and is expected to be completed over the next two years. Once completed, it will help in Chinese import substitution.
4. Future plans:
The company has set a strategic business goal of doubling the production capacity to 300,000 TPA and revenue by FY 2025-26 as compared to 2020-21. This will be achieved through organic and inorganic means. For this, a phased capex investment of Rs. 400 crores (upto 2025-26) for expanding capacities and automation has been earmarked. During the current year, the company started a number of projects at Bhiwadi and Vizag to make certain high-grade import substitute products like purge plugs, coke oven blocks, tap hole clay mass, etc. These are being done via technology transfer arrangements with European and American plants of the parent company. The company also brought two patented digital refractory solutions of RHI Magnesita global to India – Automatic Process Optimization technology (APO) and Electromagnetic Level Indication Platform (EMLI), which have been deployed at a major steel plant in the country.
5. Raw Materials
For sourcing of raw materials, the industry is highly dependent on China. In China, the key producer of magnesite is the Liaoning province. Production of magnesia there came under stress due to stricter environmental control, and the recent power cuts in the Liaoning province have aggravated the problem. Prices of 97% fused magnesia and white fused alumina, which is main raw material of refractory products has increased significantly.
6. Accounts and Financials
Summarized financials are given below for the sake of completeness:

Not a full analysis but some exception points that I specifically noted are mentioned below.
During the year, merger with the unlisted subsidiaries got completed and the company has allotted 4,08,57,131 equity shares to the shareholders of its erstwhile fellow subsidiaries.

A large portion of revenue comes from what is called "Total Refractory Management Servies (TRMS"). Here revenue is recognized not on the basis of products sold but on the quantity of steel produced by the customer.

Geographical distribution of revenue - Within India is 84 % and Outside India 16 %

Revenue from traded goods was Rs.292 crore (28% of product sales) as against Rs.246 crores (33%) last year. (My comment: These are imports & sale of certain high-tech products from their parent which are not produced in India but demanded by their customers. I think these should go down over a period of time as more and more import substitution projects get completed as mentioned earlier.)

Sales to parent were Rs.262 crore and purchases from parent were Rs.381 crore. (My comment: Company is subject to Transfer Pricing norms, which is a very slippery area and prone to tax disputes and litigation - risk factor!)

Company used to be zero debt earlier. Now there is foreign currency debt of Rs.55 crores on the Balance Sheet, inherited from the unlisted subsidiaries. (My comment: Most of the debt is due Dec 2022, so the company can be expected to be debt free again)

During the year, addition to Gross Block was around Rs.67 crore on account of new capex done as mentioned earlier.

There are adverse remarks by the auditors around minor lapses and procedural matters which the company says have now been / or in the process of being rectified.

Company incurred a forex loss of Rs.5 crores during the year.

Royalty has gone up from Rs.1.30 crore in FY21 to Rs.8.18 crore in FY22.
Coupled with the investor presentation released earlier (see my previous post), the latest Annual Report gives a good idea of RHIM's business in the country. Post the merger, the company seems to have become more investor friendly now.
(Disc: Invested.)
HI,
To me what was little concerning was the low sales target that they set for themselves by keeping the base at 2020-21 level sales. From 2020-21 levels, the sales is already up by 45% in FY 22. So are we talking about another 35-40% growth (say ~700 cr) for next 4 years including FY 23? If that is the indeed the intention, the sale growth would be <10% PA or lower. It seems that they have been quite conservative in putting out this number. I believe that even this growth can still drive PAT growth of 15-18% + with the help of operating leverage etc. However this level of profit growth does not look very exciting and may not enable any further rerating and hence the stock may only be a compounder from hereon.
Regards,
Nikhil
Disc: Invested
Ya The first tab on steel market share gives a clue why it can be good bet for LT One needs to link this market share against some points given This will be an evergreen stock as long as steel industry exists
So this is the outcome of the news came out during late March this year. RHI Magnesita doing a major acquisition in 2022. Acquiring Hi-Tech Chemicals Limited ("Hi-Tech") for a cash consideration of INR 621 Crores.
Turnover of Hi-Tech for the last 3 FY's is: FY 2021-2022 is INR 270.2 crore, FY 2020-2021 is INR 220.8 crore; FY 2019-2020 is INR 261.3 crore. And the profit before tax for the FY 2021-2022 is INR 70.7 crore.
Countries in which acquired entity has presence: Majority in India and minor presence in 6 countries in Europe, Africa & Asia.
https://www.investis-live.com/rhimagnesita/63441d9f3bb8290c0080e28d/pppkq
One should not miss the Q3 international concall if you are invested or looking to invest in this company. Gives a very good overview of the current situation. The management is clearly very bullish about the Indian piece of business and they are looking at it as one of the next big growth driver for the company. Currently the Indian business if offsetting the slowdown the company is facing in Europe.
India and West Asia is seeing solid growth and the demand they claim is stronger than expected.
HI-Tech acquisition is going to give the next push in India.
Disc - Invested
This is quite a big bang announcement ! DBRL is one of the largest players in the refractory business, but being unlisted has been mostly out of public conversations. RHIM will issue 2.7 crore new shares which is around 17% equity dilution. However, revenues will jump 50% on consolidation. It's current margins are lower than RHIM, but should improve easily with RHIM's pricing power and operational synergies. DBRL has customer presence in the segments where RHIM is weak, and production facilities are also said to be complementary. Importantly, DBRL also has mining assets and so direct access to RM – something which RHIM hitherto lacked. The acquisition will no doubt consolidate RHIM's position as India's leading refractory player and reaffirms the parent's commitment to grow the India business. RHIM is becoming indispensable to India's steel sector ambitions.
Click here for the acquisition press release
Interestingly, yesterday's announcement makes no mention of Hi-Tech acquisition announced in October, and how that one will be funded.
Update by the management on the Dalmia acquisition.
https://twitter.com/nigel__dsouza/status/1594573029278814209?s=61&t=nt0WTVJIRaktOMlDpqb1tg
As per the management, on Acquired asset:
At peak can do revenues of ₹1500cr
Margins of 15%-16% by FY24
For RHI
Market share goes to 33%
Peak net debt will be ₹1300cr

Dalmia stake locked in for 6 months
A point of concern is the debt level shoots up for now. From almost a zero debt company to a 1:1 kind of a ratio. Let's see how this pans out. However, the intention of the management to keep increasing the market share is clear.
Disc: Invested
The parent company RHI Magnesita's CEO Mr. Stefan Borgas did a concall with their investors where he gave additional insights on the Dalmia acquisition. A summary is given below:
• The acquisition gives us access to the cement sector where we are very much underrepresented until now (in India).
• It gives us a very well balanced production network in a market where transportation cost is a big consideration. So, merging the two networks will be very beneficial.
• Dalmia plants are utilised just 50%, so with this acquisition we have pre-empted capex which otherwise we would have had to incur.
• Dalmia Bharat Group & the Dalmia Family will become 14 % shareholders, so we now have a strong Indian partner in the business.
• We expect the transaction to close by first quarter of 2023, mostly January '23 itself if everything goes well.
• We can increase EBIDTA of the acquired business by at least 50% within a year i.e., 50% over FY23 EBIDTA. The increase will come from market growth (i.e. higher revenue) as well as from the opportunity to improve the operations of the RHI Magnesita Group (i.e. cost synergies)
• Cost benefits come from transportation & network synergies, also from shutting down production lines in some plants and from better procurement bargains. All of those will be realised during calendar 2023 and that will give us the 50% higher EBIDTA.
• The revenue synergies are on top of this but are quite significant. They come from complementary product lines. For example, RHIM India does not have significant cement facilities, so most of the cement business is imported. But now we can shift our know-how to Dalmia facilities and bring new technologies into India and give Indian customers access to products they could not access before. We are exploring shifting some production from Europe to India - looking at it product to product. Nothing is decided as yet but that is the direction.
• India is the bright spot on the refractory horizon. In Europe, the demand slowdown in both steel and cement has worsened in the last 6-8 weeks, in the U.S. de-stocking is happening, in China the government is projecting a 40-60 million tonne lower steel production next year (around 33% lower), in Vietnam producers have shut down a large portion of their steel capacity for the foreseeable future. I have been in India last one week and talking to several of our customers. India growth next year should be 5 to 7 % even with parts of the world coming into recession. So, India is relatively resilient though not totally immune.
• After this acquisition, we will have a little higher than 30% market share in India. Next, we have to look at the structure of the business and on the raw material side.
(Disc.: Invested)