@msandip Thanks for sharing this data!
A couple of questions : Is this data obtained from a paid impex data service?
Also, couldn't find HSN codes of these export shipments in the Excel, could you check if that's available in your data and share if possible? That would help us in tracking RACL exports via Commerce Ministry website.
The source of the data:
The lalest 10 consignment data is free and publicly available in this portal, I keep maintaining these data in a excel to gauge the trends in a period of time. They dont provide HSN codes, so can not crosscheck with commerce ministry portal. I guess there could be multiple type of parts with different HSN codes. In commerce minitry portal, you cant get company specific data, and a particular HSN code can include multiple exporter, so its only helpful to get idea of any particular commodity export/import trends, not scpecific to any company.
The quarterly revenues are the highest ever. The OPM (19.3%) is better QOQ , however YOY it is lesser. Traditionally Q1 quarter OPM has always been lesser when compared to the rest of the quarters. Overall a satisfactory result.
Does anyone know what the 2.5 CR+ of other income this quarter and last represents . In prior periods, other income had never been meaningful
Anyone with AGM notes? was not able to attend
Recording of the 39th Annual General Meeting held on 29th August, 2022:
Key points from AGM:
Export revenues are split approx. 70:30 in USD : Euro. Forex revenues have indexation benefits with a 6 month lag, so even if the foreign currency depreciates there is a partial safeguard with a lag

Margins are expected to remain in the 20-21% range unless unforeseen circumstances re-appear again post this FY. Expecting FY21 margins of 25% is unrealistic as that year had prototype revenues which are not recurring. Bullish on revenue growth going forward.

Repeats Q4 guidance that European OEMs have customers worldwide and thus Europe specific risk is not as high as it might appear at first glance. There is a conflict in figures wrt Europe revenues in the AR.
In one place they have mentioned, 55% of export revenues are to Europe, which means around 37% of overall revenues are Europe dependent.

In another place they have provided Revenue breakup by country, wherein Europe contributes 76% of export revenues: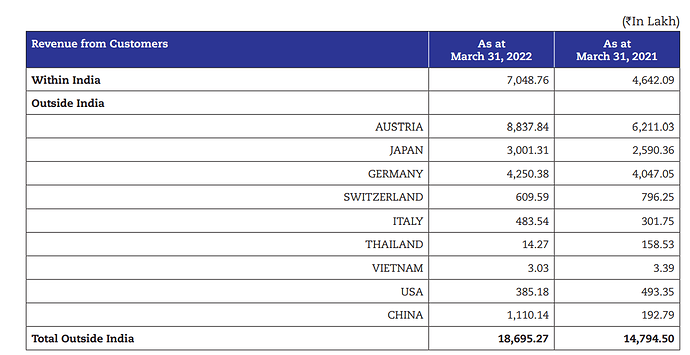 Both are sizeable figures and run counter to Management assurances that Europe isn't as big a risk as it seems for RACL. If anyone is able to resolve this difference, please update here.
Foreign currency debt exposure is ~58Cr which is ~35% of total debt o/s. Unfortunately bulk of this debt is denominated in USD, so forex losses on debt payments will continue this FY as well. Although, this is mitigated to a large extent by virtue of 70% revenues also being denominated in USD.

PS: Apologies for the multiple edits. I was going through the AR right after finishing the original post and thought I should add relevant details here rather than creating another reply post.
Some commentary on RACL's major European customers, KTM and BMW. As you can see, most of RACL's European revenues come from Austria and Germany which are home countries for the 2 brands respectively. Revenues from other European majors like Dana and Schneider are comparatively quite small.
KTM:
Did you guys know that Bajaj Auto owns around 50% of KTM's holding company PTAG? Until last year Bajaj Auto used to own 48.5% of KTM outright, but last year it swapped its KTM shares with the holding company shares and now also partially owns a couple of other motorcycle brands called Husqvarna and GasGas. Bajaj is naturally also PTAG's sales partner for India.
This is good news for RACL in India, because it means forging a relationship with Baja Auto for India businesses will not be difficult. Whether RACL can lower its prices or offerings to match what Bajaj needs for the domestic market is another matter though.
KTM is listed under the parent company as PTAG on the Vienna stock exchange.
KTM H1 FY22 results - shorturl.at/iruH0
KTM ticker on the stock exchange - shorturl.at/fhEIX
Revenues have increased YOY but volumes and EBIT has decreased as expected. They have hiked their revenue guidance for FY22 full year and expect to maintain EBIT margins between 8-10% (but lower than last year). They have lost market share in Europe and India due to lack of electronic components, but expect to claw back market share in the remaining 2Qs. Maybe bullish for RACL volumes.
BMW
BMW's partnerships with TVS is well know. So RACL has another hook into the domestic market via the BMW relationship. BMW is listed on Nasdaq. Attaching their report for Apr-Jun Qtr and H1 CY22. As expected margins have nosedived and volumes are also under pressure this year. Fortunately, motorbikes have held up much better than 4Ws (Why we haven't seen de-growth/stagnancy in RACL revenues) and company expects a slight growth in delivery volumes YoY for motorcycles. Motorcycles are a tiny segment for BMW contributing only 2.5% of their topline.
Notes from the recent ratings report (link)
Long term bank limit enhanced to 206.6 cr. (vs 131.5 cr.)
FY23 capex of 60 cr. for creating capacities for new products in lieu of nomination letters received from customers + modernization/upgradation (30 cr. spent)
RACL invests in machines after getting a nomination letter from a customer (takes 1-2 years for supplies to start)
European energy crisis may adversely impact operational performance of the manufacturing sector and consequently RACL
Top 5 customers contributed 67% of FY22 revenues (vs 78% in FY21). Largest customer contributed 17% of FY22 sales
Exports: 73% of FY22 revenues (vs 76% in FY21). FY22: 57% to Europe, 39% to India and Asia Pacific region, remaining to USA and Mexico
2-wheelers contributed 49% of FY22 revenues (vs 45% in FY21) followed by tractors which contributed ~19% of FY22 revenues (vs 19% in FY21).
Company is preferred vendor for many of its premium segment export customers
PBILDT margin stood at 22.13% in FY22 (vs 26.18% in FY21). FY21 margins were an aberration due to sale of high margin prototypes to new customer
Raw materials: Steel and forgings
Company discounts invoices with banks at an early stage to minimize forex fluctuation risk
Inventory: 3.5 months, domestic debtors ~ 2 months, overseas creditors ~ 3-4 months, payables ~ 1.5 months. Wcap ~ 5 months
Working capital utilization was ~79% during 10-month period ended July, 2022
Disclosure: Invested (position size here, no transactions in last-30 days)
RACL formed a triple top today on the daily charts although with moderate volumes. If the triple top pattern plays out, the stock could go down to 340 levels. Whether or not it does that would clearly depend on the impact on its revenues and margins due to the energy crisis in Europe.
I had reduced my position by half after last Qtr to mitigate Europe related risks but I plan to continue to hold the remaining quantity and add on significant dips. From a 3 year POV, significant dips from here can provide great buying opportunities in my opinion as I don't think RACL's or its customers' fundamental business capabilities will be impacted in any significant way over a 3 year period. If RACL can navigate through its tight balance sheet position, the stock should do well once this turmoil is over.
PS : None of the above is investment advice, I am very new to technical analysis and can be completely off the mark.
We are into the next quarter. we didn't had the concall , which we are supposed to have during the last week of the quarter. Any idea, why the company didn't conduct it?
Quite good set of results from racl
Revenue up 27% YoY. 13% QoQ
EPS up 50% QoQ and YoY. 9 Rupees EPS
11% Net margins. 70% Gross margins
Working capital is a bit stretched due to inventory position but IMO that is part of investing in a high growth B2B smallcap
Market seemed to have been discounting this one on account of recession/slow down in west. But it doesn't seem like had much of effect here,
Here are my notes from their FY22 annual report.
Miscellaneous
Target to reach 500 cr. in revenues by FY25
Ventured into parts for Chassis, Suspension and Steering Components and sub-assemblies for Passenger vehicles & Engine Gears for electrical switch gears and circuit breakers, winches and cranes
Got major orders for gearing solutions for E-Mobility to local and global customers, all capex investments for parts that go into ICE and EVs
Bankers: Bank of India, RBL, Citi, IndusInd, Standard Chartered, Yes
CSR: Spent 40.52 lakhs (out of obligations of 48.66 lakhs)
Share price: 754 (high), 216 (low)
Gursharan Singh shareholding went up slightly from 36.54% to 36.57%
Gursharan Singh attended both meetings of Nomination and Remuneration committee. Ceased to be a member from 12th November 2021
Advances/loans given to suppliers: 2.13 cr. (vs 1.96 cr. in FY21)
All loans secured by personal guarantee of whole time directors
Segment share

Geographical breakup

Imported technology

Employee remuneration

Energy conservation

Disclosure: Invested (position size here, no transactions in last-30 days)
Yes, these are excellent nos given that the co has a very high exposure to Europe. Most probably the new clients for which they had been investing over last 2 years have scaled up.
The most best about RACL is management , damn honest with full skin in the game, risk taking & executing efficiency