Q4 FY17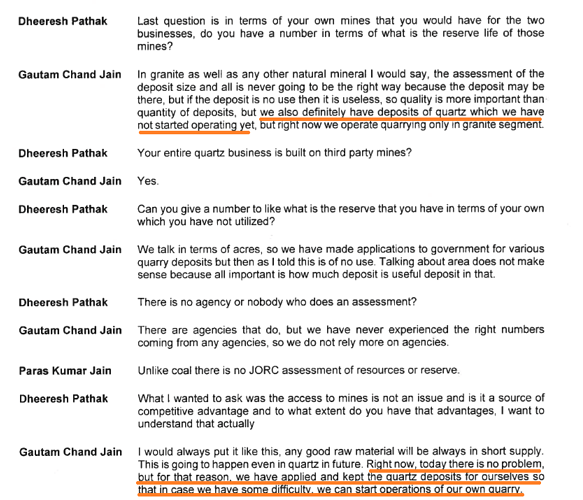 The company is sourcing RM from own quarries only for granite business. For Quartz, RM is sourced from third party - in this case the supplier is Chettinad group and quarry is in Tamil Nadu.
They have their own quarries with quarts deposits but they are not operating those quarries yet.
Licensing part is answered by @Anant bhai.
On cost side, dead rent and royalty are two are two fees that are required to be paid. Total royalty fees for whole year was around ~10cr 2/3 years ago.
Thanks Rupesh for a super extract. This essentially answers my query on Quartz competitive advantage sustainability (for now - medium term). Will try to dig in more on this aspect.
And here's for the record the past Quartz global growth track (dated 2018 data)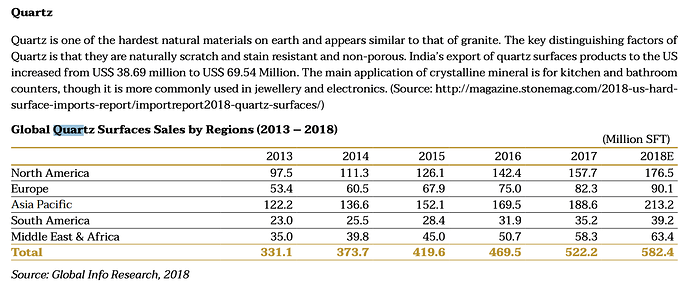 And the (dated) global quartz surfaces growth forecast for the record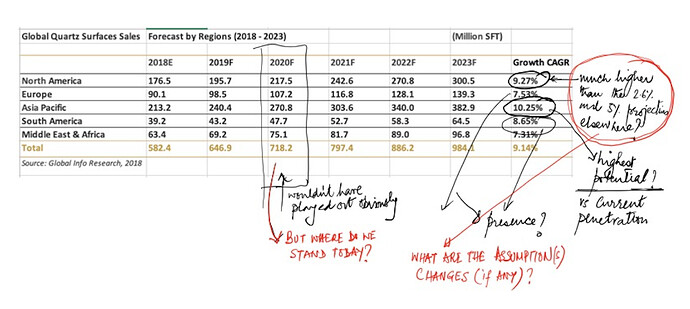 The key issue in Granite is imports from Brazil where costs have come down significantly due to currency depreciation. Indian granite is superior (tas per the management the mines owned by Pokarna are one of the best qualities).
From one of the friends who is into construction Pokarna probably has the best granite mines in india/world in terms of quality.
They mention the quarry from where the granite comes.
And what's the basis of this assertion, when the Management commentary itself (we read earlier in granite business description) is like "we don't know till we know"?
Here's another quote from the latest AR


Apologies for digressing the discussion from Granite to Quartz. Quartz segment looks most interesting currently,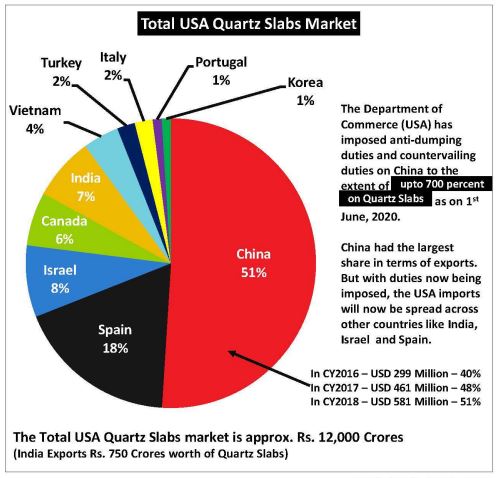 Source (slide 19): https://www.bseindia.com/xml-data/corpfiling/AttachHis/2f8464a0-aaef-4676-91ea-2ef481c21ad7.pdf
Someone has to fill up massive export space vacated by China. Pokarna is well placed to gain. Question to ponder is why Pokarna didn't hit 100% capacity utilization (at existing/old plant) in Q2Fy21?
Sandy bhai, it is a matter of time. Q2 too had a significant Covid impact except for South Asian nations.
Thanks for pointing to the AGL presentation @spatel
The domestic Quartz slab market for the record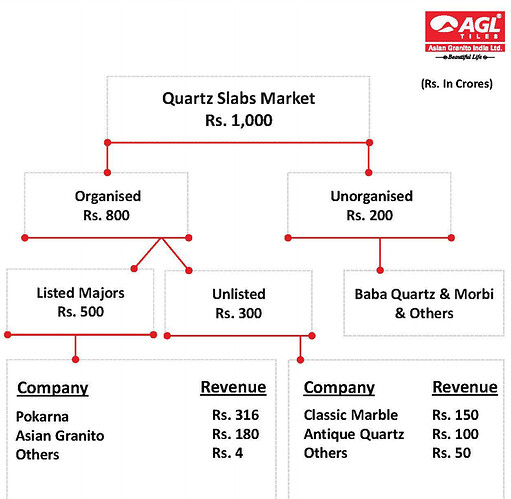 This is incorrect as pointed in AGL ppt. I have pointed out in earlier discussions as well. As of now there doesn't exist any significant quartz market domestically. The Pokarna sales mentioned are all exports. One of the reasons of setting up current unit in Hyderabad is to cater to domestic markets as the previous unit was in an SEZ
The capacity utilization depends on product mix, sizes, colors and end price. So with 100% capacity utilization - one can get different topline numbers.
If there are too many product switches or small size slabs, capacity utilization comes down.
If there are too many color changes, capacity utilization comes down.
Larger and thicker sizes result in more capacity utilization and more revenue/margin.
If competition is more for complex product (think Calacatta e.g.), even then topline number would be less despite color changes etc.
So 68cr numbers reported in Quartz topline in Q2 FY21 has to be looked in this context and it is pretty decent number IMO. I'm sure they can do better in terms of efficiencies.
China's export space has already been filled up by Spain, India, Vietnam etc.
China had < 1% share of US imports in YTD CY 20. Refer data shared by Harshit above.
Zoom-Out view of US import data. Pulled a minute back from the same source Harshit used (also regularly used by fellow VPers active on the Pokarna VP public thread). Good work, Harshit!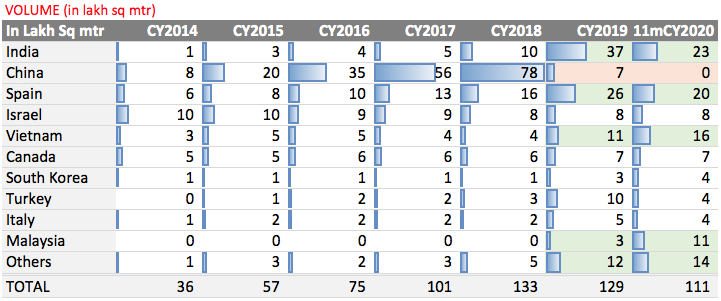 Key takeaways (non-exhaustive)
ADD (242%) and CVD (314%) did stopped the ~50% market share China enjoyed till 2018
2019: Spain, India and Vietnam benefitted the most in filling up the China void
83% duty on India from Nov 2019 to Mar 2020 applied sudden brakes on export from India
COVID-19 played the spoilsport just when the duty for India changed to low 5% around Mar '20
Since then, India has been slowly climbing up post covid-19 worries
India has shown MoM improvement (Jun < Jul < Aug < Sep < Oct 20)
It is a matter of time (as Anant mentioned), India will cross 2019 monthly peak (Oct '20 is ~20% lower than 2019 monthly peak)
Quartz Countertop US Import v1.xlsx (23.1 KB)
Source:https://dataweb.usitc.gov/
To ponder/ To-do list -
Is US import growth slowing?
Is the HS Codes 6810990010 all encompassing?
Hi Sandeep (@spatel) - As per USITC investigation documentations, following are the HTSUS codes under which Cambria wanted trade protection measures against India and Turkey.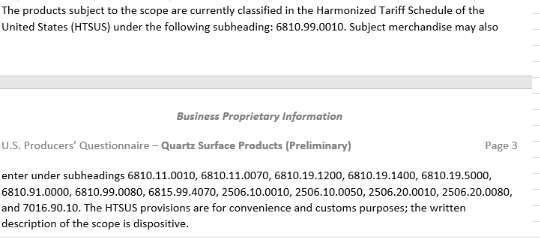 As per USITC site, HTS 6810.99 represents 'counter top Quartz'

General Observation - In context of the data shared by Sandeep and Harshit for HTS Code 6810.99.0010, Turkey does not look to be a serious threat to call for an investigation by USITC. They had 3.53% contribution to total US import for 2019. Spain, Vietnam have been much bigger players to warrant protection measures (specifically Spain having 20%+ import marketshare).
That makes me look closely at the import data under HTS code 2506.10.xx (Quartz blocks or slabs of a rectangular including square shape), its evident that Turkey was the leading player under this category, followed by India.

Even otherwise, quartz got application beyond counter tops. Therefore, my submission is that for Pokarna story, a more holistic view can be to look at both HTS codes 6810.99.0010 (Quartz countertop) and 2506.10.xx. (Quartz slabs).
Tarun
Below is the value, volume and realization data for US import under HTS code 2506.10: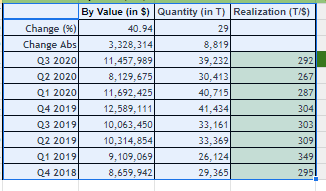 Further, Hard-surface [website] is tracking and reporting both value and volume data by country for HTS code 6810.99.0010. Glancing through the site, volume has been ~10M Square feet for early part of the year 2020, dipped down to 8M Sq.ft around June (may be due to Covid). Has came back to ~13M Square Feet in recent months.
Regards,
Tarun
Two links of interviews of Mr. Gautam Chand Jain to understand the man behind the story.
In both these videos Mr. Jain is speaking to non investor community and brings out his journey starting from a 1500 cloth trading business to where Pokarna is today. Some of the key insights that I was able to get are:
a) Mr. Jain is a risk taker an aggressive one, this aspect is evident even from the fact that despite catching up a perfect storm in 2008 crisis he went through another debt funded expansion and got caught in another perfect storm (capex delays/US duties/Covid). He is an entrepreneur/businessman through and through and that is his only passion.
b) He visited Paris/Milan fashion weeks and started mfg. readymade shirts when readymade shirt trend had not even started in India and finally buying Italian fabrics tells us a lot about the person and his focus on differentiation. Another thing to note is even for his granite Pokarna used Breton machinery. Time and again it came out as to how he was looking to create differentiation and add value.
c) On customers Mr. Jain is very clear that it is not just the clients who pick a supplier/manufacturer but it is also the other way round. he also says that he never lost a customer. The focus is on building long lasting relationships with customers/bankers/employees (he doesn't mention shareholders) which are based on trust and mutual benefit. This is further brought fwd by his admiration of the Tatas.
d) Another interesting aspect is when Pokarna went to CDR on the recommendation of their bankers and despite that they were able to raise 200 cr from the same bankers in their next meeting.
e) One important thing to note is their is very little mention of his family in the entire discussions. Even in the business setup one can see that it is Mr. Paras Jain (non family) who heads the Engineered Stone division.
Spent some time reading through the conference transcript hosted on USITC website. Very good repository to understand the contextual fine prints in qualitative ways - Quartz adoption, growth & runway, US industry landscape, import threat & mitigation etc.
Some key takeaways from the reading:
1. Quartz IS gaining currency. Skyrocketing is the way it has been described multiple times. So much so that local fabricators were unable to meet the demand once the investigation began for China imports. In some cases, there has been cases of down-selling to Granite, just because of supply constrains:

+++++++++++++++++++++++++++



++++++++++++++++++++++++


Cambria has positioned itself as some short of 'by invitation only' product. Looks like they got the strength of branding to choose specific niche within a lucrative segment - "Luxury residential and deciding not to go for 'builder residential'.
During the case hearing, metaphors like Ferrari, Louis Vuitton, Lamborghini were flying thick and fast to represent what Cambria is in the Quartz market.

+++++++++++++++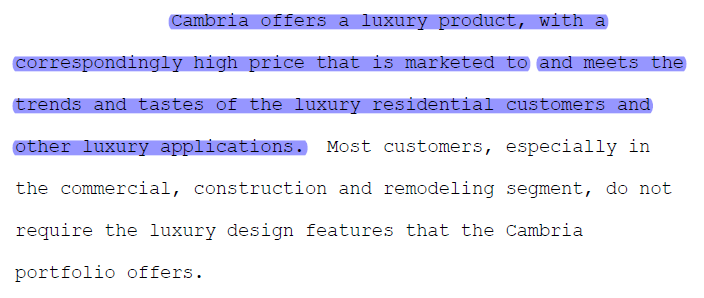 The underlying reading of the Investigation is - This actually was not Cambria Vs. India/Turkey. This is Cambria vs. China part 2. There was significant discussion on keeping India and Turkey in scope while keeping Spain scout free. Even the 'significance' (in terms of contribution to total import) was debated at one juncture. However, the case remained admissible on the strength of noncompetitive pricing consideration. Apprehension was projected that China Quartz is routed through India/Turkey thereby rendering the China specific judgment ineffective:


+++++++++++++++++++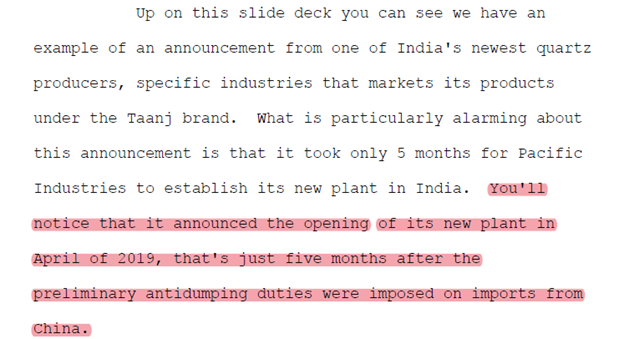 +++++++++++++++


Overall, this transcript offers great insights and perspective to build a mental model whether there is advantage India in Quartz story?
Trivia1: TAANJ Quartz (Pacific Industries, Udaipur) is new player to got Breton technology for calibration and polishing line.
Trivia 2: As per case records, ~$50M is the cost to set-up one Britonstone line.
Regards,
Tarun
You folks must have gone through most of these articles, but here's for the record anyways.

An interesting but dated (2010) article on the Quartz Marketplace with the same names, the same dont-sell-to-China technology pacts. It does appear that there are several ways to add value over and above the basic quartz technology. Will be reading up more.
Very interesting for Pokarna, but full of technology/innovation challenges too. Thats what had the Chairman commenting on the tough challenges in innovating in the ARs?
April 2020
There are roughly 60 Bretonstone Slab plants operating around the world that manufacture Quartz using the Bretonstone technology and machinery patented by Breton S.p.A., of Italy. Popular Quartz brands such as Radianz, Silestone, Ceasarstone, and Cambria are made in these Bretonstone Slab Plants, as are many lesser known brands.
https://www.thegraniteplace.net/blog/all-quartz-not-equal/
Oct 2020 last updated
You Often Walk on Quartz
Homeowners think of quartz in terms of kitchen or bathroom counters. But the majority of quartz is slabbed out in massive sizes for things like shopping malls, airports, and Prada floors. No doubt you have walked on quartz countertop material and not even known it.

But it is not over.
The major innovation is that it can produce quartz slabs down to 5 mm thickness!
Interior cladding, veneering and renovation are just few of the possible new markets.

With the latest Breton Technology plant (most advanced anywhere in the world claim by Pokarna) do we know the kind of innovations that Pokarna is talking about introducing. Can we do some pointed scuttlebutt?
And now for a proper history of Engineered Stone
The size of engineered stone slabs has evolved in time, with the width increasing from 125 to 144 and then 166 cm (about 49 to 57 to 65 in). Today's plants can produce "jumbo" slabs at 212 by 367 cm (about 83 by 144 in). And in addition to the size changes, the look has certainly evolved over the years also. Originally, the material mimicked granite, but solid colors were soon produced, followed by veined marble looks and now an "exotic granite" effect, similar to rare and costly Brazilian granites, such as those produced by Cambria in Minnesota and some other companies with the newer technology.

Each manufacturer has added its own touch
to the aesthetic quality of the product, with colored glass particulate, crystal, mirrors, semi-precious stones or brass filings to speckle the material with gold-colored metallic accents. And the product has also become more eco-friendly, often using recycled particulates and Biolenica resins made from vegetable oils from renewable sources.
Any number of brands: Stone Italiana, Santa Margherita, Caesarstone, Technistone, Cosentino, Cambria, Seieffe, Quarella, Privilege, Silicalia, Hanwha, AKG, Dupont, Vicostone, Diresco, Falat, ZKM, Pokarna, Quartzforms, LG, Belenco, Samsung, Daelim and more. It can be found in airports, hospitals, retail outlets, hotels, schools, shopping centers, residential complexes, religious centers and numerous other locales.
The 2 main takeaways for further Scuttlebutt:
Plans for producing quartz slabs down to 5 mm thickness - that can open up new markets
Innovations being attempted with the latest Bretonstone technology? Any breakthroughs that will create a new product category from Quantra
First on granite and the question that you raised from the AR:
There is something called as yield which is the saleable granite that can be obtained from one cubic meter of block. A recovery of 450 sft (10 slabs of 951) is considered very good. One needs to ask questions if the recovery from their current quarries is coming down or a demand issue or a combination is driving granite sales down. The other thing to ask is incase of lower quality yield what happens to the granite block? Does it get sold locally?
In one of the conf calls something similar was alluded to but not without much details:

From a very limited scuttlebutt, the company can be present in the entire range from kitchen, washrooms, exteriors to other places. The company has an internal dedicated R&D team which is working on these.