Shared the source in this thread earlier.
for people who do not want to hold the financial business. and only want the pharma shares,
can they sell today? as today is the ex date…
as mentioned in this article.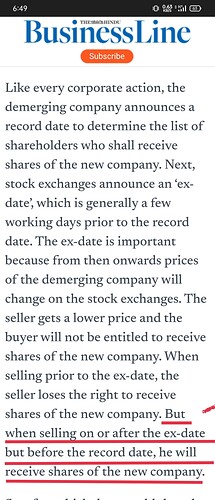 dis: invested
Bonus stripping has been disabled from 1st April 2022 by making an amendment to Section 94(8) of the IT Act
The thread is being closed due to too much clutter regarding basic questions regarding bonus issue. I have opened the thread after de-cluttering it. Everyone is warned to stick to the value additive posts. Unwanted clutter will not be tolerated.
Quick notes:
On the face, Trading @ P/B → 0.8 (MCap → 23600 Cr.(14-Sep-2022) & BV → INR 30,000 Cr.[Page-16/49 of PEL-FS-Roadshow-Presentation_Aug-2022_vFinalv4.pdf]). However, I think that 10,000 Cr. (Shriram stake and Liquid Cash) of the equity shall be assigned a P/B of at least 1. Baking that assumption in the calculations, real P/B becomes 0.7
2027 Aspiration: ROA → High 2% to Low 3% & Leverage (Net Debt to Equity) 3.5-4.5x | Implies ROE 12%~18%
Build a large diversified Financial Services | Hired key top-quality senior talent (Mr. Jairam Sridharan, Mr. Rupen Jhaveri, Mr. Kalpesh Kikani, Mr. Yesh Nadkarni, and Mrs. Upma Goel)
Anticipated events:
Monetizing Shriram stake | Post listing (~ October) of Shriram finance | I expect it would be more than the current book value of ~5100 Cr.
Eyeing bank license | Best way to build a sustainable large-scale lending business → This is super important considering Deepak Parekh's view in this (Link) interview. I quote- " What are the larger challenges for the NBFC industry now that the regulatory arbitrage is nearly gone? NBFCs will have to gear up. RBI is now bringing in regulations for NBFCs to bring them on par with banks. There is no arbitrage left in an NBFC and the rules that apply for banks will apply for NBFCs, especially the large-scale lenders. The Governor also, in his monetary policy statement, said that large NBFCs will have to rethink their strategy and individually what they want to do. So, there is a thinking that in the NBFC sector large NBFCs cannot survive because of this wholesale funding, retail lending strategy. So, large NBFCs will have to rethink their business model. Small NBFCs will not have a problem."
M&A to scale up the evolving product lines | Launched microfinance recently
Sources -
Disclosure - No Investment as of now.
I have a basic query on the POCI…
PEL says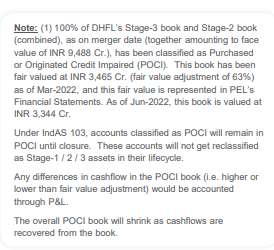 Lets say out of this POCI book, PEL recovers 5000cr, so this entire 5000cr could directly go to net profit and after paying taxes, it could be moved to retained earnings, thus adding to Reserves? Is this understanding correct?
Any idea what should be the justified price of Piramal Enterprises (PEL) after the demerger ?
Decent read that touches all the above points-
Taking above inputs, I'll take a stab at PEL valuation now : -
10000 crs. of capital avlbl at face value = 10000 crs.
16000 crs. Lending biz - 1.2X Book value = 19200 crs.
1500 alternative and 1000 insurance biz - These I blv have more growth and profitability scope so 1.5X Book = 3750 crs.
Total = 32950 crs.
PEL currently trades at 22k mkt Cap. so that's almost 35% discount. And it doesn't factor Piramal's experience and probably the fact that some mkt drawdown may present them undervalued opportunities.
A very back-of-envelope valuation. Feel free to provide counter points please.
Disclosure :- Invested from pre-merger days.
Hello,
Sorry if this is a basic question and already addressed, I scanned but did not find an answer in the thread. So, I had got PEL pre-merger and post merger I have not received the additional shares. Am I missing something? I'll delete this and related post once it's figured out.
Please check your Demat holdings. You should see "INE0DK501011". These are PPL shares. In Zerodha, go to "Console", and click holdings under the Portfolio dropdown.
Found very useful to find out my PPL shares