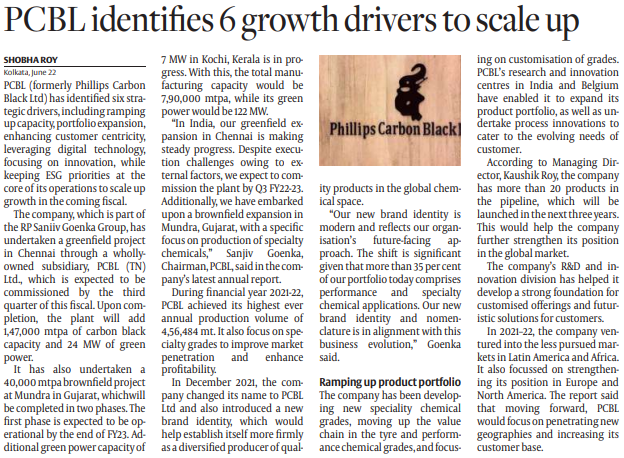 PCBL Q1 FY23 Result Update!!
Overall, Margin Expansion is expected along the years. They are catious in the short term but very optimistic in the long term. Seems to be an OPPORTUNITY!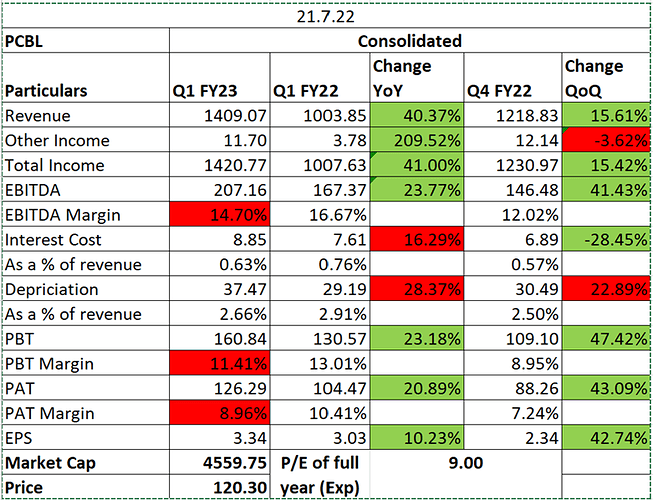 My notes from q1ft23 concall.
China - no major change in chinese capacity, consolidation in china. 23-30% capacity is actively not available for production
Pricing of CB - Pricing is global so if the price increases globally, it increases in India as well
Capex - New plants will be built on Industry 4.0 manufacturing standard. Mundra has second phase of capex as well (i am bit confused about this so not sure, but heard them saying second phase in mundra)
R&D - India R&D 5 years old. Belgium 2.5 years old. $ departments in R&D.1- new product. 2 Raw Material (Oil engineering) different RM (all CB is not made from same oil) 3. Fundamental research on new method of making CB. 4. post production treatment
PCBL India market share is roughly 33% . 1/3 of india market
They sell 27-30 % product in the sport market
Speciality Chemical has 45 grades, developed in the last 6 years
we will have to understand what percentage of silica is being used instead of carbon black currently. Which major companies are adopting this new silica process? If everyone switches to silica, how will the availability be for all players? how long have they been using silica instead of CB and how is the product quality and wear and tear over 5-7 years(average age of tyres)
i am trying to figure out if the margins can have an upward revision from here. assuming if CBFS price stars correcting. In the past CBFS (HS code 27079900) price moderated from the highs of 134 in 2014 till about 26-30 in 2016. that is when we saw a massive rally in PCBL share price as well. if the geopolitical scenario becomes better and oil prices moderate (CBFS will also moderate simultaneously). we can see better realizations Per ton. what are your views?
This is something that needs to be seen. Oil prices are already coming down. But the realizations of PCBL might take sometime as they might have had old inventory of higher price. So maybe the effect could come from H2 onwards. This is completely my assumption.
What's more interesting to note is with a lag of 1 month of oil prices, the correlation still remains at 0.85, i.e., the price of oil one month before has a strong relationship with the Carbon Black Prices at a moment, this again helps us draw similar conclusion that we could see cost pressures due to Carbon Black easing.
We will have to wait for the prices to mean revert, which will happen eventually. there is good demand in India on the Commercial Vehicle side, i read a report on the replacement cycle in commercial vehicles as well. read multiple articles talking about an upcoming better growth for CV, even cholafin stock is rallying, they are majorly into CV financing. we will have to wait and watch how things develop. US UK recession may slow down the market a bit however PCBL has 70% sales in India and the CEO said they are seeing more traction in Indian markets. i will watch sundaram finance, shriram transport finanace and chola finance sales to get a decent understanding of the growth in CV space and track the auto numbers of big 5 to see if auto sales are inccreasing at a higher clip. PCBL majoy revenue is from tyres so the tyre industry has to do well for them to do well. the previous rally in PCBL happened between 2014 -2018, it coincided with the auto boom
Though silica is a more greener option but silica and carbon black isn't identical element that can be replaced for filler material for tyre manufacturing. Using silica leads to lesser grip in tyre. Here I attach a study material that can be helpful understanding silica and CB. The_Effects_of_SilicaCarbon_Black_Ratio_on_the_Dyn.pdf (1.6 MB)
this is from the 2022 AR of Jupiter Wagons, there is clear traction in the commercial vehicles industry and this should propel a part of the growth in PCBL, usually, an upcycle lasts for at least 2/3 years. Price action will give more confirmation to our narrative and let's wait for the next quarter's earnings. wit oil prices correcting and PCBL using the CBFS oil route to make CB, it's going be margin accretive for them.
Can someone help me with this data point - how much does carbon black contribute to the cost of a tyre?
I still could not find % component of the total tyre price but this article sheds light on the weight of carbon block used in the tyre, it seems to be around 30%.
PCBL is also doing capex which is expected to be commissioned by Q3FY23.