is anybody aware of the comparative cost of aluminium production for Nalco, Hindalco & Vedanta?
sorry for my ignorance - but can you explain - what all different substances do you include in 'Commodities' ? - - metals- Ferrous and Nonferrous… sugar … oil … - is Cement / coffee also included?
Good set of results from NALCO, aluminium division reported 14.7% YOY growth in sales. Chemicals division de-grew in revenues by 14.5%, however margins were higher resulting in similar PBT compared to last year. Both divisions are in black now. Good cashflow generation leads to slightly higher cash balance (~2090 cr.; increased by ~100cr.).
Dislosure: Invested (position size here)
Chart of AL Vs NALCO - Clear divergence currently, it tends to auto correct over time whenever it happened in past…

@harsh.beria93 - They haven't switched to lower tax rate yet- do you know why ?
Research Report from Katalyst Wealth on NALCO for reference.
https://katalystwealth.com/2020/05/09/national-aluminium-nse-nationalum-may20-alpha-alpha-plus-stock/
Few excerpts below: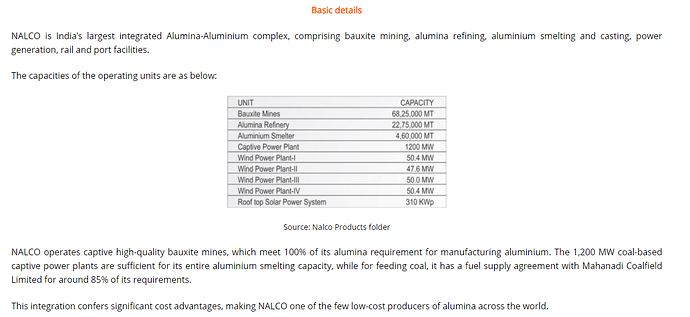 NALCO - Last month volume in NSE is highest in the history (18 years - as per zerodha's chart). Is it something that big players are entered here? Is there some fundamental change?
Disclosure: I have invested in NALCO.
Nalco's Board to consider the Buyback of shares. The Board meeting is scheduled on 27th January 2021.
Company comes up with a large buyback of ~7% equity shares (~749 cr.) at a price of 57.5 via tender route. Record date is 8th February.
Disclosure: Invested
Another tender offer. I wonder if in the US and other markets, buybacks are mostly open offer or tender offer. I would have been happy to buyback via the open offer route.
Latest management interaction (link)
Should cross 95% of FY20 volumes
Average aluminum LME realizations for FY21 will be marginally higher or at par with FY20 realizations
2 ton of alumina required for 1 ton of aluminum; in production of aluminum 1/3rd cost contribution of alumina, 1/3rd from power. Expecting alumina prices to be $300-$320 in Q4FY21. Alumina prices have not seen the same up move as aluminum
Disclosure: Invested
Aluminium prices are now 90% of 10 year peak (USD 2500). So, in some sense, aluminium is now getting close to the peak of the cycle. However, these gains would get factored in the current quarter and potentially one more quarter. Alumina however is still 50% off the peak. So, clearly if one had exposure to both Hindalco and Nalco, Nalco is a better bet going forward. However, it is simply unclear why alumina price is currently divergent from aluminium (and what would it take to get them in line).
Disclosure: Invested at lower levels.
Interesting… does that mean there is more supply of Alumina, than what the current Aluminium players can absorb? Pricing power seems missing… Historically what has been the correlation of Alumina and Aluminium prices? Is the divergence a recent phenomena due to some new mines getting operational? Could Alumina not touch the historical highs it reached in the last cycle?
One relevant metric to look at is alumina cost as a percentage of the cost of producing aluminium. This number tends to vary from 15% to 30%.
Alumina prices dive to 4-year low after strong start to 2020 | S&P Global Platts. Rough ball park would suggest we are around 20%. At the peak of the cycle is when it will really get close to 30%. There seems to be some lag in alumina as compared to aluminium - however, I don have a sense on excess supply at this point in time. Someone who has been tracking the alumina cycle for a longer time would have a better view. I have looked pure aluminium (hindalco) in the past. For alumina, this is my first cycle.
The current stock price (60) has gone over the tender price (57.5). I wonder who will tender their shares at a price lower than the current stock price. Anyone has experience in this kind of a scenario?
On the business front, aluminum prices have gone over $2200 in cash market on LME.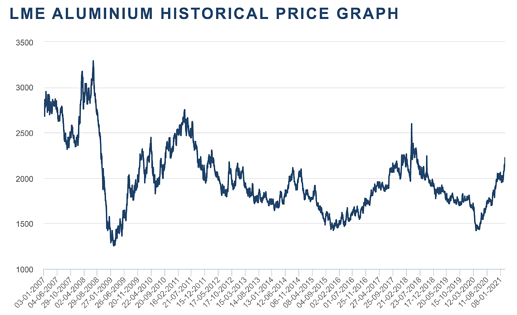 Alumina prices have approached pre-covid level, it still has to cross it. Management had assumed $300-$320 for Q4FY21.