its common dont worry, thats ROSCA which may have been delayed due to various reasons. Company shall pay penalty to SE for late filings, that's it, which shall also be covered by secretarial auditor in his/her 2021-22 report, do check secretarial auditor report for more info on this.
Actually it was disclosed to exchanges yesterday in the market hours itself, but the stock rallied today though.
some short notes picked from the interview. Just for record purpose.
30kTonne/annum capacity CPVC plant commissioned. Revenue contribution expected from Q3 (50% utilization), FY24 full utilization expected, revenue generation 400-450 cr on full year basis. Margin similar as existing products.

EPCH - Sample sent. Expecting orders from Q223 onwards.

5000 cr. revenue target by FY27. 1500 cr. FY22.

ECH & CPVC will start contributing to numbers in FY24 on full year basis. Chlorotoulene will start contributing from Q4 FY24. All this can generate 3000-3500 cr on annual basis in long term on full utilization basis. We are evaluating future import substitute products which are under R&D and will be announced at right time.

CPVC - India's demand is 140k Tonne/annum, which is world's 50% demand. Hence a unique position where capacity increase worldwide is not a concern. India player has advantage. customers have already taken sample lots and slowly expected to increase purchases.
India's annual demand is about 140kTPA, MFL is setting up capacity for 30kTPA. Grasim has announced capacity for 100kTPA in phased manner. I just did a search for CPVC among their Annual reports/Call transcript from 21 onwards, last update I found is from call of Feb'21. They mentioned it will take about 24-30 months to come onstream. So mid of calendar year 2024 is the expectation (for phase 1 ?), that is if the project is still on track. Surprisingly, no talk of that in calls after that. No articles online after too. Let's see how it goes.
Disc: Invested. No transaction in last 30 days.
As per their latest investor ppt., this is how the company would look like by FY 27E. Clearly the company is moving away from traditional commodity products to value added speciality chemicals.
Strong quarterly results by Meghmani finechem
64% YoY revenue growth (340 to 556 Cr)
95% YoY PAT growth (47 to 92 Cr)
Improvement in PAT margin from 14% to 16%
Vision to achieve 5000 Cr by 2027 (Current annual revenue of 1550 Cr)
ROCE and ROE improved to 37% and 50%
However on QoQ basis PAT is down from 108 Cr to 92 Cr for Meghmani finechem It corrected by -5% today

Would appreciate the insights on MFL's vision to achieve 5000 cr. revenue by 2027?
Is there enough market size for the products that MFL makes to achieve 5000 Cr revenue by 2027?
What are the growth drivers? e.g. the products they are making are getting used in electric vehicle?
Thanks
-Manohar
I think they can easily touch 5000 cr. by 2027
Considering FY23, they will touch somewhere north of 2200 crores. I would consider it as 1700 crores if we are considering FY 27 because huge portion of the revenue is driven by higher realizations of caustic segment.
Now, as per their concalls, they should be able to achieve more than 1000 crores with ECH and CPVC plants, so that brings us to 2700 crores. And with Chlorotoluene coming on line in FY 24, and revenue potential of 400-600 crores from there, let's take 500 crores, we're touching 3200 crores in FY 25.
Now remember, Chlorotoluene addressable market is quite huge and is estimated to be somewhere around INR 15bn, so there's huge scalable opportunities there, and since the company is also setting up the R&D center for this chemistry, it should be able to come out with new products in this chemistry and expand there, so given that, next 1800 crores should come from this chemistry and ofcourse some chunk of this 1800 crores will be taken care by inflation.
Risk: Company is new to specialty segment and no one can judge the R&D capability, since company is going to increase its captive consumption, so it needs to offset that revenue from derivative or specialty segment as well.
And company keeps on saying that it first in Chlorotoluene chemistry, not sure why, given Aarti Industries is also setting up the plant for the same chemistry.
Disc: not invested, studying as of now !!
Results announced.
Sales up YOY by 27% , PAT by 11%
Microsoft Word - 12. Earnings Presentation (bseindia.com)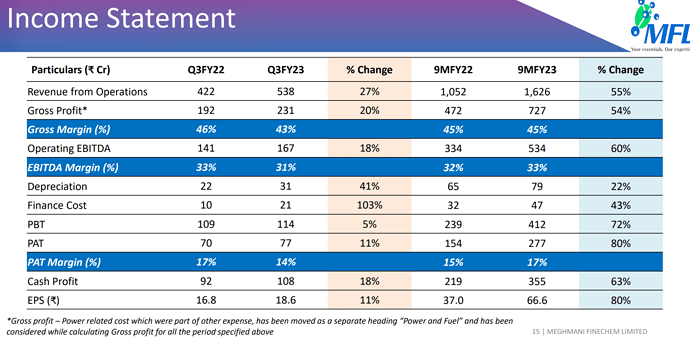 Huge disappointment in results, I think this is going to bring the stock price with good force because as per the investor presentation, the company is getting beaten down on two fronts 1) Realization 2) Utilization (wasn't expected at all) . And if both of them are coming down, this is going to be a hell of a trouble !!
Also, I don't think there's much contribution from ECH which was expected from this quarter. And if realization for chlor alkali take a steep U turn back to 22000-25000 which was there before Covid, god knows what would be the topline since ECH, CPVC are not specialty and are only in derivatives category, so there would be a impact over there as well.
The only positive thing in the PPT was another CPVC capacity expansion which would contribute further to the topline in FY25 given the company would already have the presence in the market and the expedited expansion by the end of FY24 which is a positive thing.
This was the sole reason of not investing in the company as I didn't want to enter the stock at peak margins and peak utilization. But I still think company should be able to achieve 3000 crores of topline by FY25 and this disappointment will give me a chance to create my position and don't think there's any rush here since the realization just started to move down, I think we'll get almost a full year to create the position. The company is still far from my Margin of Safety and will wait for this to come there.
Interesting to see what company has to say about further utilization (specially ECH realization which is no where mentioned) and realization. Yet to listen to the concall !!
Personally, a downgrade for me because of the management. When company announced ECH and CPVC for the first time, they guided that both combined will contribute 1000 crores to the topline, then some time back, they change the guidance and said ECH alone will do 1000 crores and in latest concall they said that combined will be 800 crores.
Similar for Chlorotuolene, the guided earlier for 500 crores and now reduced it to 350 crores.
Plus for ECH, they mentioned that the contracts are such that they will get from January ownwards only but if this were the case then why plan project in a manner that the plant was completed in July? It should've been planned in a manner where it is completed somewhere in the middle of 3rd quarter.
So, I'm getting skeptical about management. Also, I don't like their biz. With Meghmani Organics because their debtor days are stretched on that end.
Although, the products they are introducing are import substituted which gives good hold to it but they are not able to give guidance properly. Again they've guided for 4000 crores which seems unachievable to me.
Still I would like to be invested because they are focussing on import substitution, but I would wait further to reach to my desired valuations.