In a recent interview Mr Ashank Desai was quite upbeat about Mastek.
I think there are 2 ways to look at any such data. GBP going from 103 to 94 reduces next 1 year revenue by 10% in INR term.
However it actually increases volume because Indian IT exporters become more attractive. The reality will obviously be more complex than just these 2 variables but this should make it very clear that forecasting is difficult & tells us more about the forecaster
Same thing on UK recession. Recession definitely leads to lower IT spends. But it also increases propensity of cos to save costs which is precisely what IT outsourcing accomplishes.
Investing is all about balancing these opposing forces:
Recession reducing IT spends. But increasing propensity to outsource.
GBP / INR being bad for the revenue conversion but being good for the volumes
In fact, because of IT spends & relationshipps being sticky in nature, the positives in both cases actually increase terminal value of biz while negatives in both cases reduce the short term (maybe next 1 year) revenues.
There are no right or wrong answers in investing. Someone selling now to get more clarity is okay, someone who wants to add more at attractive pessimistic valuations is probably doing a good job as well.
I personally feel that investing horizon is often the edge in investing more than stock picking same co can generate negative returns or multi bagger for investor depending on their stomach to sit through pessimism, their understanding of the biz, time horizon
Disclaimer: invested, but can sell out if i find better opportunities. Do your own due diligence & don't clone anyone's conviction or research
Reminds me: Every chess player has the ability to see the future on the board. The difference is How far one could see…
When GBP depreciates vs INR, Indian IT exporters should become less attractive as employee cost in INR remains same while revenue in INR goes down leading to either margin compression, or companies need to raise rates in terms of GBP if margin is to be maintained.
GBP has fallen 4% against INR in this FY, now again companies like Mastek would have got it hedged partially if not fully so the impact is maybe 2% or so. Since this is only 70% of revenues the impact gets reduced to 1.4%. On the other hand, USD has appreciated 3% - so doing the same maths - the net impact of all of these would be reduced to 1% margin depreciation. The stock meanwhile has fallen by a third or so.
So the real concern maybe is related to demand in the UK and not forex. The company doesn't give any demand guidance but has said it should buoyant in a recent interview. Let's see how things pan out for them.
Disclosure - Invested for self and clients for multiple years from much lower levels. I run a SEBI registered PMS and my views are personal.
I look at IT companies' situation (in General) from a different perspective.
1 Supply Side: Most IT companies said they are facing supply-side inflation, e.g. higher employee wages. I know many cases where employees had multiple offers in hand and companies did not know if he/she would join them despite giving decent salary hikes. With the cooling of demands, this constraint shall settle down a bit. It is one of the strongest demands for IT resources in the last two decades
2- The demand situation was staggering. I spoke to a senior advisor to a mid-size IT company (1000 + employees), and he said the company needed people desperately. If they have 200 people, they will deploy them tomorrow, and clients are willing to wait for up to six months to get the right resources onboarded. This was the situation a few months back, but slowing down demand shall address similar issues.
3- Mastek specific- Mastek's significant revenue in the UK comes from government projects. Most of the govt projects get budget allocation by March, and most of the budgets are already allocated for the current year. So the projects which are already being executed face little or no difficulties. The private sector may see demand contraction, but Mastek has less presence in the UK private sector.
4- Working from Home has become standard in many countries. A few years back if you would consider yourself lucky if you got to work from home a day a week. The situation has completely reversed for now. There is a number of people I know who do not go to the office a single day in a week. This is not true for everyone as many have resumed going to the office, but as far as IT jobs are concerned, working from home most of the weeks has become standard (in the UK at least).
If the recession happens and the company wants to reduce costs, it will look at offshoring more positively. For example, a US company hires staff in New York, and the employee is working from home. Does it make a difference if the employee is working from New work or Banglore? Now there is demand for talent, but if and when the company faces budget constraints, it will look for more offshore. I think this shall result in more offshore work, which is good in terms of margin for many IT companies.
5- Currency movements- It is not easy to directly co-related current movements to companies' bottom line. Many IT companies hedge against the currency. As a result, short-term currently fluctuations do not necessarily impact their bottom line in close quarters. Over a few quarts, it catches up, but the short-term impact for one or two quarters is difficult to guess. On average, the Indian currency losses 3-5% against the Dollar (if you see it over 10-15 years), so it benefits many IT companies.
6- Demand scenario. Companies have seen the importance of having a good IT system in place. Even if the recession comes, IT budgets are unlikely to the impacted soon (my own assumptions). Companies would rather cut costs in other departments and leave IT budges least affected.
7- M&A This correction can be a blessing in disguise for Mastek. They are willing to spend around $100-110 million in M&A in the next 12-18 months, and most of it will be cash in hand. As most of the valuations are corrected (hopefully for target companies) lately, this shall save a then decent amount of money or the companies which they could not afford becomes within their reach.
Overall, I think the time is challenging and IT companies in general, but the situation will be unlikely to be gloomy even after the recession. Their PE multiple may contract, but business will remain strong and, in fact, becomes even stronger in my view.
Many IT companies (like Mastek) have 20+ ROE, are cash-rich, have little/no CAPEX, and double-digit growth even in a recession- I think 15 to 20 earning multiple is not excessive IMO. However, market may have it's own mind.
Note- Invested
Bet on Mastek in past and near future in current shape is closely linked to UK economy/ businesses and US ramp up.
Questions that broadly come to mind are
How are UK govt awarded contracts structured- e.g. out of order book vs execution - can there be trimming/ postponement given recessionary sentiments and GBP depreciation. Will there be re prioritizing of future tenders pipeline etc.
How does a recession in US affect US ramp up of new wins? Key sectors they were betting on and outlook( e.g. Retail, Health etc). Does demand shrinkage affect competetitive intensity?
How does market perceive geo concentration risk in current context?
Does sharp sector derating follows quick rerating , historically speaking? India as well as global tech.
Where does IT and within that Mastek is positioned- as and when market recovers. Do near past winners turn out to be near future winners again ?
Has market opened up better opportunities to attract limited money/liquidity in current correction? ( e.g. a branded domestic consumer play which may benefit in deflation vs midcap IT which has done well and is under derating)
Can market collective wisdom be misplaced at sharp sectoral derating? Promoter view and commentary is based on his own visibility and commitment.
To some extent Oracle commentary and dewl flow/license trajectory.
While there aren't any deterministic answers and above isnt a comprehensive list, one has to contextualize as per own style, other opportunities and investment horizon etc.
Disc - exited recently, good company and may continue to do well over med term, even may benefit on acquisition valuations front with better deals now. Will continue to track.
'' The shift is significant as it perhaps demonstrates that Oracle is winning the war in the public sector against its main rival - SAP, especially with the larger councils. ''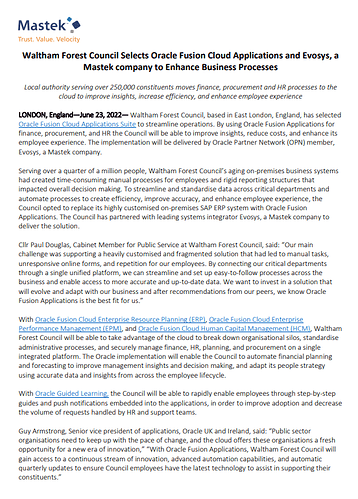 This is a good start from Mastek. Unlike central government projects the decision making in local council is little faster. Councils are independent to take their own decisions. Many of the IT systems in the local councils are pretty old, most of these legacy SAP systems ( I know a person who is working for British Gas - Centrica use SAP; the product is customised so much, it has become pretty complex to manage) .
The only downside is majority of the councils are cash strapped
One thing for sure, wining a PSU project in UK is pretty complex, it is not a straight forward at all. Mastek has gained expertise in this space, they did mentioned in one of the calls. They also said they go other European markets with this experience (Every country is different, don't think this UK experience will help them, so far they haven't won any PSU clients in Europe )