Hi investors. If anyone could share that EXIM data for paxlovid it would be really helpful.
Thanks
For a captive power plant , as per 2003 electricity act , 26% stake is mandatory . Check notifications from Varun Beverages as well for a similar aquisition in last 10 days or so .
d90b8f80-7a71-4dd2-ac48-51acd358f32f.pdf (259.1 KB)
Sir, Laurus labs is one of manufacturers which is authorised to manufacture Paxlovid by Pfizer. Global Funds signs an agreement with Pfizer for procurement of Paxlovid.
I have been following this company for quite some time and my understanding on the recent performance of Laurus Labs reflects below
The report, management commentary, and last 4Qs indicate that there is a major challenge w.r.t to LL business.
The thing which played out here according to me - LL put up aggressive guidance of 1B sales (which excites market participants) and this target look possible given the surge in revenues in FY21. Majority of the investors linked this surge to the operating leverage kicking in the business, but is this really sustainable is what decides fate of Laurus.
Management put guidance of Rs 1B on the basis of three fronts:
In the anticipation of everything going 2021 way for ARV (Api+Fdf).
New additional Non-Arv Api+FDF( coming on stream from Q3-Q4 onwards)
Having confirmed Custom synthesis order including paxlovid.
So what went horribly wrong for LL is related to point 1 that the Covid-led demand mismatch causes a bump in revenues in FY21 and it started to coming back to normalcy in FY22 and it ultimately fall back to where it should be in FY 23, which is quite visible in the recent LL results of FDF and SA tender pricing.
The report is highlighting only this above aspect that with CSM also return to normal run rate and along with Arv api+fdf margin will fall and this points seems valid and make sense. Check their pre covid Ebitda margins.
Major learning from this is that sometimes management also doesn't have clear visibility or understanding of their business, for instance we got to know about channel destocking of Arv products but Dr.Chava never mentioned about excess stocking happening by customers in FY21 itself.
Same goes with CSM business they don't give clear answer on sustainability of revenues.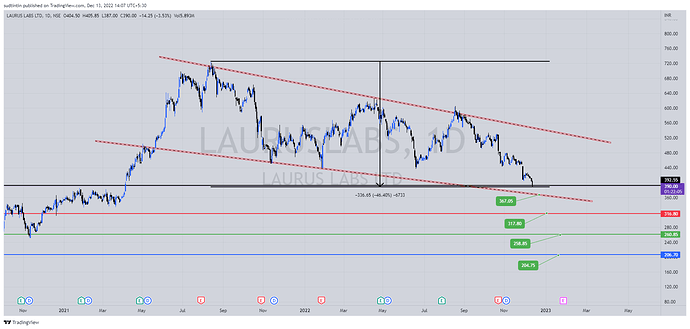 Almost 46% down from all time high,
this is good stock to accumulate for long time.
Promoters holding remains unchanged at 27.27% in Sep 2022 qtr
Mutual Funds have increased holdings from 4.77% to 5.50% in Sep 2022 qtr.
Number of MF schemes increased from 24 to 25 in Sep 2022 qtr.
FII/FPI have increased holdings from 21.96% to 22.67% in Sep 2022 qtr.
Number of FII/FPI investors increased from 251 to 256 in Sep 2022 qtr.
Institutional Investors have increased holdings from 31.09% to 32.01% in Sep 2022 qtr.
Will this positively impact Laurus? I understand from their annual report that they have a contract with Pfizer to supply Paxlovid for Low Middle income countries but don't remember NA mentioned anywhere
Page 4 of FY20-21 AR
Signed up for MPP license for Pfizer anti-Covid pill Paxlovid to increase the broad access in LMIC markets
Writing this for the benefit of the community, and as someone who was very bullish through 2021.
Paxlovid forms around 40% of FY23 revenue, and was extremely high margin. Laurus' last Paxlovid shipment was made in the first week of September. In other words, there is no contribution from Paxlovid currently.
The price action coincides with this, and the top for Laurus was made in the first week of September.

My best guess is that smart money exited, knowing what Q3 is going to look like.
---
D: Was invested, sold in July after someone from the community pointed out how large the contribution from Paxlovid was. I would have bought into the current correction without this pointer. I want to pay this forward, and I hope this helps investors make a better decision after thinking about valuations ex-Pax.
Hello, Don't you think the current situation in China will lead to stocking of paxlovid again. Covid virus in new version will spread again the whole world.
Forget that it's in your portfolio. That's the best advice I can offer. The earnings decline was written on the wall since last one year. Yet many refused to see it. Laurus will caught the markets fancy only when it improves the CDMO segment revenues with stable orders. Untill then it will give pain.
Nope, that applies to laurus also.
You must have some thesis pointers which made you buy this business. If those are broken, why didn't you sell it.
You must have done some valuation analysis to enter at the price you did. Did you pay too much for growth or was it fair value accounting for any headwinds that come in a general ARV,non-ARV, growing CDMO, growing fermentation yields business.
If not, the business is available at a lower price than yesterday. This is a simile to buying clothes on sale.
There's a lot of talk related to paxlovid. Is it a permanent issue or just another event in passing time?
If someone knew right advise about Laurus , that could only be god. No matter who sold it in Jan, May etc. The truth is only time will tell whether they were right or wrong
Frankly everybody does a due diligence before buying any stock. I also did similar elementary due diligence. Read Annual reports. Read transcripts. Watched most of the interviews of Mr. Chava. Watched You tube videos. Beyond that what we can do. I dont have a micro due diligence attitude. I cant go into details of what drugs they are selling, what are their API constituents? What are their contract periods etc. These things i leave to the promoter and management to handle. I dont get into so small details. And then we get these crude shocks. Is it possible to do analysis at such micro level, if you are invested into 20 different stocks?
Dear Mudit,
if you are associated with any company either as an employee or shareholder, you need to get in to those details. before you get in to any stocks you should understand and track those micro details and predict things to sustain in the market.
There is a saying "Buy basis fundamental & Technical Analysis but sell basis only technical". Price moving against thesis - exit. Retail investors are very limited in access to insights.
There is a fire accident at Laurus Vizag plant and unfortunately 4 people lost lives. No update to the exchanges yet.
News came in Eenadu:
It is hitting 52 week low for many days now. And the added fire and deaths in one of the units. With all this it is just 3% down today - which by no means is hammering IMHO.
Disc:
Exited all my positions today morning. Will re-enter when the bottom is formed even if I have to buy at 20 to 30% premium from current price.