Hi @nitin_verma any update on how is KSE or cattle feed business faring currently including price trend of cattle feed? Thanks
I am invested in Godrej Agrovet. While checking SHP I noticed that Godrej group has increased stake in KSE Ltd.
Godrej Agrovet 2.83%
Godrej Industries 2.05%
Nadir Godrej 1.37%
Not sure if they are slowly trying to take stake like how they did in case of Astec life. Just sharing an observation.
D: Not invested, Just tracking.
In Q1-FY24, cattle feed segment has turned profitable. As the company doesn't do any concalls, we could get some insights from Godrej Agrovet concall.
Few excerpts from concall:

Godrej Agrovet talking about increasing stake in KSE Ltd
Some excerpts from 2023 Annual report - 2023 - https://www.bseindia.com/xml-data/corpfiling/AttachLive/88e75776-48ce-41ee-abbd-a28393521d8f.pdf


MD interview (bit outdated - 2022)
Disc: Invested
I do not understand what they can really do (in short term) to reduce volatility in the stock price? Agri input prices do fluctuate wild time to time, also govt as competitor and controller of milk price (+ may be feed price also), will continue to swing company' bottom line.
Developing alternate non seasonal business (Ice Cream?) and where price can be passed easily is the only way. But that will take some time and money.
Disclosure: Currently a minor investment, will increase on dip.
Good data here, thanks! Seems like a good mean reversion play, with capex decision (hope they go ahead with it) being the key long term growth trigger.
Feed : Key ingredient is Copra along with other grains , this is the key variable that determines the margins. High Coconut oil price is the indicator, if oil price is high they can earn better margins.
Ice Cream : I think they are on the right track, I have checked their google reviews, for every review there is one standard response, a dedicated social media team to monitor these channels will help
Milk + Mil Products : Zero profit , Zero margin business. I am wondering how come other players (state players like KMF/ Nandini, Milma etcc… ) making good money ?
They appear to be serious by hiring a consulting firm to look into the bueinss but unless they conduct calls it is really hard to know what is going on inside.
I have asked around people based in Kerala, they said in feeds they are number one. Very strong brand recall.
Risks :
There are government players in the feed , who get substantial discounts so they sell the feed cheap
Same with Milk
Godrej Agrovet is into all the product categories Feeds, Milk Products including Ice creams (Creamline acquisition )
Promoters + One retial share holder has in total 51% stake , very illiquid stock hard to find decent quantitity to buy.
Discl : Tracking Postion
I think Rice Bran and Maize are also major raw materials used in animal feed segment. You can refer 2023 Annaul report.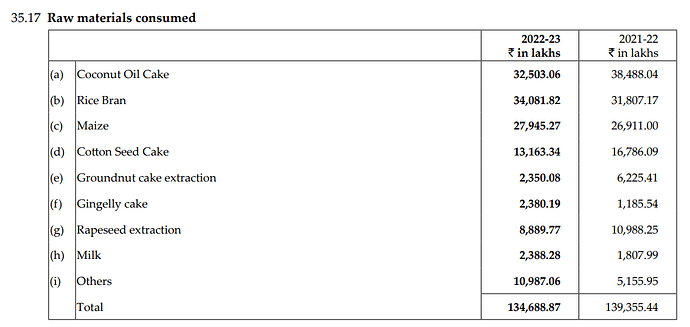 As per my knowledge, rice bran , maize are at elevated levels. They have softended a bit but stalilized at higher levels.As the monsoon is below average in south India and excess in North need to see how prices move going farward.
Also India has banned export of rice bran to control the infaltion of animal feed. This is helping manufacturers a bit. Coconut prices are inching up slowly (I feel this also will have an impact on copra in coming days).
Copra prices have it rock bottom in South India. Selling way less than the MSP price. Farmers did protest in few places of Karnataka recently against the price collapse (you can Google for more info).