Note: Starting this thread as the previous thread is locked and the mods do not want to open it.
About the company:
"KEI Industries Limited is amongst India's top three wire and cable manufacturers, with a comprehensive product portfolio ranging from housing wires to Extra High Voltage (EHV) cables. Leveraging our in-house cable production, we have strategically forward integrated into Engineering, Procurement and Construction (EPC) services for power and transmission projects. Our high-quality solutions have made us a trusted and preferred provider in the Retail, Institutional and Export segments." - 2019 Annual report
Segmental Revenue & profit mix:
70% from cables, 25% from EPC and 5% from wires
54% sales comes from institutional, 33% from retail and 13% from exports
Firm has a long history. Looks like it has been a public company from 1992.
Manufacturing at 5 locations.
Bhiwadi (Rajasthan), Chopanki
(Rajasthan), Pathredi (Rajasthan),
Silvassa and Chinchpada (Dadra
& Nagar Haveli).
Retail segment - Has > 1.4k dealers pan India and focus is on expanding this and improve the brand also.
Institutional segment is dependent on government investment
Key exports market for the company are Australia, Middle East and through EPC contractors to Africa and LatAm.
They are currently running at low utilization as they have expanded capacities planning for future growth… Over the next few years, margins should increase further ideally as utilization improves. They have postponed expansion plans as of now
Raw material - Material costs are key here and form over 70% of costs… Decrease in copper, Al prices is a positive for them
PnL statement (from screener of course):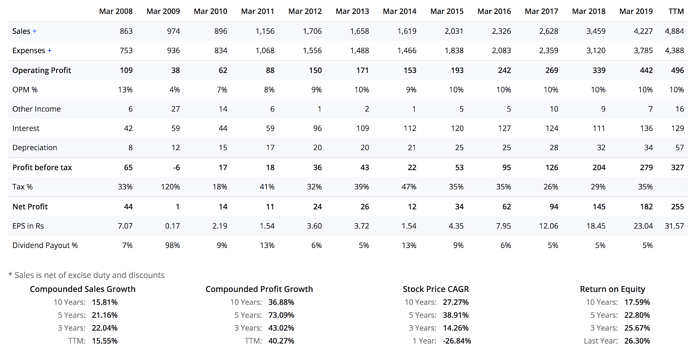 As seen above it has been consistently growing over the past decade.
Competition benchmarking:


Clearly Polycab India is the leader but KEI has managed to grow the fastest and if we extrapolate the trend, good things can happen
Some key financial metrics:

All these metrics seem seems positive to me…
Management:
Anil Gupta has been with the company for ~40 years. The board composition did not give me a lot of confidence to be honest. They have been paying dividends which is a positive. Salary of 14 Cr for Anil Gupta seems to be a little on the higher side… (He is the promoter also… no need to take such a large cut imo)
Some red flag - sebi: KEI Industries pays Rs 1.78 crore to settle 2 cases with Sebi - The Economic Times.
Pros:
Good growth and ROCE with low valuation
Current orderbook is at 3000 crores
Decline in RM prices and maybe govt investment in infrastructure could be tailwinds
Considering housing cables growth and growth in Power transmission etc in the coming years, the space is big and this company seems to be growing a lot…
Cons:
Not sure of the moat. Brand is not very strong still…
Some contingent liabilities to the tune of 1.5k crores are there
Promoter has sold 5% stake recently
Employees are not happy. Many complain of a bad culture (Glassdoor rating of 3.6 - KEI Industries Reviews | Glassdoor)
Discl:
Researching still. Don't have a position. Not planning to buy till the market dips a little due to one or the other bad news (which imo should happen considering covid, india-china, results announcements etc)