Hi,
I came across Jasch Industries Ltd by pure chance, basis a result update sent by a friend on whatsapp. I had never heard of the company, but once I got down to studying it, I found a few noteworthy items.
Backround:
It is primarily a family run business, based in Sonepat Hayana, run by the Garg family. It has two completely disparate divisions - a PVC/PU coated fabric manufacturing division (ala Mayur Uniquoters, without the fantastic metrics of course
) and an industrial gauge manufacturing division ( where it makes gauges that are used to measure the thickness of paper, plastic etc).
What I found interesting:
In an effort to be very crisp, here it is (a snapshot of a portion of the 2016 AR)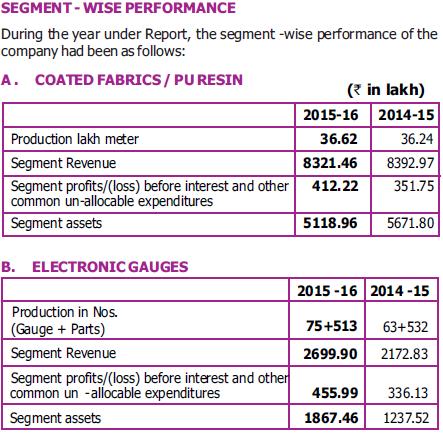 Naturally, there has to be a de-merger for value unlocking to be possible and guess what…it is happening!
http://www.jaschindustries.com/demerger/Annexure%20B.pdf
The electronic gauge manufacturing division will be demerged to its wholly owned subsidiary Jasch Automation Ltd and the artificial leather business will be retained in Jasch Insutries Ltd. Both companies will be listed. Yay!
Concerns:
a. From my reading, it looks like that all the debt is to be transferred to the Gauge manufacturing division (I dont know if this is taken as a positive by some, as they might be keen on the PU division). Request someone to confirm if my understanding is correct in this matter.
b. Thinly traded counter with low volumes, hence subject to unnecessary vagaries.
Hope that some members take some interest in this nondescript counter
Rgds
Ankit