Can anybody give any tips on how to value a company like info edge with so many moving parts? Thanks.
Why is the PE showing as 7.68 today?
Does any one has a list of the startups where Infoedge has invested ( e.g. dotPe etc). It'd be great if there are bit more details also like % shareholding in that startup.
Unrealized market gains from Zomato listing is the reason for artificially low PE
Thank you. I calculated current PE based on its annual earnings. I got a value of ~45.
Insider buying is rare in infoedge case, given elevated valuations or inability to value it with so many parts ( though recent beatings does make it attractive for med term - again per individual risk appetite)
Invested
Info Edge has invested in yet another companies.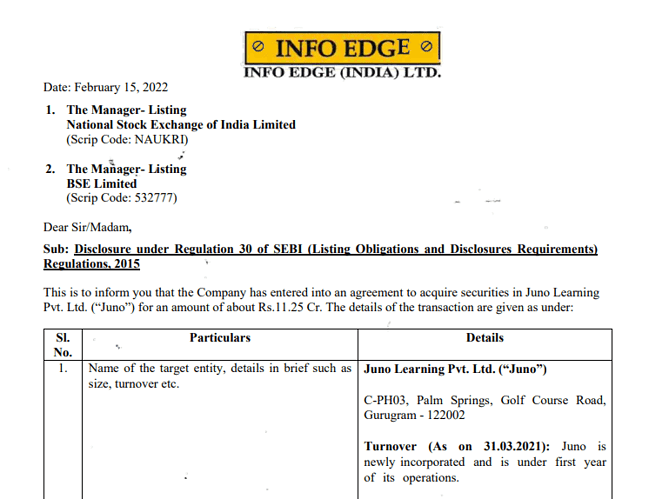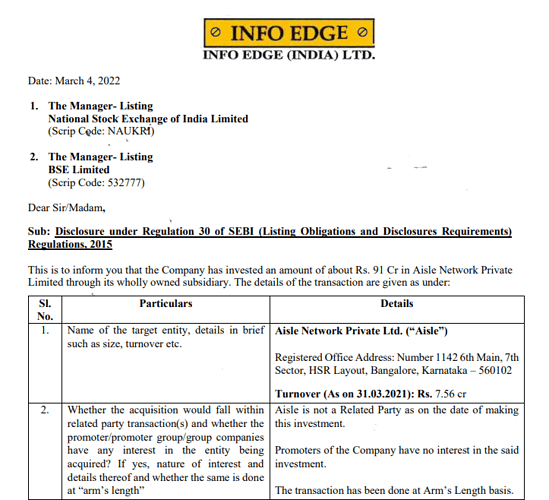 – Disclaimer
– Just started Tracking , seems like interesting Valuation
In last 3 months – quite a few insiders are selling.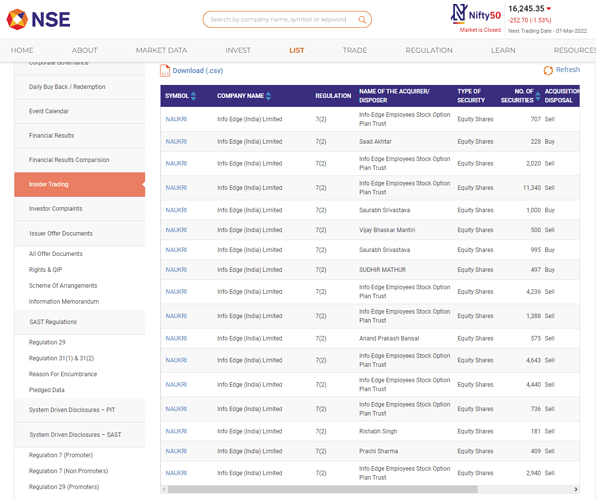 – Disclaimer
– Just started Tracking , seems like interesting Valuation
Infusion commitment of 1300 cr in AIF, also sub funds structure within AIF, Sanjeev has been vocal about startup valuations froth in last year, as expected euphoria has settled with carnage in recently listed tech giants. With this valuations in secondary markets are more realistic as well, Infoedge Naukri being a cash generation machine and QIP funds, this seems pre cursor to readiness for deployment, stock has underperformed in last 6 months and has a good support 4300, bounced back few times from same. Currently under consolidation and expect a good Qtr on core biz, as well as key investments of Zomato and Policy bazaar making base after good thrashing.
Though it has come up with good results for the last 2-3 quarters, because of its previously high valuations, the stock did not look attractive. Given that it has crashed 24% in the last one month alone and now sits at a 52 week low, do you guys think it is more reasonably valued now? For the long term (2-5 years), it does look like a 20% compounder, given its market share in the job portal market, investments in zomato and policy bazaar and a slew of other investments in start-ups which might bear fruit? Could someone point out what the downside is at current valuations, is there further scope of market cap erosion?
Note - Biased. Invested at 4500 levels and may add to average down further.
Hey, I think if you want to quantity downside risk then you should answer or find the answer below questions (not all but containes few major one).
Their main business as strong Competition from LinkedIn - what is effect?

As now investor direct way to calculate the stake value of zomato and pb fintech so it will also affect it future returns

Other business performances like 99acres and shiksha and jeevansathi
Thanks!