Introduction
o Promoters have good qualifications (Kellog/Wharton), serial entrepreneur
o Scaling company mostly through M&A
o So far walking the talk
o Target
- top line of 2000 Cr in 3 years
FY17E expected top line 600cr
o Riding on I-SMAC wave (IoT, Social, Mobility, Analytics, Cloud) wave
o HQ

@Hyderabad

. Founded in 1993
o Growth accelerated when new management took over in 2009
·
Customers
o Well-funded ecom players like Flipkart, Jabong,Makemytrip, Indigo
o Mostly solution, no maintenance job
·
Misc
o 135 employee in Gurgaon, rest in US
o On an average good review at Glassdoor
Disc : Invested
Please refer attached doc for more details
Kellton Tech - Final Summary.docx (407.3 KB)
Hello Subash. I am invested in the company from 70 levels. I added this looking at the owners and the area it works in but now a days all the companies are entering there. There are small companies like Cambridge Tech in this domain apart from Kelltech. Also their margins are far lesser than 8Kmiles. 8Kmiles PAT margins are more than 20% but here they are partly 10%. Would like to see your inputs. Thanks
Disc. Invested from 70 levels and forms just 2% of my portfolio
Cambridge Tech is a 35 pe microcap (mcap 190 odd crore). I consider it a crazy valuation for a microcap; not surprised by the recent fall in its share price.
8k miles is growing at 100% run rate, has fantastic margin, but is available at 70 pe odd. Its AR looks superb. But haven't studied it much because of its super valuation.
Kellton Tech is expected to grow fast, is not a microcap, is available at a decent valuation, that is what attracted me.
As far as SMAC is concerned, the whole world is moving towards it, and I find it good for early entrant like 8K/Cambridge/Kellton.
This is in my watchlist for sometime but didn't make any entry as I'm still trying to figure out what is USP for Kellton? Now-a-days every company whether it is microcap or large cap, everybody is adding a fancy line of SMAC / iot to their tagline. How can Kellton sustain this growth & margins with cut-throat competition out there ?

Their mobility platform / solution - Need to find out how many customers use it.
With all due respect, I think it would have been good to have a more balanced view including risks and few other points, etc,.
For e.g.
What are the risks associated?

What other businesses have promoters been into if they are serial entrepreneurs, i.e. their track record etc,.?

What is the focus of promoters on this business i.e. they being serial entrepreneurs, are they involved in other businesses too at present?

Kellton seems to have multiple other business interests like:
Kellton Commodity & Derivatives Pvt. Ltd
Kellton Infra Pvt. Ltd.
Kellton Financial Services Pvt. Ltd.
Kellton Insurance Services Pvt. Ltd.
Kellton Securities Pvt. Ltd.
What is Kellton doing with all these businesses? Any relation with Kellton tech? Are their any other group companies?

What synergy or value add or capabilities have the acquisitions brought in? Are they just to acquire more customers or do these acquisitions bring in specific skills that were missing?

More details on margins, EPS accretiveness, funding of acquisitions, etc,.?

More details on nature of work i.e. run of the mill work or say any niche, etc,.?

Views on dilution (past, present, future)?

Basic note on financials and/or valuations?
Also, I think expected topline of 600 Crs is by FY16 (I just glanced through a news item headline on moneycontrol on Kellton's page).
I had a look at Rs.30, but gave it a pass as wasn't able to find many answers and didn't understand the differentiating factors etc,. very well.
Making the suggestion in the spirit of admin's (@adminph2) and moderator's focus on presenting a balanced view, as the starting post doesn't give much information.
Kind Regards.
What I am trying to understand is the reason for difference in margins. The difference is huge. 8kmiles have 50% more margins than Kellton and even Cambridge has more margins than Kellton. I think you are right that everybody is going for IOT and I believe that we should have a basket of 3-4 companies if we want to play ISMAC. Big gun like Oracle is also entering into cloud service (one of my friend based in US told me).
I did not entered into Cambridge because it was ultramicrocap and now continuous upper and lower circuits scare me. I was invested in 8k miles soft from 600 levels and booked out completely at 1750 because I think the stock price completely discounts next 1.5 year performance. I will be willing to add if there is any fall as I like its clients and the margins 8k is making from those clients.
Guys,
Many have asked for detailing what is the risks/concern involved with the above cos. Frankly speaking, I dont have the required expertise to understand the intricacies/dynamics of ISMAC business. What I know from the macro front is that ISMAC is the next big trend in IT.
Kellton, to me, is a pure "earning momentum play". I have no idea about their moat, their strength/weakness, and that I think is the biggest risk.
But I feel it will be rewarding to get latched on it till the growth persists (They have another name for it, Transient Multibagger)
Regards,
-Subash
Attaching graph of Topline/Bottomline growth of Kellton to give a feel of the speed at which it is growing.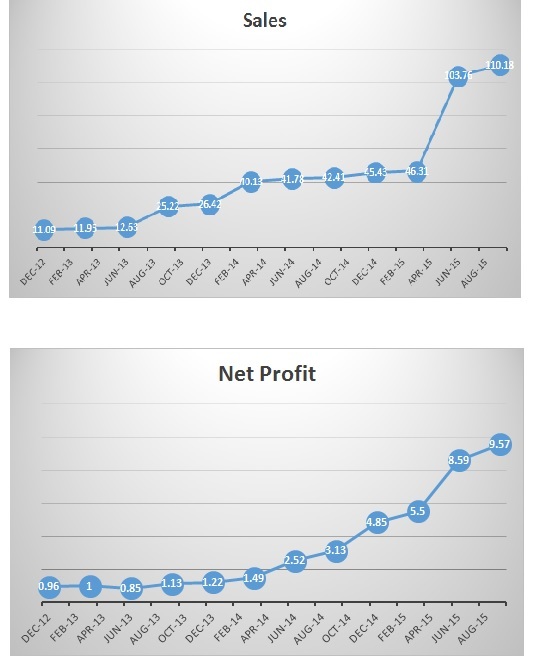 I tried to dig a little into their past work. I see that they have something to showcase in the field of Web, Content Management and Mobile development. I see that most of the management is from Tekriti (http://www.tekritisoftware.com) which got acquired by Kellton in 2011. I am still trying to see what are their capabilities in the field of Analytics, Cloud and IoT which they claim to be having. They may still be able to do well with their past experience in the field of Mobility and Web development and with e-commerce still in its nascent stage.
I was going through their acquisition strategy and the companies acquired and found few details.
1. Prosoft Technology Group. ( Mainly in )
- Business Enterprise solutions using SAP
- Business Integration (Enterprise Cloud Readiness, B2B Integrations, Infrastructure Services etc)
- Business analytics.
They are mainly in to Retail, Manufacturing and Finance verticals. More Info:
http://prosoftgroup.com/
2. vivios corp (mainly in)
- Staffing Solutions
HealthCare & LifeSciences Staffing.
Not sure how big is the staffing solutions vertical is across the world.
http://www.vivoscorp.com/
3. eVantage Technologies
4. SkanDbyDx
Strategic Mobility consulting
Product engineering and QA
I could see makemyTrip as theire client here. Lot of similar startups as clients i believe.
Active in all verticals as per their website.
5.SupremeSoft
Mobile Technology
Cloud Computing
Data Analytics.
Seems to have impressive set of Clients - both Private Commercial and Public Enterprises.
I feel Prosoft,SkanDbyDx and SupremeSoft had been a good buy and will give them better domain expertise and customers.Once all the companies are integrated, could provide further fillip.
If they can integrate the operations across and walk the talk, this could be a great company in the making.
Its SAD to see (even) VP Old Timers writing about a business in this manner at VP - so nonchalantly!!
If you CAN'T BOTHER TO RESEARCH a business - and present a holistic balanced view - paying decent attention to the RISKS and counterarguments in the story - you have NO RIGHTS to write an influencing post on it.
Please note such posts may get deleted automatically, and put your actions under watch.
Please delete it if you wish.
It's not about our wish
It's about every VP Member acting responsibly.
Do you agree to Member view who have flagged your post and written to us, or do you retain the nonchalance about posting any which way you want at VP?
A proper response will help us
No, I dont agree with the member's view on the reasoning behind flagging my post.
Admitting ignorance about a trend/business is 100 times better than copy-pasting risks/concerns from ARs, which we all know are pure repeatation. Not every business have sustainable moat, and still can give multibagger return. You just need to find the trend/macro.
I feel it is useless from my side to quote many thread at VP where one cant find the "super detailed" research on each and every point raised by one of our esteemed member. I am neither in a mood to defend myself.
That is why I requested admin to delete the thread (and the Cigniti Tech thread, as I haven't detailed all the details required by our esteemed member as well). I have absolutely no issue with it. Advanced apology from my side for creating new thread on lesser know fast growing IT midcap cos. Please consider this as my last post in this thread. In anyway myself/many old timers have almost stopped posting in VP
Regards and apology for starting this thread,
-Subash
Thanks for your views and letting us know your position on this issue abut taking "responsibility" while starting a thread at VP.
This last line also shows your views on how you treat VP as a investment community. Its pretty clear you do not subscribe to the values and guidelines cherished by VP Community.
This thread will NOT BE DELETED. It will be pinned to highlight what we want to actively discourage at VP - and communicate firmly what we want to ENCOURAGE at VP.
Members please note
If you are a RESPONSIBLE member, Its quite inane to point a finger at other transgressions (which it's certainly possible we have overlooked) to defend a transgression of your own. We definitely seek your help in pointing out each and every transgression that you find. Please feel free to FLAG what you see as clear violation of guidelines.
(post withdrawn by author, will be automatically deleted in 24 hours unless flagged)
I am not a frequent poster, but keen observer of VP.
And I also believe that the quality of discussion is deteriorating, so there is some truth in what Subash posted.
I look at VP to screen potential early stage multibaggers too, and Subas was just helping me do that.
Granted that he did not have enough data, but that's how it works with early stage unknown multibaggers.
There is high risk involved in Equity investing and more so in unknown small caps.
Visitors to financial forums like VP should have this awareness. It is their responsibility to do due diligence before investing. If they are investing their hard earned money by looking at comments from 2-3 members and not reading anything on their own, then I am not sure how they qualify as so called Value Pickers!