Heranba Industries Ltd, incorporated on March 17, 1992, is a crop protection chemical manufacturer, exporter & marketer based in Vapi, Gujarat. It manufactures intermediates, technicals and formulations. Its one of the leading domestic producers of synthetic pyrethroids such as cypermethrin, alphacypermethrin, deltamethrin, permitherin, lambda cyhalothrin, etc.
IPO in Mar 21 was oversubscribed more than 80 times. It has three manufacturing facilities in and around Vapi with a capacity of 14,024 MTPA.
Indian Agrochemical market


India is the fourth largest pesticide manufacturer after China, the US and Japan.
Highly regulated industry - Crop protection product needs to be approved by Central Insecticides Board & Registration Committee (CIB&RC), and then further approved by state governments of each state where the product is to be distributed or sold.
Pricing Impact Due to Chinese Factors
China is the largest exporter of agrochemicals to India, accounting for a share of around 55% of the total agrochemical imports in India. The key Indian agrochemical companies import a significant part of their technical requirements from China as it sources most of the raw materials required to manufacture agrochemicals.
What are pyrethroids?
Pyrethroids are synthetic chemical compounds that are procured from chrysanthemum cinerariaefolium flowers. They are volatile, soluble in water and have low mobility in soil… They are used to control pests and insects in farms, homes, offices, etc. The name pyrethroid means "pyrethrum-like" and refers to the origin of this class of pesticides. Pyrethroids are cost-effective alternatives for conventionally used insecticides.
Most pyrethroid insecticides exhibit characteristics like:
Require very low doses to kill insects (high arthropod toxicity);
Low in toxicity to mammals and birds
Fast-acting
Especially effective against chewing insects, though many pyrethroid insecticides can be absorbed by the insect pest when it merely walks over the dry residue;
Bind tightly to soil and organic matter (therefore not as effective in penetrating soil to kill underground pests);
High in toxicity to fish if applied directly to water
Overview of Indian pyrethroid market: CAGR of 7.4% during 2014 – 2019.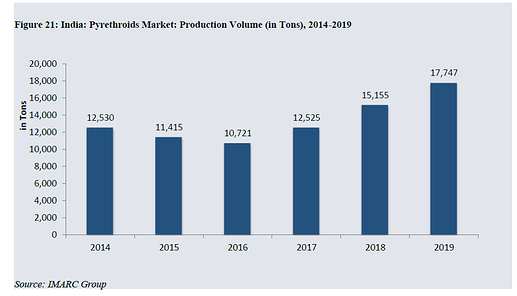 Key players in Indian pyrethroids market
Coming back to the company -
Business verticals include
Technicals – 68% of FY 20 sales

Domestic bulk sales (32%)
Exports (36%)

Formulations – 25%

Branded formulations in domestic (13%)
Exports (13%) – (company sells its products under the brand name of its foreign partner)

Insect control chemicals (7%) - participating in public health tenders issued by governmental authorities and selling products to pest management companies.
Manufacturing Units
3 independent manufacturing units of which, 2 are situated in industrial belt of Vapi & 1 in Sarigam.
2 units in Vapi - production of various technical and intermediates
3rd Unit in Sarigam - purely a formulation and packaging facility (Size of Sarigam unit is 55,000 square meters of which 22,300 square meter is operational with formulation and packaging facilities and the rest of the space is earmarked for future expansion into technical manufacturing)
Separate R&D facility at Vapi and Sarigam for product development and process intensification.
The facility fulfils the requirements for organic synthesis as well as formulation development.
Further it has recently received consent from Gujarat Pollution Control Board to establish manufacturing of products at Saykha, it is a 34,600 square meter land parcel which is to be used for further expansion.
Company is fully backward integrated in pyrethroids. Which allows them to be cost competitive in markets like China. – more on this in the following sections…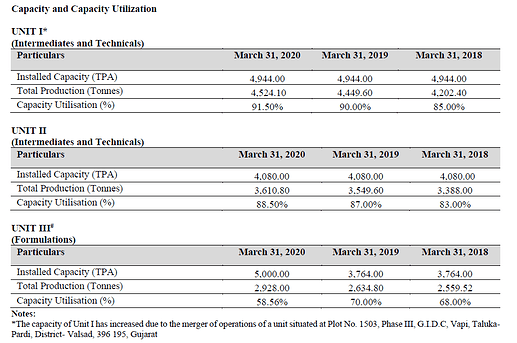 Major Products
1.Technicals : These comprise pyrethroids as well as other chemicals – manufactured & sold in bulk to Indian agrochem companies and in exports
Insecticide: Cypermethrin, Deltamethrin, Alpha Cypermethrin, permitherin, lambda cyhalothrin, etc. etc
Fungicide: Tricyclazole and Hexaconazole
Herbicide: Glyphosate, Metribuzin & Clodinofop.
2.Intermediates - An intermediate is a molecule that is formed from two or more reactants and then reacts further to give products. Intermediates manufactured by company: Cypermethric Acid Chloride (CMAC), High CIS CMA, High CIS CMAC, High Trans CMA, High Trans CMAC, Bromobenzenes and Metaphenoxy Benzaldehyde (MPBD).
Example - MPBD is a pesticide intermediate used in manufacture of synthetic pyrethroid insecticides.
Backward integrated in MPBD; which allows them to be cost competitive in markets like China.
3.Formulations - A pesticide formulation is a mixture of chemicals which effectively control a pest. Formulating a pesticide involves processing it to improve its storage, safety, application, or effectiveness.
Within this, they manufacture formulation under own brand through own distribution in India. Brand of formulations is a forward integration of their technical business
i. Brands: Insecticide (Alpha Shakti , Jayam Plus, Progress Plus, cypraplus, etc). Herbicide (Glory, Chakde, etc)
This is where backward integration comes into picture – key pyrethroid ingredient used in Alpha Shakti in Alpha cypermethrin. Key pyrethroid used in Jayam Plus – is Lambda Cyhalothrin and so on.
Export them in bulk outside India and with customer specified packaging. (Not as their brand)
4.Insect control chemicals
Niche Space
They have been manufacturing Technicals like, cypermethrin, alphacypermethrin, deltamethrin since 20 years. CMAC is the main raw material used in these. These involve multi stage chemistry with by-products at each stage being recycled or used for sale.
For Example: Deltamethrin is a 11 stage process, Lamdacyhalothrin Technical is a 8 stage process.
Pyrethroids account for 68% of FY20 revenues; 19.5% domestic market share in 2019.
Being present in the entire value chain of synthetic pyrethroids that provides flexibility to shift between products depending on the demand-supply and pricing dynamics.
Has 375 molecules registered in both international & domestic
Has a strong pending product pipeline in pyrethroids including formulations filed by partners in domestic & export markets.
Product segment wise revenue
Technicals is the main growth engine
| | FY 20 | FY 19 | FY 18 | | FY 20 growth | FY 19 growth |
| --- | --- | --- | --- | --- | --- | --- |
| Domestic sale of technicals | 3010 | 3315 | 1964 | | -9% | 69% |
| Technicals exports | 3471 | 3966 | 3008 | | -12% | 32% |
| Branded formulations | 1206 | 1458 | 1671 | | -17% | -13% |
| Formulations exports | 1221 | 952 | 667 | | 28% | 43% |
| Public health | 606 | 354 | 141 | | 71% | 151% |
Capex plan
With the planned expansion in Saykha & Sarigam – capacity likely to increase from 14k MTPA to 30–31k MTPA. Expected to incur capex of Rs 200-250 crore over next 2-3 years. Of which capex for FY 22 is around 100 cr.
Sarigam expansion in existing plant (technicals)
Saykha expansion – 10680 TPA capacity
Diversified and stable customer base
Heranba manufactures and supplies Technicals to leading agrochemical companies operating in and outside India.
Companies like Sumitomo Chemical India, Sulphur Mills, Biostadt India, Crystal Crop Protection, NACL , Sharda Cropchem, Meghmani Organics, PI Industries, Krishi Rasayan Group, Agro Life Science Corporation and Shanghai Agricare Chemical Company, China
Only ~19% of total revenues comes from top 10 customers in H1FY21
Experienced promoters : Have more than 30 years of individual experience in the agrochemicals sector
Other key Points from the call
Focusing on entering the regulated markets of US and Europe.

Got 2 products registered in Europe in 2020 and is awaiting approval for 1 in the US.

Capex of 200 to 250 cr over the next 3 years - largely from internal accruals
Revenue to grow by around 18-20% CAGR over the next 2-3 years
Within technical sales, 65% revenue comes from pyrethroids.

And 70% of it is from insecticides. Rest from fungicide & herbicide

Within technical sales, 65% revenue comes from pyrethroids.
18% Operating margin. Likely to be maintained – to be in similar range
Open to contract manufacturing opportunities if there are good opportunities
Shutdown of agrochem plants in China
Selling pyrethroids to China also. – 'One of the few companies in the agro chemical space who are selling these pyrethroids in China.'
Competition Overview on key pyrethroids in product portfolio
| Name | lambda cyhalothrin | deltamethrin | alpha cypermethrin |
| --- | --- | --- | --- |
| Heranba Industries | Yes | Yes | Yes |
| UPL | - | - | Yes |
| Bharat Rasayan | Yes | - | - |
| Dhanuka Agritech | Next FY plan | - | - |
| | | | |
| Tagros Chemicals (unlisted) | Yes | Yes | Yes |
Among listed players, only Heranba has a presence across the spectrum of various pyrethroids.
Will look to dig deeper into these in the coming days…
Other metrics
5 year sales CAGR: 19%
Promoter holding: 74%
Debt / equity: 0.1
Peer valuations & return metrics
Key risks & concerns
Strict regulation of environmental matters

Industry is subject to strict regulations
In the past, the company has received temporary closure notices from GPCB for its manufacturing units on inspection by GPCB officials. But was revoked post correcting the lapses.

Dependency on China – Any restrictions on exports/import may affect business

More than half of the global demand for Pyrethroids comes from China
In H1FY21, the company reported 14.7% of revenues from China. It imported 13% of raw materials from China during same period.

No long term contracts

Company has not entered into any long-term agreements with customers, as yet. There's a likelihood that customers may terminate their relationship in case of change in preference. However, in a way – also gives them leeway of passing on raw material price fluctuation to customers.

Sensitive to seasonal fluctuations and climatic variations

Adverse weather conditions in India, or an inability to plan for adverse weather conditions, could affect farmers' decisions about the types of crops to plant, may lead to an adverse effect on the sales of the company's products

Outstanding litigations against promoters: mainly related to alleged violations of insecticides act.
Disc: Invested with a tracking position
Links:
https://www.dsij.in/DSIJArticleDetail/ArtMID/10163/ArticleID/17988/Heranba-Industries-receives-consent-to-establish-manufacturing-plant
https://www.google.com/amp/s/m.economictimes.com/markets/stocks/news/heranba-industries-eyes-rs-1200-cr-revenue-in-fy21-to-enter-capital-markets-to-raise-rs-700-cr/amp_articleshow/79445531.cms
http://www.marketsguruji.com/heranba-industries-ltd/