Company Details : Hemispher Properties Limited
Company was formed as part of the disinvestment exercise carried out by the Government of India in respect of its holdings in the erstwhile VSNL (currently known as Tata Communications Limited). In 2002, the Government of India conducted a disinvestment exercise in respect of 25% of its shareholding in the equity share capital of VSNL, wherein in terms of the bid for the disinvestment required a separate value to be ascribed to lands to be retained with VSNL and to exclude the value of certain surplus lands, held by VSNL. Panatone was the successful bidder in the disinvestment process and subsequently, entered into the VSNL SPA and the VSNL SHA. In terms of the disinvestment bid, the VSNL SHA and VSNL SPA, the surplus lands identified were required to be hived off or demerged into a separate entity. We currently own or have access to 739.69acres of land, transferred to our Company in terms of the Scheme of Arrangement. The Surplus Land has been transferred as a part of the overall scheme of disinvestment of the erstwhile Videsh Sanchar Nigam Limited. Upon completion of the transfer, the Company will seek to develop and/or transfer the Surplus Land in accordance with the policies of the Ministry of Housing and Urban Affairs and our management.
Area of Operations
The main object of HPIL is to acquire construct, hold, manage, develop, preserve and to deal in any other manner with the properties including sale and purchase thereof.
To collect and settle revenue, rental, lease charges and such other charges as may be payable by any entity against legitimate use of such property.
To carry out business of developing, holding, owing, leading or licensing real estate and property of all kinds for this purpose acquiring purchase or through lease license, barter and exchange hire or otherwise.
To carry out the business of building construction and development of commercial building, industrial shed, offices, house buildings, apartment, structures, hotels or other allied works of every description on any land acquired howsoever by the company whether on ownership basis or lease or licensee and to deal with such construction or developed or build premises by letting out, hiring or sale.
Current Managemet
D THARA
( Chairperson & Managing Director )
Amit Kataria
( Director )
Current Last Q 31 st March 2021
Review :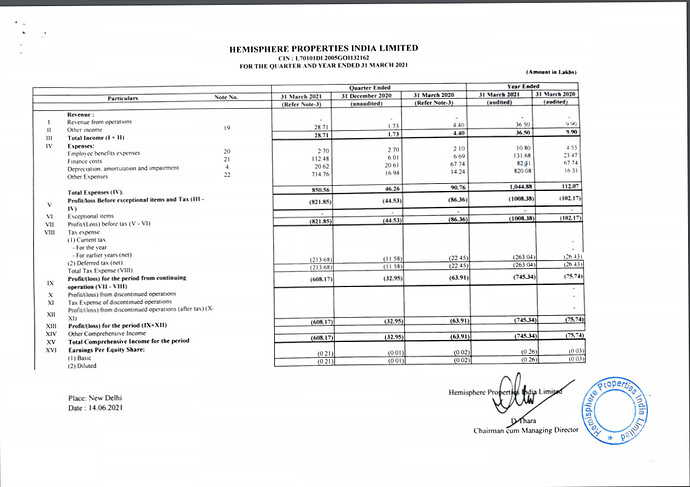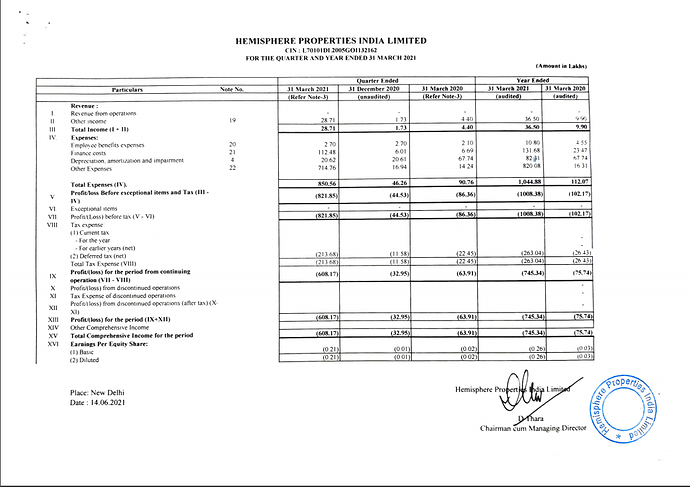 has announced that land parcels valued at Rs 19,000 crore can be monetised on current circle rate prices. An order of demerger issued by the Ministry of Corporate Affairs between Hemisphere Properties and Tata Communication Ltd mentioned that 739.69 acres of land were transferr…
Hemisphere Properties will possibly partner with Tata Construction and Tata Housing to develop these lands for mixed-use real estate, including shops, malls, and residential development. The Centre owns 26.12% shareholding, and the Tatas own an equivalent amount through Pantone Investments.
Hemisphere Properties: The talk of the town
The surplus land of Tata Communication made way for a new entity known as Hemisphere Properties, which got listed last year. Here's all you need to know about it.
By Rajan Gulati
New!
Articles from https://www.valueresearchonline.com/stories/49203/hemisphere-properties-the-talk-of-the-town/
Hemisphere Properties: The talk of the town
But first, a little history
The company was conceptualised during the disinvestment exercise of VSNL (later known as Tata Communications) back in 2002 by the government. Naturally, the terms of the disinvestment required a separate value to be ascribed to lands which were going to be retained with VSNL and subsequently demerged into a separate entity. Panatone, a Tata group company, won the disinvestment bid. However, the fate of Hemisphere Properties was left in doldrums for a long time after that. This was primarily due to the burden of a capital gains tax on the shoulders of the Tata Group that they were to pay upon transferring the surplus land to Hemisphere Properties. Back in the day, the benefit of tax neutrality was not applicable to the companies which ceased to belong to the public sector as a result of
Finally, in 2016-17, the tax laws changed, the scheme of demerger got approved, and in October 2020, the company got listed. The existing shareholders of Tata Communications suddenly saw Hemisphere Properties shares in their demat and were left wondering what it was that the company did exactly? And whether to sell those shares, or, buy more?
The business side of things
Well, we could go on and on about the business aspects of this company but there's just one little problem. As of today, it doesn't really do anything. However, it does have land parcels of around 740 acre across four major cities - Delhi (Greater Kailash: 69.46 acre, Chattarpur: 58 acre), Pune (524 acre), Chennai (53.04 acre) and Kolkata (35.19 acre). The company also has an in-principle approval of Rs 751 crore from the Ministry of Finance for the payment of stamp duty on transfer of title of its lands. While a sum of Rs 700 crore is to be infused in the form of equity, the rest will come as loan at a 10 per cent interest rate. Currently, the company is in the process of taking possession of various land parcels and intends to either develop them going forward or carry out an outright sale.
Current latest update company is hiring an
There can be some moment in this Quarter hope fully.
I will keep updating if some thing comes in the research.
Disc: Invested