HINDUSTAN CONSTRUCTION COMPANY
cmp=34.3
pe ratio=44.7
peg=2.26
ebit/ev=6.8%
p/b ratio=1.29
face value=1
market lot=1
Will Start with some interesting projects…
1954: first project…Vaitarna Dam, mumbai
1971:Words longest barriage, Farakka Barriage,WB & first nuclear power project,Rajasthan
2000:Mumbai-Pune expressway
2005:Delhi Metro
2009:Worli sea link
2010:2x 1000MW Kudankulam Nuclear power plant, First &Largets Light Water Reactor
Domain of work
Roads, Railways including metro, Ports and terminals , Dams and Hydro Power
Nuclear projects-HCC has built over 65% of India's nuclear power generation capacity.
Tunnels , irrigation and water supply
Mass Rapid Transit System (MRTS)
attached here the projects with landmarks-projects.pdf (2.7 MB)
Stand alone specifications-
orderbook update-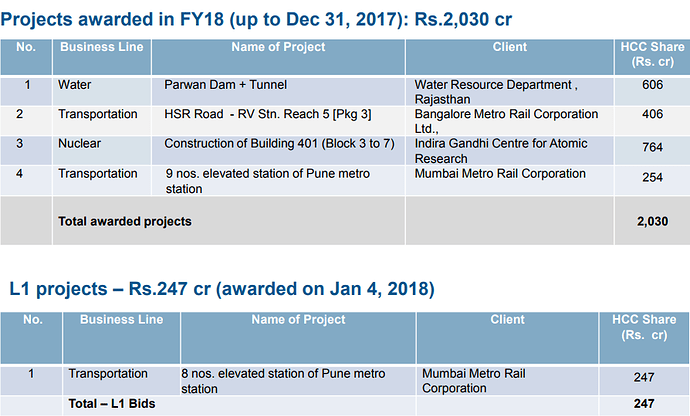 order back log update-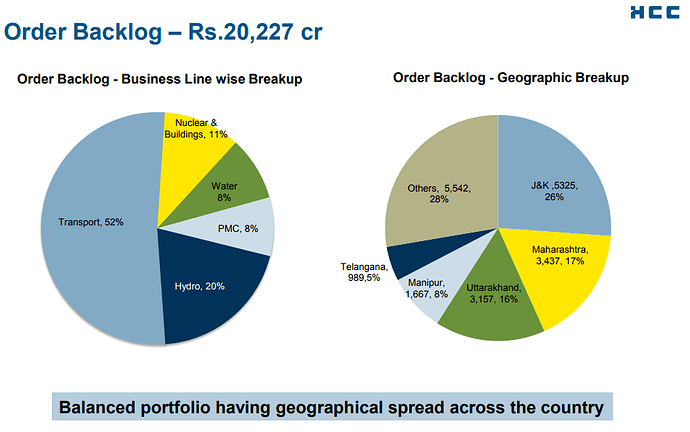 Financials (Why is it a Valuepot now!)
YoY 9m ending comparison…
topline growth- 10.39% (excluding other income)
EBIT growth-38.7%
EBITDA margine-14.56% (17.47% in fy17 9m)
expense growth- 8.82%
increase in cost of raw materials-28.18%
Finance cost decrease-12.05%
EPS growth-16.32%
here is the latest financials-
QoQ comparison of total expense-
q1 to q2- up 4.4%
q2 to q3-up 22.9%
q1 to q3- up 28.4%
QoQ comparison of cost of raw material-
q1 to q2 to q3- 302.33cr to 194.46cr to 258.22cr
Notable is subcontracting expenses going up drastically
q1 to q3-up 194.8%
But the employee benefit expense is up by 4% (q1oq3)
This is reasonable considering the complex nature of the projects handling by the company and seasonal variation of the business, as mentioned by management on being called.
Now directly coming to the value in the balance sheet…
…
Total Borrowings - 3865.5cr as of q3 end
** VS**
Total arbitration award receivable as on q3…3025.94cr
Total receivables as on q3 inclusive of awards…6071cr
You get a debt free company! period!
total 9m PAT=61cr (up 57% yoy)
expected fy 18 PAT=95cr
Award to be received within q4fy18 or stretched a bit to q1fy19…414cr
The company is pursuing certain customers to release 704cr of awards and will be received soon…
That totals to 1672cr…
Remember long term debt is just 2268cr and only 596cr will be left after q2fy19 (expected)…
the Q3 finance cost of the company was 150cr at the current debt levels, which if negated in debt free status and considering other parameters constant to focus on this effect, we will have a total 600cr added to the bottom line…
So we will be having an increase of Rs.6 eps over time with debt reduction, which is significant… Because at present the ttm eps is 0.77
A total of 800percent increase in earnings over time just due to reduction of finance cost which is visible…!
Also note, the arbitral tribunal is a total of 5333cr
Of which 3026cr is current award receivable rest is yet to be received and pending court process, which if won, will lead to a total cash flow in future of 2307cr…
This was a standalone basis estimate…
Other than this fin cost reduction magic,
Topline is foing at 10percent yoy
BUT EBITF ( revenue-(expense-finance cost)) is down 3% yoy mainly because of increase in subcontracting expense…So organic growth is not magnificent!
Now, the process of arbitral award receipt is slow and any timeline on it is purely speculative…
Unless on receiving the awards and trade receivables the debt burden will not come down and it will continue to hurt PAT margins…
So exercising patience in this company is of utmost importance…
Also note the promoter holding of this company is just 27% approx with 85% pledged shares,
while this may be a turn off scenario, but once debt is reduced atleast in the long term debt, the company will be in the position to use free cash flow to buy back shares and increase promoter holding and also as the pledged shares are in collateral of long term debt, upon total repayment of the later, all the pledged shares would also be free…
So annually this portion of the liability will be free and can be a free cash flow tofurther repay f=debt from the next financial year…
Please refer to subsequent posts for details on SDR on lavasa
Disclaimer… Took position today…
This is a very long term bet, with average time line of 5 years of investment…
This was my first presentation in Valuepicker and to all members it is a humble request to share you opinions and criticize for benefits…
for everyone's quick referral, i attach here all the financials referred to…
thank you…
HCC-Analyst-Presentation-Q1-FY-2017-18.pdf (650.6 KB)
HCC-Analyst-Presentation-Q3-FY-2017-18.pdf (562.2 KB)
HCC-Q3-FY2017-18-Results.pdf (240.4 KB)
HCC-Analyst-Presentation-Q2-FY-2017-18.pdf (862.0 KB)
HCC-Analyst-Presentation-Q4-FY2016-17.pdf (1001.2 KB)