Going by the numbers delivered and commentary, appears that demand has resumed after two quarters of softness (in line with managment commentary last quarter).
Overall, 10% Y-o-Y and 76% Q-o-Q revenue growth. EPS has been flat Y-o-Y at~12 Rs., mostly attributed to inventory losses in this quarter and higher other expanse (management indicating about higher R&D investments - now and going ahead).
---
Some notes from GTBL investor presentation for Q1FY24 (link):
The current quarter witnessed normalization of the tendering process leading to strong growth on sequential basis with the topline growing by 76% quarter-on-quarter. The demand for the current products (Rifa S and Rifa O) remains strong.

New API block is expected to be commissioned by October 2023, which is an essential part of our strategy of moving up the value chain. This would increase the product portfolio of the Company.

The first phase of the new R&D center and cGMP pilot facility is also expected to be commissioned by December 2023

The R&D expense is likely to remain elevated for few more quarters.

For full year FY'23, PP&E change from 18 Crs. to 32 Crs. CWIP increased from 12Crs to 21 Crs.

Open to both Organic and Inorganic opportunities for growth in Specialty Chemical space
---
Some notes from recent released credit rating report (Care rating):
An increase in the quantity sold (198,313 kg in FY23 from 174,689 kg in FY22) with an increased demand of the products in FY23.

[ this despite soft demand situation in Q3 and Q4 for FY'23]

Sales realisation improved to ₹7,469 per kg sold in FY23 compared to ₹6,537 per kg sold in FY22

[this too despite soft demand situation in Q3 and Q4 for FY'23!! ]

PAT margin improved marginally to 38.91% in FY23 vis-à-vis 37.98% in FY22 on account of a decline in interest expenses.

GTBL's operations remained working capital-intensive and the cycle elongated to 67 days in FY23 vis-à-vis 56 days in FY22, mainly on account of funds stuck in inventory and debtors
Thanks,
Tarun
Disc: Invested, no transaction in last 60 days
I am avoding this company because
Promoter who run the company has only 23 percent stake. he has another company with majority stake .
Two customer , concentration risk
Two drugs only , price control to any one will impact seriously.
surviving on anti dumping duty against china
Very aplty put. But I would slightly modify saying that - As of now , no investment but will track how they perform / deliver on both the R & D and new API block and then only will invest.
Till then no point in keeping you money locked here as there are plenty of other opportunites in the market.
Personal opinion
dr.vikas
Can you share sources how anti dumping from china is helping this co?
Personally, I was little disappointed/perplexed with GTBLs decision to NOT apply for PLI benefit though being one of the leading player for one of the eligible products (Rifampicin) under fermentation category. Guess, the huge capacity requirement of 100 MT/year (against current capacity of ~10 MT/Year) being one of the key eligibility prerequisite was deterrent for them . More so, since they don't have forward integration into formulation and have to do B2B sales. That is where forward integrated player like Macleods Pharma was able to commit a 200 MT Rifampicin capacity and avail PLI benefit.
Some recent positive development, which can make good for lost PLI benefit, (to some extent). Seems that GTBL has applied and has been selected to avail GSBTM (Gujarat State Biotechnology Mission) benefits
15 companies sign MoUs worth Rs 2000 crore, in a day, for investments in biotech sector - Times of India (indiatimes.com)
Policy level benefits appears to be very attractive (Link):
Capital Assistance - Overall incentives under Capital Assistance shall be 25% of capital investment with a ceiling of INR 40 Crores
Operational Assistance - Eligible applicants shall be entitled to avail overall assistance at 15% of Operational Expenditure with a ceiling of INR 5 Crores per annum.
Employment Generation Incentive - e benefit for claim upto 50% of CTC with a ceiling
not exceeding INR 50,000 per male employee and not exceeding INR 60,000 per
female employee.
EPF Assistance - 100%/75% EPF contribution for female/Male employee respectively.
Interest Subsidy on Term Loan- interest subsidy on Term Loan at the rate of 7% for borrowings up to INR 100 Crores within a ceiling of INR 7 Crores per annum
Electricity Duty - Electricity Duty on power purchased from State Electricity distribution companies or power distribution licensees shall be on 100% reimbursement basis for a period of five years
This Policy shall remain in force till 31st March, 2027. Also, it has worked in favour of GTBL since Biotechnology Mission incentives are flexible in terms of product category and capacity, as compared to PLI scheme.
As an aside, spent some time on Gujarat State Biotechnology Mission website (link). Mighty impressed by the approach and effort by state Govt to attract and promote Biotech in the state.
Thanks,
Tarun
Disc: Invested, no transaction in last 60 days
The second United Nations high-level meeting on the fight against tuberculosis is scheduled from next week (link) in New York.
Here is quick summary of progress so far (between 2018- 2022) on WHO's End TB Strategy 2025 . In a way, this will set the context for upcoming discussion.
A picture is worth thousand words: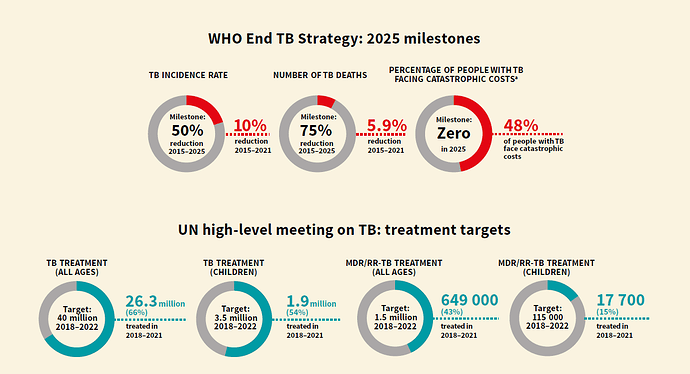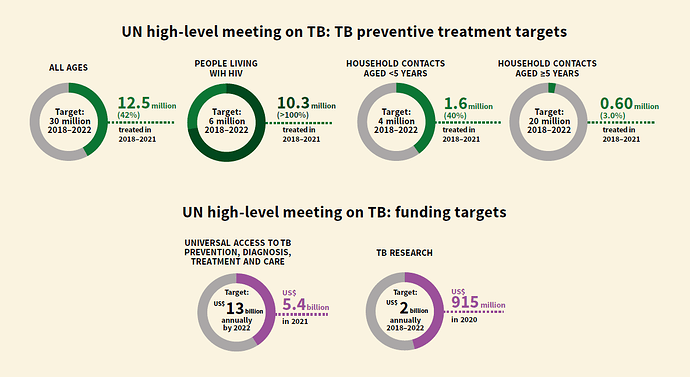 On a closer look, very evident that outcome are way shorter than targeted numbers. Most underwhelming area being
TB incident rate reduction by 10% against target of 50%;
TB death reduction by 6% against target of 75%
MDR TB treatment for children at 15% of target only.
On funding side, funds committed are at 5.4B USD in 2021 against required 13B USD every year. Likewise, less than 50% funding was made available for TB research against budgeted numbers.
My personal hypothesis/conjecture is, funding agencies will be forced to step-up the fund availability to catch-up on lost years (due to COVID) and to bring the program back on track to meet the 2030 milestone.
Thanks,
Tarun
Disc: Invested, no transaction in last 60 days
Seems like this is the case all over india
"This quarter we ran optimum capacity utilization and sold entire production volume. However, in previous quarters of Q1 FY24 and Q2 FY23, sales volumes included unsold inventories from the respective previous quarters, which was not the case in Q2 FY24."
Why would unsold inventory be included in sales?
Previous quarter inventory is realised as sales in the current quarter sales.
Gujarat Themis Biosyn: Q2 FY24 Concall Notes:
Recent developments:
Production levels maintained at optimal capacities.
Higher growth in production and sale of Rifa S than Rifa-O.
The CAPEX plan is progressing as planned. ( All phases around total 200 Cr.)
R&D facility & API block to be commissioned by Dec 2023. Commercial production in next 6-8 months~ August 2024
Construction of additional fermentation capacity underway, completion by 2025
Not taking PLI incentive (from center), but taking Gujarat state biotech incentive.
Moving from single product to diversified products
Forward integrating into Rifapentine API.
Future outlook:
Strong demand for products.
Capacity utilization is expected to remain high.
Anticipation of increased sales with the commissioning of new facilities.
Focus on Rifapentine as a potential growth driver.
Financial performance:
Q2 FY24 revenues at Rs. 39.65 crores.
EBITDA at Rs. 16.82 crores.
PAT at Rs. 12.54 crores.
Half-yearly revenues at Rs. 89.24 crores.
EBITDA at Rs. 40.33 crores.
PAT at Rs. 30.27 crores.
in the previous quarter, we had sales from unsold built-up inventory from the quarter before that, which has led to higher sales. Since the impact of built-up inventory normalized this quarter, therefore, turnover appears lower than before
Expecting around 160-170 Cr FY24 revenues
New products:
Development of Rifapentine and other about 12 APIs in progress. But the main is rifapentine.
Rifapentine also has the potential for treatment of latent tuberculosis
Definitely expect the margins for Rifapentine to be better than where we are right now
Potential for a significant increase in revenues from the API block.
Industry environment:
WHO guidelines recommend Rifapentine as the first-line treatment for tuberculosis.
Potential shift from Rifampicin to Rifapentine.
Tender opportunities in India and globally.
Customer relationships:
Strong relationships with key customers Lupin and Optimus.
Commitment to maintaining win-win partnerships.
CAPEX and capacity:
CAPEX plans for R&D facility, API block, and additional fermentation capacity.
Potential increase in CAPEX beyond initial estimates. (not significant increase)
Capacity to produce 7-8 MT of Rifapentine per month. The current Market price of rifapentine is 450$/kg.(37,480 Rs/kg)
Both R&D and multipurpose API block (total 78 Cr) should be commissioned by December 2023 and in the next 6-8 months, batch trials etc and then the product can be sold. Around August 2024
The last leg of the CAPEX plan, construction of additional fermentation capacity, is underway and is expected to be ready by 2025
Working capital cycle:
Decrease in the inventory cycle.
Expectation of selling what is produced (strong demand)
Favorable working capital cycle.
Cost and expense factors:
Increase in utility costs due to power tariffs. ( should be getting benefits under state incentive)
Fluctuation in R&D expenses.
Increase in employee expenses due to hiring and preparations for new infrastructure.
Higher gross margins, but EBITDA took a hit due to R&D and hiring.
Export markets:
Focus on global markets with new facilities compliant with global regulatory norms.
Stock took beating today. Besides the recent performance, is there any other news came out today?