@GourabPaul assisted by @SushmitaPanigrahi our in-house EV Domain Experts (guided towards Actionables Roadmap very ably by @nirvana_laha) worked very hard to create this EV Domain Deep Dive Presentation that has enough meat, and something for everyone
. It's a good starting doc and work-in-progress!
EV_Ecosystem_ValuePickr_Conference_April_2023.pdf (3.8 MB)
Again one of the most well-appreciated presentations in the Conference. Sorry about the delays from my side, was travelling. For those who get distracted by the mere mention of Deep Dives, you can dive straight away to Actionables Slides - 35, 60, 66-70
We have a EV Working Group going, and the group has exciting plans to get to/stay on top of this domain in a structured manner - they will share the plans, shortly. Those who like to dive deep, here's a practical treasure trove – you know where to head to!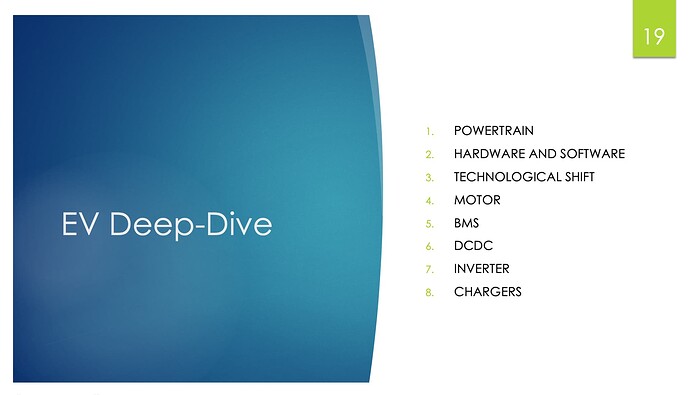 Meanwhile, if you like the enclosed presentation, please don't be shy of showing our appreciation for the wonderful efforts demonstrated by this years Newcomers/Domain Experts - we have a good thing going!. Not on this post - but in the subsequent posts that will follow. Thanks.
PS: Also a call-out to other VP Members who are working in the Auto/Ancillary/EV domains. Here's your chance to raise your hand and be counted in – what is going to be a very rewarding collaborative effort in the years to come.