Result in last two Qtr has been very good. It should re-rate soon.
Weekly charts showing turnaround though there is an resistance in 540 levels. More upside once weekly closing is above 540.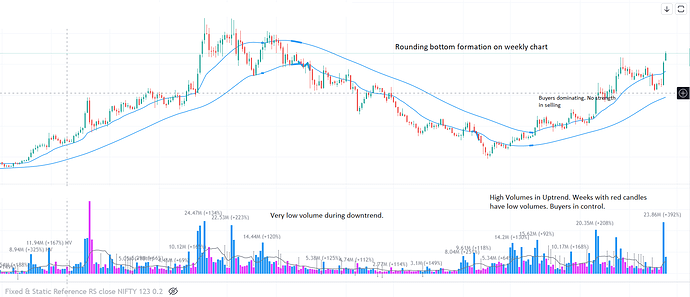 Super set of Numbers - Quarterly sales growth of 50% and that to from higher margin segment of Chemicals.
The debottlenecking in respect of TDI at Dahej Plant is almost over and by third quarter, it should witness enhanced production levels as projected.
Disc. Invested, No Advisor, Do your own diligence.
First time GNFC has shared spreads for key products. Key product for them is TDI (~60k tons capacity), followed by Acetic acid (~150k tons capacity). Very difficult to judge what is the new normal likely to be, but primarily an import substitue co. The band indicates that there maybe a risk to acetic acid px/ spread (at some point), but by the same methodology there maybr upside to TDI. Net-net current nos may hold for sometime. Valuations aren't giving high multiple even on normalised ebitda of 1000-1200crs. Cash is more than 2000crs and will remain net-cash in foreseeable future (even after capex). Risk reward perhaps still favourable.
Good set of results
YOY - Revenue up by 56%, Net Profit up by 122%
QOQ - Revenue up by 13%, Net Profit up by ~90%
This was more or less evident from last quarters result so not sure how much impact it will have on stock price (Additionally it is a government entity). Waiting for next concall to understand more if this revenue and OPM is sustainable.
PS: Invested after last quarters results. DYOR. Not an advisor.
GNFC Q2 very strong, but not right to value just on earnings, given the upcycle. The good is that it is trading at book value, ~455Rs, if we add Q3/Fy22profit. It remains difficult to put a no for the new normal for ebitda, though base case would be 1000-1200crs of ebitda, and approx 3000crs cash. Stock still remains in value zone. Possible that nos remain strong for more time, as TDI key manufacturing locations are China and Germany (potential disruption owing to higher gas px). China pricing policy as seen in multiple categories has changed. GNFC is an import substitue theme, as both it is the only domestic manufacturers for its important products (TDI and Acetic acid).
What do you guys expect of Q1? In Concalls, they've said the product mix can save margins. TDI and Acetic Acid and fluctuations in oil and gas prices can decide the margins. How do you expect the sales and margins to be? What can we expect?
The following are some of the chemicals being made by BASF and chances are that it's customers would come towards INDIA since the gas supplies to BASF plant in Europe is slowing down by RUSSIA :
butylamine
propionic acid
propylamine----------ALKYL AMINES
amyl alcohol
formic acid------------------------made by GNFC
hydrogen chloride----GACL,ATUL
hydrochloric acid–GACL
nitric acid ------------------------made by GNFC
TDI------------------------made by GNFC
adipic acid
hexamthylene diamine
caprolactam------------------GSFC,FACT
Is it okay to assume that the profit tomorrow will be based on the revenue or profits out of TDI? Since TDI is 27-28%, in ConCalls, they were saying TDI was revenue was Rs. 280 crores.
They were a bit evasive, when being probed on the possible quarterly numbers. I thought this indicated lower numbers, which they were not willing to disclose.
Till last quarter, they earned about Rs. 2771 crores in revenue. If TDI constituting 28% of revenues is Rs. 280 crores, is the total revenue itself only around Rs. 1000 crores? We'll know tomorrow though.
Now, they've posted a result of slightly below Q4FY22 but more than double the Q1FY2022 profit.
Are the prices going to trend higher and remain favorable for the company? Any views?
Hi.
Could anyone please clarify the following entry " Deposits with a body corporate (unsecured)" under the head of "Loans and Advances" for a total of approximate INR 2,400 Crores as per the Balance Sheet of 31st March, 2022 for GNFC.
Does anyone have any idea what Entity this loan has been issued to and the Terms of the same.
There seems to be absolutely no details for such a large amount in their Annual Report.
Yes it is GSFC : Gujrat State Finance Coorporation not Gujarat State Fertilizers & Chemicals Ltd ( which is a listed promotor company which owns 19.8% of GNFC).
Company has net cash of around 3400 crores out of which 1600 crores is in Gujrat State Finance Coorporation .

In the recent concall there were also questions related to yield on huge cash compared to market cap given that now bonds have high yield.
Attaching screenshots from transcript.

Thanks a ton - that really clarifies things for me.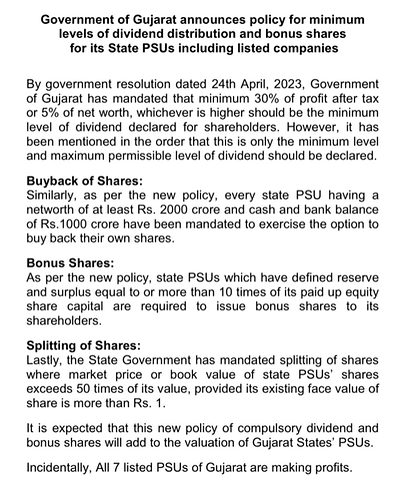 For detailed notice please refer to this update from GujGasLtd as it is applicable equally for all Gujarat PSUs
Is there a list of Gujarat based PSUs that can be shared please?