Hi All
Starting this thread on Galaxy Surfactants as I could not find any thread on it. Moderators please feel to change if required. Thanks.
---
What are surfactants?
Surfactants are compounds that lower the surface tension (or interfacial tension) between two liquids, between a gas and a liquid, or between a liquid and a solid. Surfactants may act as detergents, wetting agents, emulsifiers, foaming agents, and dispersants. The word surfactant is a blend of surface-active agent.
Surfactants can be classified into 5 types:
Anionics (largely cleaning applications)
Non Ionics (cosmetics and personal care applications)
Cationics (conditioning, softening aids)
Amphoteric Surfactants (Mild Surfactants)
Surface active preparations (pre-formulated blends of surfactants)
Source Wikipedia
Global market for surfactants


In terms of revenue, the Surfactants market is expected to touch USD 39.69 Billion by 2021 and USD 45.16 Billion by 2024 growing at 4.4 percent per annum. This growth will be primarily driven by the Amphoteric and Cationic Surfactants which are expected to grow at 6.9 percent and 6.6 percent till 2024. Among the four segments, anionic and non-ionic surfactants are the dominating ones, accounting for two thirds of the total surfactant market in value.

Asia Pacific is expected to become the largest market by 2024 and will also be the fastest growing market growing at 5.8 percent CAGR (2015-24).


Indian market for surfactants
The Indian Surfactants market is a USD 1.35 Billion market (2015) which is expected to grow at a CAGR of 6 percent to touch USD 2.28 Billion by 2024. In terms of volumes, it is a 778 KT market growing at a CAGR of 5.8 percent and the same is expected to touch 1221 KT by 2024. In terms of application, household cleaning and personal care together made up for 49 percent of the total surfactants market. Also in line with the application market, personal care surfactants market is expected to be the fastest growing market growing at a CAGR of 7.6 percent till 2024.

Anionics have the largest volume, but in terms of growth, Cationics are expected to grow the fastest, at a CAGR of 8.2 percent (value terms) till 2024.
Global preservatives and preservatives blend market
Phenoxyethanol preservatives are largely used in the home and personal care industry as preservatives in finished products.
In terms of volume, the global demand for phenoxyethanol preservatives stood at 39.2 kilo tons in 2013 and is expected to reach 51.2 kilo tons by 2020, increasing at a CAGR of 3.9% between 2014 and 2020. In terms of revenue, the phenoxyethanol preservatives market was valued at USD 95.8 Million in 2013 and is anticipated to reach USD 143.2 Million by 2020, expanding at a CAGR of 5.9% between 2014 and 2020. The global phenoxyethanol preservatives market is driven by strong growth in cosmetic products coupled with shift towards phenoxyethanol-based blends in the cosmetic industry. The global phenoxyethanol preservatives market was moderately fragmented in 2013. Companies such as The Dow Chemical Company, Clariant, Galaxy Surfactants Limited, and BASF SE were some of the leading players in the phenoxyethanol market in 2013. In 2013, Galaxy Surfactants Limited had a 12.7% market share in the
global phenoxyethanol preservatives market, whereas The Dow Chemical Company had a 16.3% market share, BASF SE had a 12.7% market share, Clariant Corporation had a 10.7% market share and others had a 50.6% market share.
The global preservatives blends market size was USD 133.5 million in 2015, and is expected to grow to a size of USD 215.9 million by 2024, at a CAGR of 5.6%. Asia Pacific region held the major share of preservative blends market in 2015 as demand for beauty and personal care segment is rising at a speedy rate.
Business of Galaxy Surfactants
Established in 1986. First IPO withdrawn in 2011. Successful IPO in 2018. They are manufacturers of surfactants and other speciality ingredients for the personal care and home care industries (essentially oleochemicals). Their products find application in a host of consumer-centric personal care and home care products, including, inter alia, skin care, oral care, hair care, cosmetics, toiletries and detergent products.
The product lines are organized into 2 groups
Performance Surfactants: over 45 product grades includes anionic surfactants and non-ionic surfactants
Speciality Care Products: over 155 product grades includes amphoteric surfactants, cationic surfactants, UV filters, preservatives, preservative blends and surfactant blends, speciality ingredients such as mild surfactants, syndet and transparent bathing bars and proteins, fatty alkanolamides and fatty acid esters, and other care products.
Started as a local player but has become a global supplier.



Patents
Since 2002 49 patents have been granted to them (as per Annual report FY18). 37 patents are in process.
Research & Development
INR 50 Crs of R&D in 2016-18. R&D team of 63 people in 2017. R&D expense in FY18 was 13.62 Crs.
Customers of Galaxy Surfactants
Cavinkare Private Limited
Colgate-Palmolive (India) Limited
Dabur India Limited
Henkel
Himalaya
L'ORÉAL
Procter & Gamble
Reckitt Benckiser
Unilever Etc.
Claim to enjoy over 5 years of relationships with their top 10 customers. But a risk is called out that in FY17 their top ten customers generated 58% revenues. Though this has been coming down year on year.
Plants
They have 3 locations for manufacturing with a total of 7 plants
5 in India: 3 in Tarapur Maharashtra (32,880 MTPA) , 1 in Taloja Maharashtra (1,59,000 MTPA), 1 in Jhagadia Gujarat (79,500 MTPA)
1 in USA (600 MTPA)
1 is Egypt (91,500 MTPA)
Corporate Structure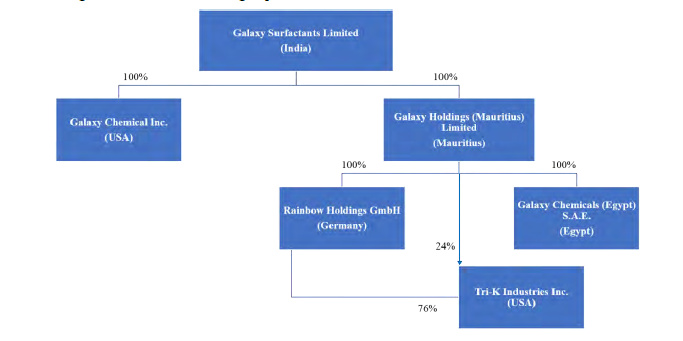 Industry Trends
Promoters
Promoters have been since inception in 1986. On an average with 35 years of experience with 30 years in Galaxy Surfactants. MD, CFO & COO salaries in FY18 was ~2.1 Crs. Managing Director Mr. Unnathan Shekhar is since 1986. He is an alumni of UDCT Bombay and IIM Calcutta.
Raw Materials
Fatty Alcohol is the key raw material for the performance surfactants. It constitutes over half of total material cost. Fatty Alcohol is a palm kernel oil derivative and is sourced from South East Asia. It is a highly volatile raw material.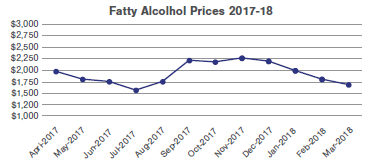 Brent Crude Derivatives - Brent crude derivatives is also a raw material. The major ones are Ethylene Oxide, Phenol and Linear Alkyl Benzene. These make up for close to 1/5th of total purchases.
Fx Hedge
65% customers are outside India and 60% raw materials are imported. So the management says they are naturally hedged.
Failed IPO 2011 & Successful IPO 2018
Book Running Lead Manager to the issue informed the Exchange that the Book Building had been withdraw (Motilal and Centrum). Book running lead managers for 2018 were ICICI securities, JM Financial and Edelweiss.
Shareholding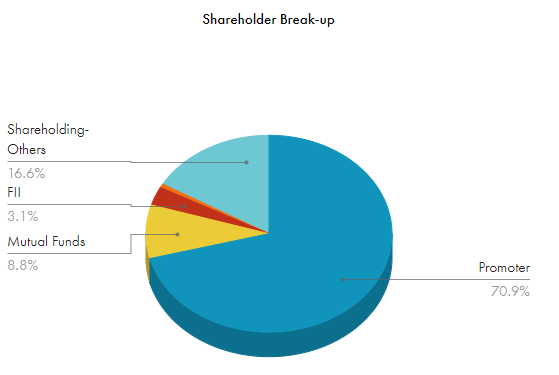 No shares are pledged by the promoter.
Certain risks in DRHP 2017
No long term supplier agreements
Forecasting errors can occur
Operations are hazardous
Customer concentration though they have been reducing it
Ethylene oxide (7% of raw materials) is via a single supplier
Tightly regulated & has to ensure environmental & health specifications
Strict quality requirements from customers
Fx exposure
Side effects or harmful effect of products could impact the company
Political instability of Egypt
Debt to Equity
0.29 Currently. Company has been bringing down its level since 2015.
P&L Metrics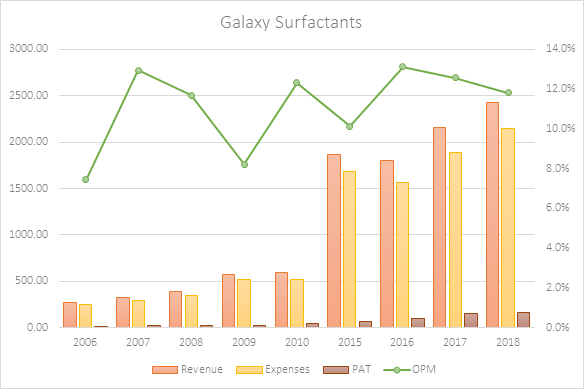 Return Ratios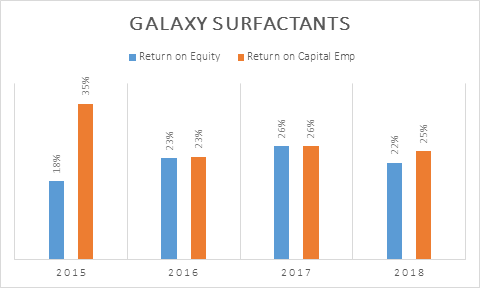 Efficiency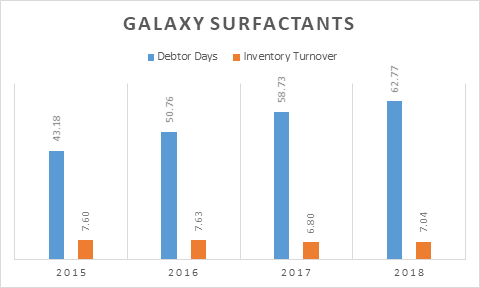 Cash flow from Operations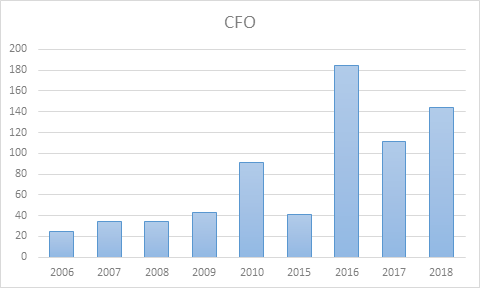 Competition
No major competition in India. Internationally BASF, Clariant, Kao, Kuala Lumpur Kepong, Saudi Kayan.
Brokerage Expectations
From Edelweiss June 24 2019
Rated Buy with a Target Price of 1405 (17% upside). Currently market cap of 4.3K Crs and trading at 1,238 per share.
Identifies low EBIDTA margin with moderate growth expectations. But medium ROCE high barriers to entry and high product complexity. Growth opportunity is identified as international (currently 1700+ clients).
Valuations
Valuations given are 20.4 PE FY20e and 17.4 PE FY21e. ROCE expected in FY21 is 25.6%. Sales & EBIDTA growth in FY19-21 is expected at 10.2%and PAT in same period at 13.1%.
Edelweiss DCF model indicates moderate growth of 14% in FY22-26E at target price of INR 1405. This company has achieved revenue growth of 10% CAGR in FY14-19. They have used 12% WACC and terminal growth of 6%.
Capex
90Crs in FY20 and 100Crs in FY21.
Growth Drivers
Strong growth in end-user industries & existing markets
Leveraging existing customer base to expand product basket
Expanding customer base with new client additions across geographies
Growing specialty care products along with performance care products
Strong operating leverage in place
Rising market share in developed markets
Future capacity expansion at minimal cost
Export opportunities encouraging
Inorganic growth opportunities
---
In case anyone wants a PDF then its here.
Galaxy Surfactants_June 2019.pdf (1.3 MB)
I hope we can dig around and find out more. Inputs and discussions welcome on the opportunity.
Sources of information are from annual report (I didnt incorporate the FY19 as the annual report is not out but the numbers were better at top line level), DRHP 17 & 11, Edelweiss Report, Wikipedia, Screener, Tijori Finance, General articles on the internet.
Regards
Deepak
Disc: I am not a SEBI registered analyst/adviser. I am studying the company and have only a tracking position in the company. Not interested yet.